March 13, 2019 2.32 pm
This story is over 40 months old
Fracking protestors supporting five on trial who put "livelihood at risk"
Campaigners took over the court entrance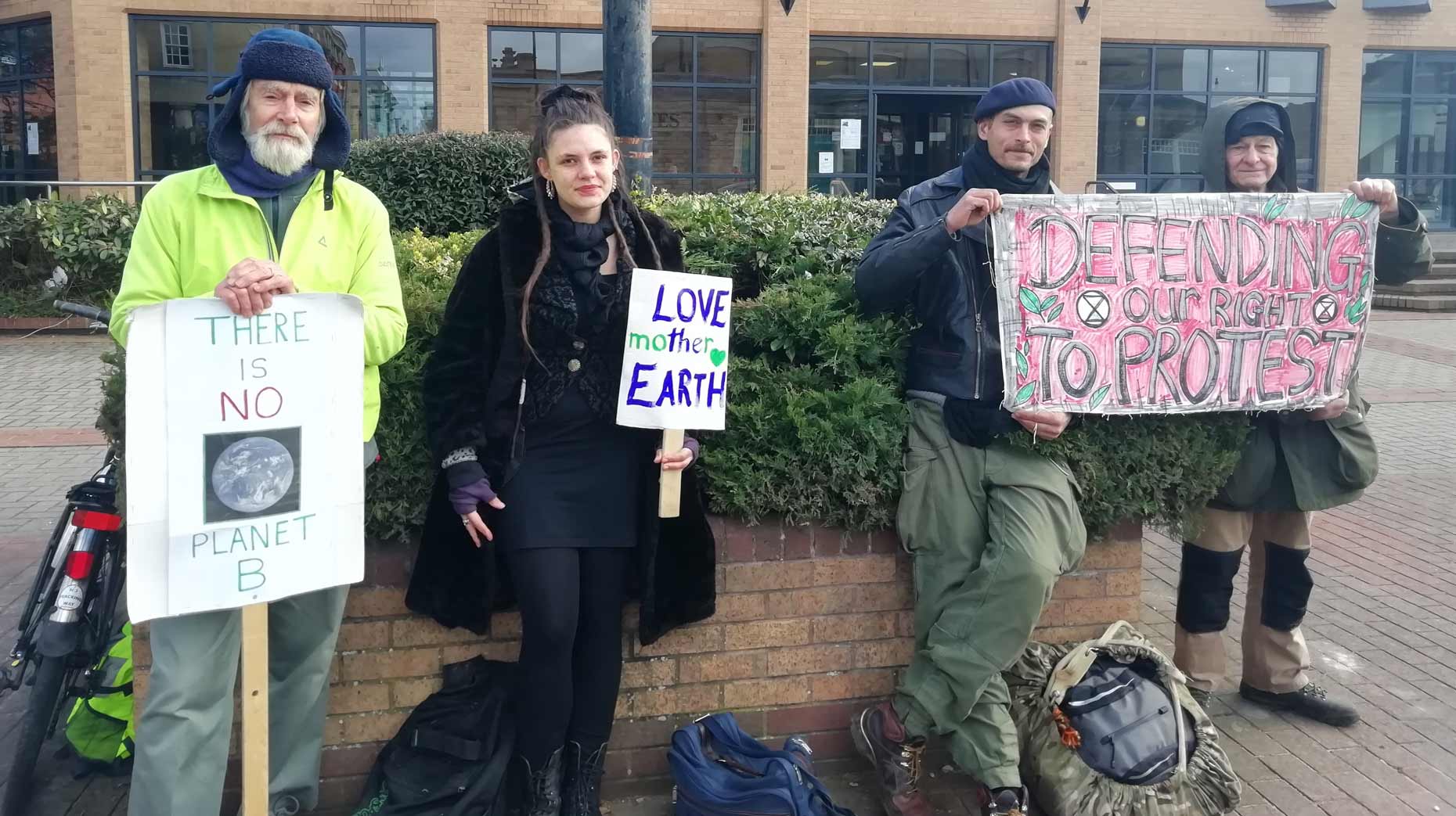 Anti-fracking activists protested outside Lincoln Magistrates' Court in support of people on trial who they believe "put their livelihood at risk to protect the earth".
Five people appeared in court on Wednesday, March 13. After leaving, one of them told reporters they were bailed to return back to court in August.
The protestors supporting them wanted to raise awareness of the dangers of climate change and protecting peaceful protest.
Protest outside haulage firm
As previously reported, seven people were arrested and charged with offences including assaulting a police officer after a protest outside a Lincoln haulage firm.
Two people from a group who call themselves Reclaim The Power formed a blockade at the S.Lyon & Sons HQ gates on Lincoln Road in Skellingthorpe on Friday, February 22.
The campaigners previously claimed the company provided services to 'fracking companies' IGas Energy, Dart Energy, Cuadrilla Resources and Rathlin Energy
The haulage firm argued they are "the good guys" and claimed they have "never" delivered fracking equipment.
Court protest
A group of around six protestors were gathered outside Lincoln Magistrates' Court on Wednesday in support of the five people on trial.
They were from groups including Frack Free Lincolnshire, Green Party, Green Peace, Extinction Rebellion Lincolnshire, Friends of the Earth and concerned citizens.
LouLou, 23, who has been with the group for a few months, said: "We are here supporting them. They put their livelihood at risk to protect the earth."
Geoff Jones told The Lincolnite he was in court a few weeks ago facing a similar offence.
He said he was arrested for obstructing the highway at an oil drilling site in Biscathorpe in January. Colleagues supported him at a preliminary hearing in Lincoln last month and he said the main trial is pending in May.
Geoff said: "I'm in solidarity with them (the five in court), we believe in the same things, trying to protect the planet and tackle climate change.
"We are trying to stop more fossil fuels being exploited and drilled.
"The main purpose of the protest is to raise awareness for people walking past about the dangers of climate change and protecting peaceful protest.
"People like us were arrested and charged for offences that wouldn't be crimes in other counties. We know people in other areas like Nottinghamshire and Lancashire who've been arrested for the same offence but released without charge."
Geoff added that according to the Paris Climate Accord there is enough fossil fuels that have already been exploited to make it very difficult to limit global warming to two degrees above pre-industrial levels.
Another of the protestors Daniel Lucas added: "In the future the actions of oil companies will be regarded as a crime if there are any people alive."
Court hearing
Ross Monaghan, who was among the five in court, argued: "We were justified in taking our actions."
Police previously named the seven charged as follows:
Ross Monaghan, 35, of Tinker Lane, Barnby Moor – charged with common assault and failing to comply with police to leave the area
Mathilda Dennis, 25, of Hall Lane, Louth – charged with failing to comply
Rosalyn Massey, 42, of Spring Road, Nottinghamshire – charged with failing to comply
Stephanie Robinson, 28, of no fixed address – charged with failing to comply
Paul Warr, 49, of Tinkers Lane, Blyth – charged with failing to comply

Louise Hammond, 56, of Mission, Doncaster – charged with assaulting an emergency worker and threatening behaviour.  She appeared in court on February 25

Nicholas Grant, 45, of Preston New Road, Blackpool – charged with threatening behaviour.  Nicholas is due to appear before Lincoln Magistrates on March 14