March 22, 2019 3.52 pm
This story is over 37 months old
Vigil supports muslim community at Lincoln mosque
Lincoln shows solidarity with Muslim community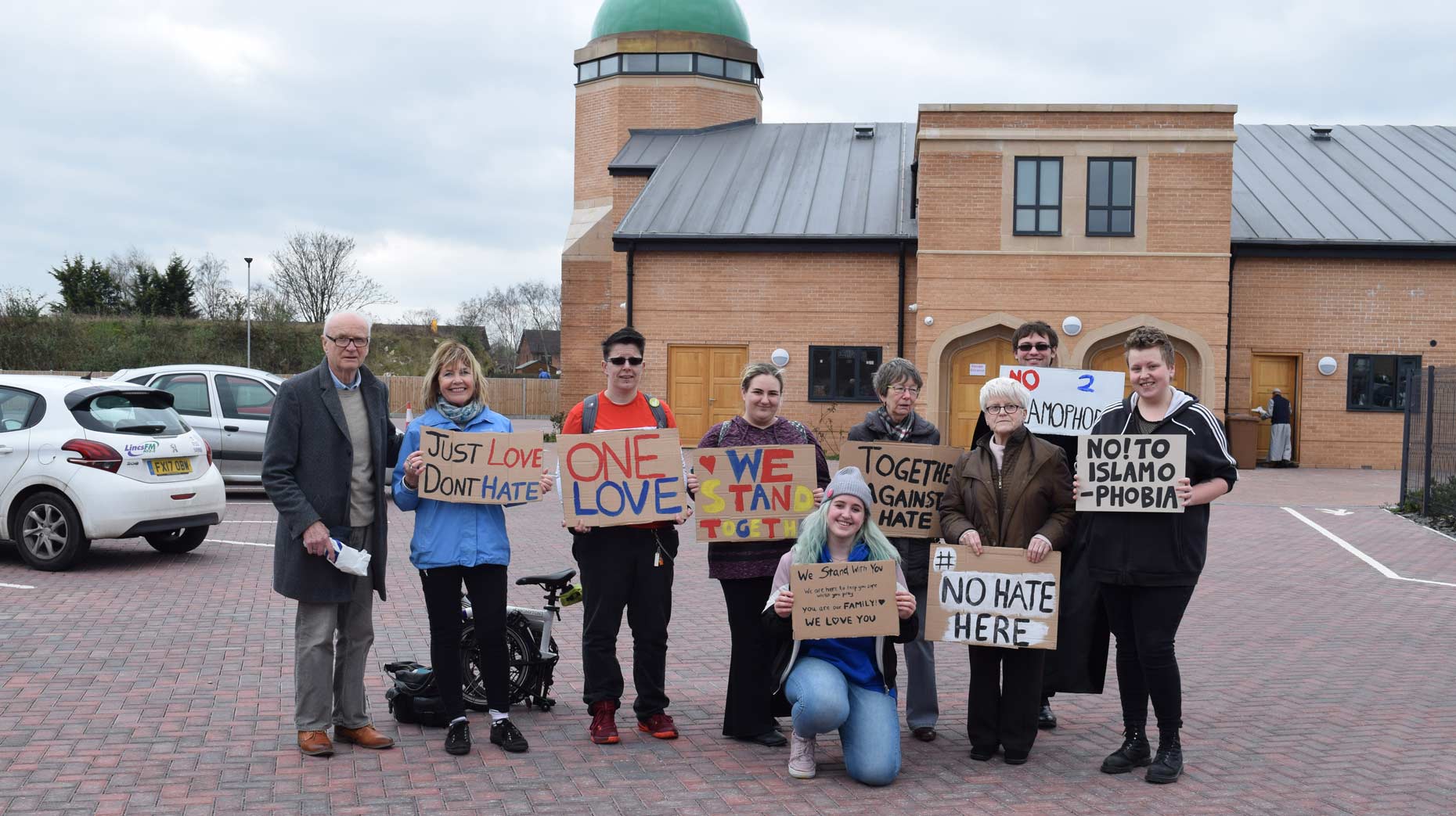 The local community stood together in solidarity against hate crime and terrorism at a vigil held outside Lincoln's mosque on Friday afternoon.
Up to 40 people attended the 'We Stand Together' event outside the mosque on Dixon Street which was organised by 19-year-old Lincoln student Amber Marshall.
People held up placards showing their support to the local Muslim community.
Amber wanted to show the world that "we will not stand for it" after the recent orchestrated mass shooting in New Zealand where over 40 people died.
The incident prompted Muslim leaders at the Lincoln mosque to ask for more security at their Friday prayers.
They welcomed the supported of Amber and others attending the event which helped show the unity in the local community.
'Amazing response'
Amber, who was later invited into the mosque, told The Lincolnite that after seeing a lot of negativity on social media and the events happening in New Zealand she felt she had to do something about it.
She saw that a man in Liverpool stood outside a mosque with a sign to show support and decided she would do the same.
The community at Lincoln mosque were grateful for Amber's support and came out with drinks and snacks for everyone during the event.
Amber said: "We are standing here to show the Muslim community that we're here for them and we want to keep them safe and they're our friends.
"I think the response has been absolutely amazing. So many people have been coming up to me with such positivity.
"I'm a campaigner at heart. I don't practice any faith, I don't follow a religion, but for me if someone feels unsafe going to something they believe in because of something that's happened that isn't right and I want to do something about it."
Elizabeth Strafford was among the supporters at the event. She added: "It's not right that basically they can't have peace in their place of worship.
"They should have the right to be able to practice their religion freely and openly without fear of being hurt or being scrutinised for what they believe."
United community
Head of education and general manager at the mosque Moulana Zaman told The Lincolnite: "Amber has done a fantastic job for us and we are in debt of her support, and the people who have also responded to her invitation, to show their solidarity and support to us.
"There are no words to share my feelings. All I can say is that it demonstrates the unity and our feeling as a community that we are always together and standing with each other.
"It's a very strong link of our unity. Although we may have differences in our practices, our values are equal and we are always in support of each other.
"The Muslims in Lincoln feel last week's attack has opened a door to show that we have a good relationship and connection with each other, we are not evil people. The support of the community is a sign that we stand with each others feelings."
Vice chairman of the Islamic Association of Lincoln Salman Rabbaani said he is grateful for the support of the local community, council and police.
He said: "I'm very happy and pleased with the response of the local community in supporting us, particularly after the horrific tragedy which happened in New Zealand. I'm very glad that there's a good turnout and the people really support us at this time of need.
"This and last week's support, plus the other support from the media, local police and council, has been very reassuring to us and that we can all live in peace together and we can count on people here."