November 18, 2019 4.02 pm
This story is over 48 months old
Former GB captain and chief constable shooting hoops for pioneering sport programme
A former Great Britain wheelchair basketball player, Lincolnshire Police's chief constable, representatives from the county council and a Lincolnite reporter all took to the court as a pioneering local sports programme celebrated its 10th anniversary. Lincoln Minster School hosted the anniversary celebration for Active Lincolnshire's Wheelchair Sports Programme. It is the biggest Wheelchair Sports Programme…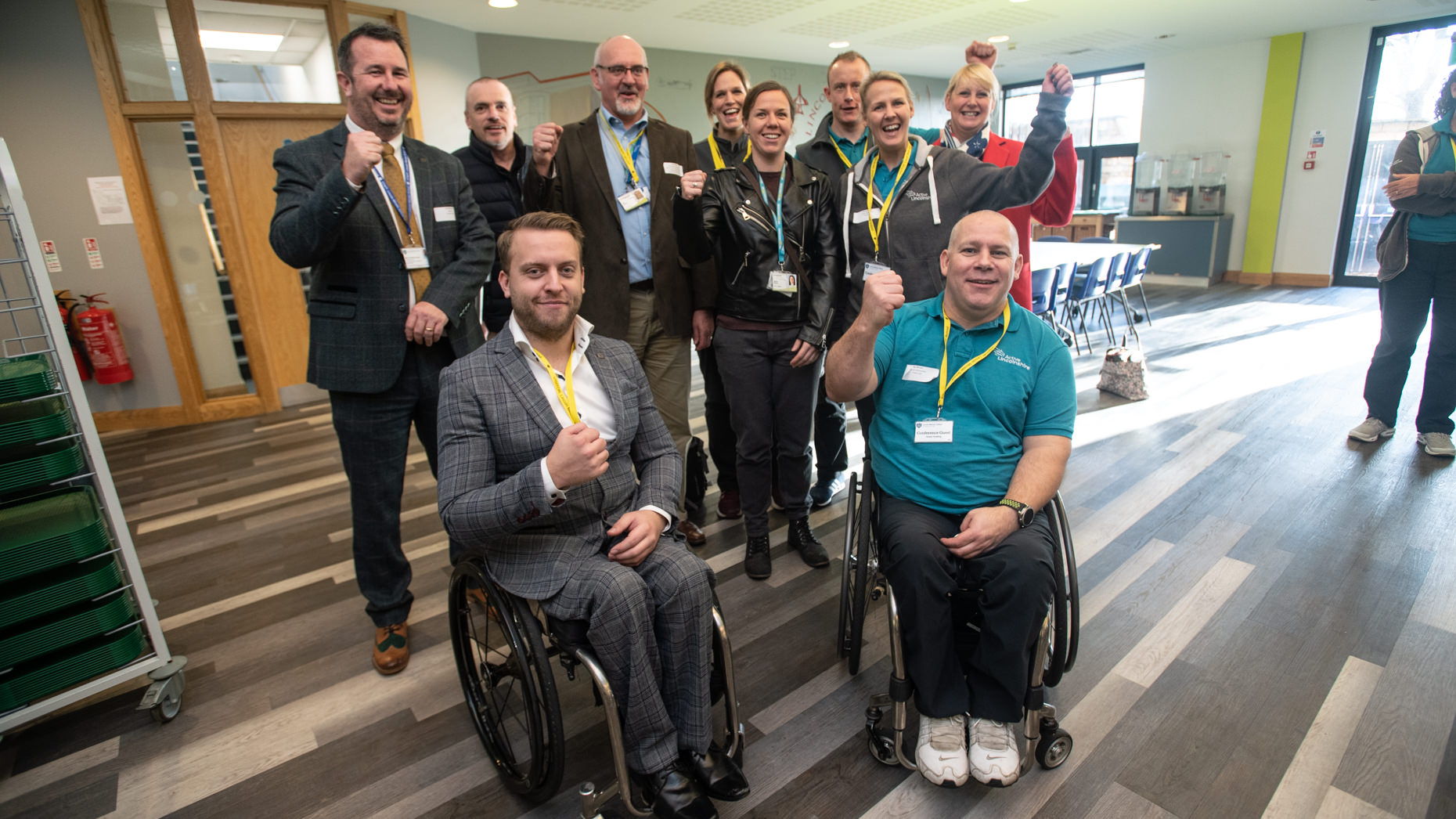 A former Great Britain wheelchair basketball player, Lincolnshire Police's chief constable, representatives from the county council and a Lincolnite reporter all took to the court as a pioneering local sports programme celebrated its 10th anniversary.
Lincoln Minster School hosted the anniversary celebration for Active Lincolnshire's Wheelchair Sports Programme. It is the biggest Wheelchair Sports Programme in the country, with 170 sports wheelchairs in 17 trailers that go out to schools.
It has had in excess of 40,000 people and been delivered in secondary, primary and special schools, as well as at events including the Lincolnshire Show.
The Lincolnite was among those to try out the have a go sessions on Monday in a sport which has inspired several young people and rescued some from very dark places in life.
Ian Brown, project leader at Active Lincolnshire for the Wheelchair Sports Programme, told The Lincolnite it's about "reverse integration" and "engaging people in wheelchair sport".
After a motorbike accident near Caenby Corner in 1991 Ian, who has been playing the sport for nearly 20 seasons, was left paralysed from the chest down.
His love of wheelchair basketball has been crucial for him and he is proud of how far the programme has come in Lincolnshire over the last 10 years.
He said: "The programme has had a massive impact. It's surprising how much impact it's made on people and the way they think about disability sport and the change of attitude. It's slowly changing people's perceptions."
Ian helped launch Jaguars Wheelchair Basketball Club in 1995, where is currently the chairman.
The NK Jaguars train on a Monday night between 6pm-8pm at OneNK Leisure Centre on Newark Road. The club has over 40 members aged between 10 and 76, with a mixture of able bodied and disabled players.
Rehabilitation from sport
Richard Sargent, 27, from Lincoln recently retired from a career professional basketball, which included being captain of Great Britain's Under-23 team and carrying the Paralympic flag in front of the Queen in 2012.
He started playing wheelchair basketball after a crash in Lincoln in August 2001 left him paraplegic, and he used the sport as a way of rehabilitating and building his strength back up.
In additional to the experience of playing at international level, Richard also spent several years playing in the professional wheelchair basketball league in Italy.
He told The Lincolnite that back in 2001 there was a big issue about reinstating people back into mainstream school as someone in a wheelchair or a disability usually went to a special school.
Richard, who is now studying for a new law career, said: "When Active Lincolnshire and the NHS teamed up, they became innovators in the way that we saw sport in school and programmes like this are massively beneficial to the county.
"I'm a big believer that people who may stare at someone with a disability are not staring because they are being rude or arrogant, they are actually inquisitive. One of the big things about this programme is it just allows everyone to lay their cards on the table and learn from each other."
Inspiring people in sport
Victoria Lyon, 17, suffered a head injury and neurological damage after a car crash in 2015.
An emotional Ian reflecting on her case study said that when Victoria became involved in the sport her mother told him it was the first time in ages she'd seen her smile.
Lynn Chantry, who was recognised by the Queen for her work as a volunteer at Lincolnshire Police, was a registered horse riding instructor until a virus caused her to be paralysed from the waist down and requiring a wheelchair in 2010.
It left her feeling extremely depressed, but she said the Wheelchair Sports Programme and the sport as a whole "saved my life and it is such a brilliant activity".
Lincolnshire Co-op sponsored the Wheelchair Sports Programme for five years, by which point it was able to fund itself. The county council, and in particular, its executive director of adult care Glen Garrod, have been an amazing support to the programme.