March 19, 2021 1.31 pm
This story is over 31 months old
Lincoln parents raising awareness of baby son's rare condition
A "miracle drug" could be in the UK later this year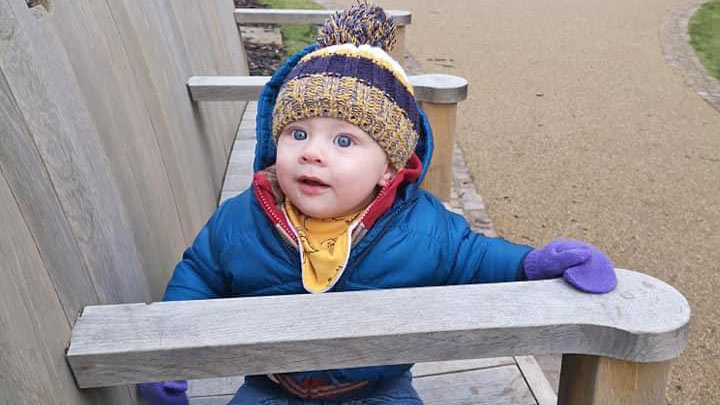 The parents of a Lincoln toddler with a rare medical condition suffered by 1 in 10,000 babies are trying to raise awareness that the "miracle drug" to help treat it is not yet available in the UK.
Jaxon Atkinson-Foster is 10 months old, but less than a week after being born he was diagnosed with Phenylketonuria (PKU), which is a rare but potentially serious inherited disorder. If two parents have a copy of a certain gene it can be inherited by the child.
PKU puts a big restriction on how much protein someone can have, because if too much is consumed it will cause irreversible brain damage.
As it was caught early, fortunately Jaxon doesn't have any adverse symptoms. However, amino acids are not processed properly so Jaxon's parents Kiera Foster, 26, and Ben Atkinson, 29, must manage their son's diet very carefully.
Jaxon is allowed 10.5g, but can't eat meat and it is not advised to have much dairy, while some other children with the condition can only have 2-3g. Only a small amount of carbohydrates are allowed and dieticians help the family, with Keira saying it has changed the way she thinks about food.
When Jaxon was five days old, he was given a newborn blood spot screening to test for PKU and many other conditions.
After diagnosis, his care was transferred to the metabolic team at Sheffield Children's Hospital, where he has seen a dietician and specialist every few months from birth.
His parents also take Jaxon's bloods every week, which are sent directly to Sheffield to be analysed. Jaxon must also have an amino acid supplement, and drinks a bottle of PKU Start instead of formula when needed.
The mission of his parents now is to raise awareness of the condition and a "miracle drug" called Kuvan (sapropterin dihydrochloride), which Kiera said "could massively increase the amount of protein that a person with PKU can have in a day".
It is not currently available in the UK, but Kiera said National Institute for Health and Care Excellence (NICE) has released guidance to say they will fund the drug, but only for those under 18. It could be available in the UK by this summer.
Kiera and Ben wanted to campaign to try and get it available for all ages as the condition can cause anxiety, depression and effect concentration as patients get older.
Liz Twist, who is the Labour MP for Blaydon, has tried to campaign the issue. Earlier this week she quizzed Boris Johnson during Prime Minister's Questions over a policy she described as discrimination against adults suffering from PKU, according to The Express.
Kiera recalled the moment Jaxon was diagnosed and told The Lincolnite: "It was incredibly scary when he was diagnosed as you don't expect to get a phone call after the blood test.
"We were having a nice walk in the middle of the park when I got the call and to be told about the condition was quite frightening.
"At the time I didn't know quite what he'd be allowed, but the staff at Sheffield Children's Hospital were excellent and explained it to us.
"If he can get the medication, it will mean we can increase, double or even triple, the amount of grams of food he can be given. It would make a lot of difference, we would be able to eat out more too and it would improve his quality of life.
"The medication needs to be approved for over 18s as well. To have it taken away at 18 would be appalling to almost wave this drug people have been hoping for so many years to then have it pulled away from them."
She also said that she plans to contact Lincoln MP Karl McCartney about the issue.
Jaxon's father Ben added: "It's been a tough year for everyone, but having a newborn in the middle of a pandemic has certainly been an experience!
"Jaxon's condition is thankfully not as serious as some who suffer from PKU, which, we believe, makes him an ideal candidate for this treatment.
"The struggles of having a child with PKU are tough, weighing out food, counting every exchange of protein, and constantly having to make sure that your baby eats all the portions. Having this treatment will reduce the burden of the very restricted diet and may allow three times more protein for many PKU suffers.
"The fact that this opportunity to have a much better quality of life through their childhood will then be removed from PKU sufferers at the age of 18, is frankly awful.
"How would you go about telling your child that suddenly, after years of being able to eat more freely, they must return to a controlled and restricted diet for the rest of their lives?"