July 23, 2021 5.21 pm
This story is over 5 months old
Second Sincil Bank art project mural spreads joy in community
Depicting the Lincoln Star Clematis flower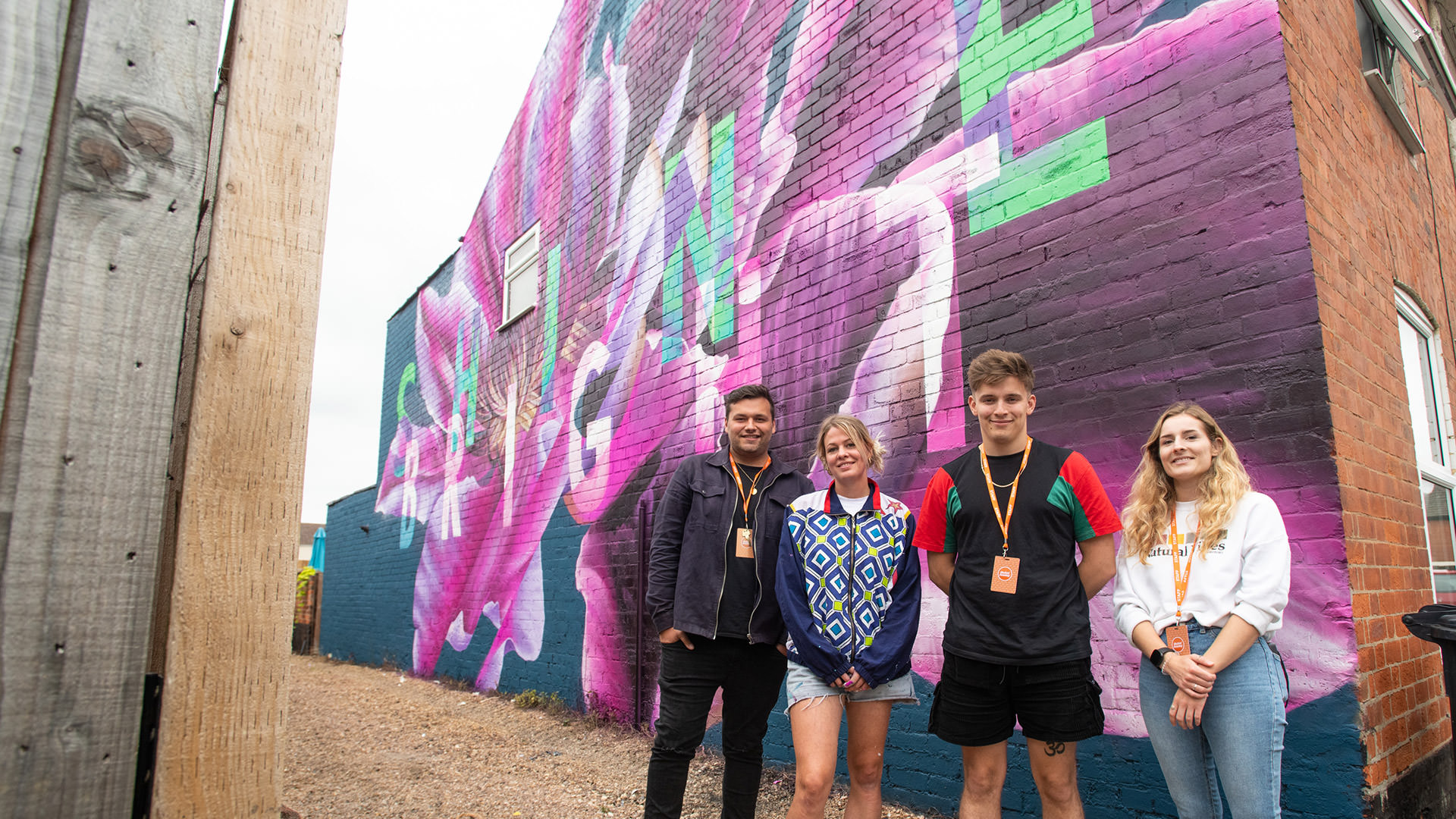 The second mural as part of the Sincil Bank Art Project has been completed, showcasing the famous Lincoln Star Clematis from the 1950s and spreading positivity in the process.
The Sincil Bank Art Project is a community scheme in which various artists will paint murals onto walls in the Sincil Bank area of Lincoln.
The first project, a portrait of Lincolnshire-born physicist Sir Isaac Newton, was completed by French street artist Zabou on the corner of Sincil Bank and Kirkby Street in April.
The latest mural has come from another globally renowned artist, this time in the form of Sophie Mess, who was recommended for the project by Zabou herself.
Sophie's 'Project 002' design at Trollope Street took four and a half days, and depicts the Lincoln Star Clematis, a flower first bred in the 1950s by Lincoln-born botanist Walter Pennell.
On the mural there are the words "Shine Bright" which Student Housing director Harry Conti told The Lincolnite was done to spread a message of positivity in the area.
He said: "We're hoping these murals will bring more people to the area and already we're seeing the difference. People are stopping or detouring on their journeys just to look at the two murals, it's amazing."
Sophie spoke with pride when discussing her mural and the reaction it has got, stating that the positive messages and the joy it brings to people is "exactly what it's all about."
Hannah Dines is the owner of the property the mural is painted on, and says she couldn't resist suggesting her house for the project.
She told The Lincolnite: "Having seen project 001 and Zabou's wonderful creation I contacted The Sincil Bank Art Project and offered my wall for a future project.
"I've been lucky to grow up in a creative arts environment, and love art in all its forms. I'm also very community based; I really enjoy sharing, supporting and getting involved in local projects.
"Sophie's artwork is incredible and she's been such a pleasure to have here – giving me updates and being just super chatty and friendly. Her work ethic and artwork are both awesome and I'm so glad she agreed to create a piece of her work in Lincoln.
"I feel truly humbled and so very lucky to have such an amazing piece of art on the side of my house – it's surpassed all my expectations, size, style, colour, wow factor! I had seen the design before Sophie arrived but never expected the final result to be so stunning."
For future plans, the SBAP is hoping to have up to 30 murals in the Sincil Bank area within the next five years, which would eventually lead to an interactive trail of them all, using QR codes.
If you are interested in getting involved, visit the Sincil Bank Art Project website.
Check out our video of the first mural: