Urgent appeal after Boston murder inquiry launched
Two men arrested on suspicion of murder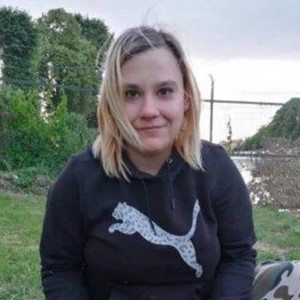 Officers investigating the disappearance of Ilona Golabek are now launching a murder inquiry.
We have appealed previously for sightings of 27-year-old Ilona, however she has not been seen since November 9. A body has not yet been found.
We believe Ilona was in the Wide Bargate / Red Lion Street area of Boston at around 11.55pm on November 9 and later in Strait Bargate, heading towards the Cattle Market, at 12.13am into November 10.
Ilona was wearing three quarter length black leggings and an oversized hooded sweatshirt with a yellow triangle pattern across the chest.
Detective Chief Inspector Richard Myszczyszyn, of East Midlands Special Operations Unit, said: "We are appealing to the people who were out in Boston around midnight on November 9/10. If you think you saw Ilona, or you have captured her on your dash cam, we are urging you to call us on 101. It's vital that we have every piece of information available that could assist the investigation."
Two men, aged 32 and 40, have been arrested on suspicion of murder and are currently in custody.
If you have any information, please contact us in one of the following ways:
By calling 101 quoting incident 200 of November 11.
By emailing

[email protected]

quoting 200 of November 11 in the subject line.
You can also report information via our dedicated portal here
If you wish to remain anonymous, you can report via the independent charity CrimeStoppers on 0800 555 111.
Polish Translation
Pilny apel odnosnie prowadzonego sledztwa w sprawie morderstwa w BOSTON:
Policja prowadzaca sledztwo w sprawie zaginiecia ILONY GOLABEK zaczela prowadzic sledztwo w sprawie morderstwa.
Zaapelowalismy do Panstwa wczesjniej w sprawie 27-letniej ILONY GOLABEK, jednakze ILONA nie byla widziana od 9-tego LISTOPADA. Cialo nie zostalo jeszcze znalezione.
Wierzymy, ze 9 LISTOPADA 2021 roku okolo godziny 23:55 ILONA byla w okolicach WIDE BARGATE/ RED LION STREET w BOSTON, LINCOLNSHIRE, potem okolo godziny 00:13, 10 LISTOPADA 2021 byla w okolicy STRAIT BARGATE kierujac sie w strone CATTLE MARKET.
ILONA miala na sobie czarne legginsy dlugosci ¾ i za duza bluze z kapturem z wzorem zoltego trojkata na piersi.
GLOWNY INSPEKTOR, Detektyw RICHARD MYSZCZYSZYN z Wydzialu Specjalnego EAST MIDLANDS powiedzial : "Apelujemy do kazdego kto byl w BOSTON okolo polnocy miedzy 9 i 10 LISTOPADA 2021. Jesli widziales/widzialas/widzieliscie ILONE lub udalo sie Panstwu nagrac ILONE na kamere samochodowa, nalegamy aby Panstwo to zglosili uzywajac naszego portalu lub dzwoniac pod numer 101. To jest bardzo istotne abysmy byli w posiadaniu kazdej informacji ktora moglaby nam pomoc w sledztwie.
Dwoch mezczyzn, w wieku 32 i 40 lat zostalo aresztowanych w zwiazku o podejzenie popelnienia morderstwa i aktualnie przebywaja w areszcie sledzczym.
Prosimy zglaszac informacje poprzez nasz specjalny portal tutaj.
Moga Panstwo rowniez zadzwonic pod 101 podajac incident numer 200 z 9-tego Listopada 2021, lub piszac maila na adres: [email protected] podajac w tytule wiadomosci numer incydentu 200 z 9-tego Listopada 2021 roku.
Jesli chca Panstwo zglosic informacje anonimowo, prosze zadzwonic do niezaleznej organizacji charytatywnej "CRIMESTOPPERS" pod numer 0800 555 111.