Lincoln College gives eight charities £1k each for Pink Ribbon Campaign
Eight charities received £1,000 cheques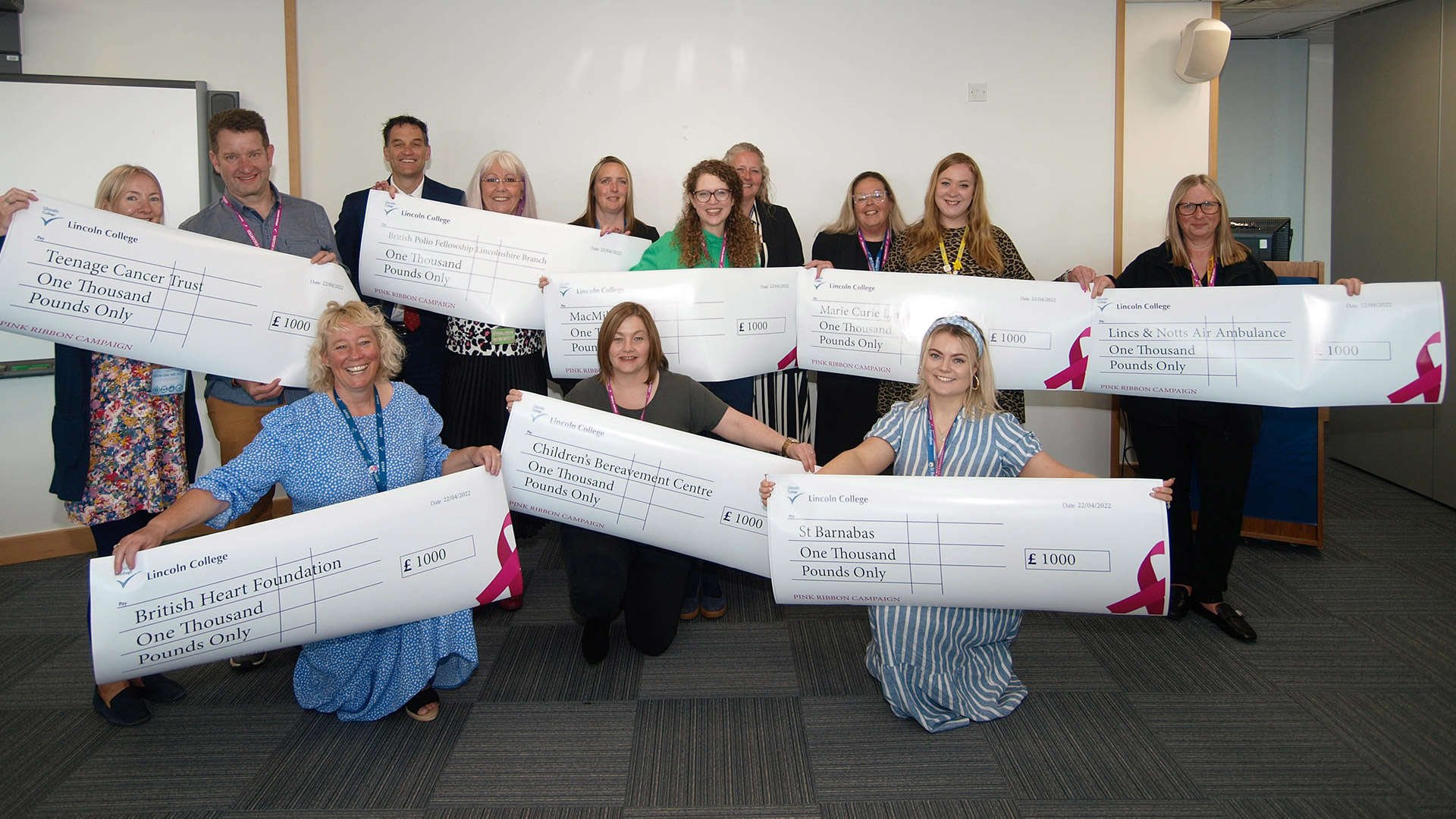 Over £8,000 of funding has been presented to local charities as part of a Lincoln College Group campaign that has raised almost £100,000 over the years since it launched.
Lincoln College's Pink Ribbon Campaign began in 2006, after a staff member was diagnosed with breast cancer, and since then money has been raised internally with the organising of numerous fundraising events and activities.
These include climbing Mount Kilimanjaro, producing a college calendar, holding Pink Ribbon Balls and Race Nights, along with much more over the years.
Donations for this year were presented to Lincs and Notts Air Ambulance, St Barnabas Hospice, MacMillan, Marie Curie, the British Heart Foundation, British Polio Fellowship, the Children's Bereavement Centre in Newark, and the Teenage Cancer Trust.
Each charity was given a cheque of £1,000 each, which brought the campaign's overall fundraising to £92,000 in sixteen years.
Karen Carter, the charity's fundraising manager, said: "We'd like to thank everyone who supported and donated to the Pink Ribbon Appeal and would like to thank Lincoln College for choosing to support us.
"We don't receive any government funding and we're not part of the NHS so we rely purely on public donations for our day to day operations. This generous donation will help our doctors and paramedics be by the side of patients when they need them the most."
Lauren Alexander, Marie Curie senior community fundraiser for Lincolnshire, said: "The Pink Ribbon Campaign fundraising efforts are just incredible – the donation will fund a further 50 hours of nursing care within the county during the middle of the night for a family to be able to stay close to their loved ones. Thank you from the whole Marie Curie Family."
Fundraising Manager for the Children's Bereavement Centre, Rachel Wilson, said: "On behalf of all the team at the Children's Bereavement Centre and the families we support, a heartfelt thank you to everyone involved in this amazing scheme and for your continued support.
"Giving is not about making a donation, it's about making a difference. Thank you for helping us make a difference to the children and young people we support."
Mark Locking, Principal and CEO, The Lincoln College Group, said: "Our Pink Ribbon Campaign is an amazing initiative and something we are hugely proud of. The money raised is down to the efforts of our staff who work hard each year to continue to build on the campaign's success.
"It's great to hear how the money raised goes on to help local people through the amazing work of our local charities."