March 5, 2023 10.00 am
This story is over 8 months old
Freya Colbert: Lincolnshire's elite teen swimmer riding the Commonwealth wave
"I'm now not afraid to say I want an Olympic medal"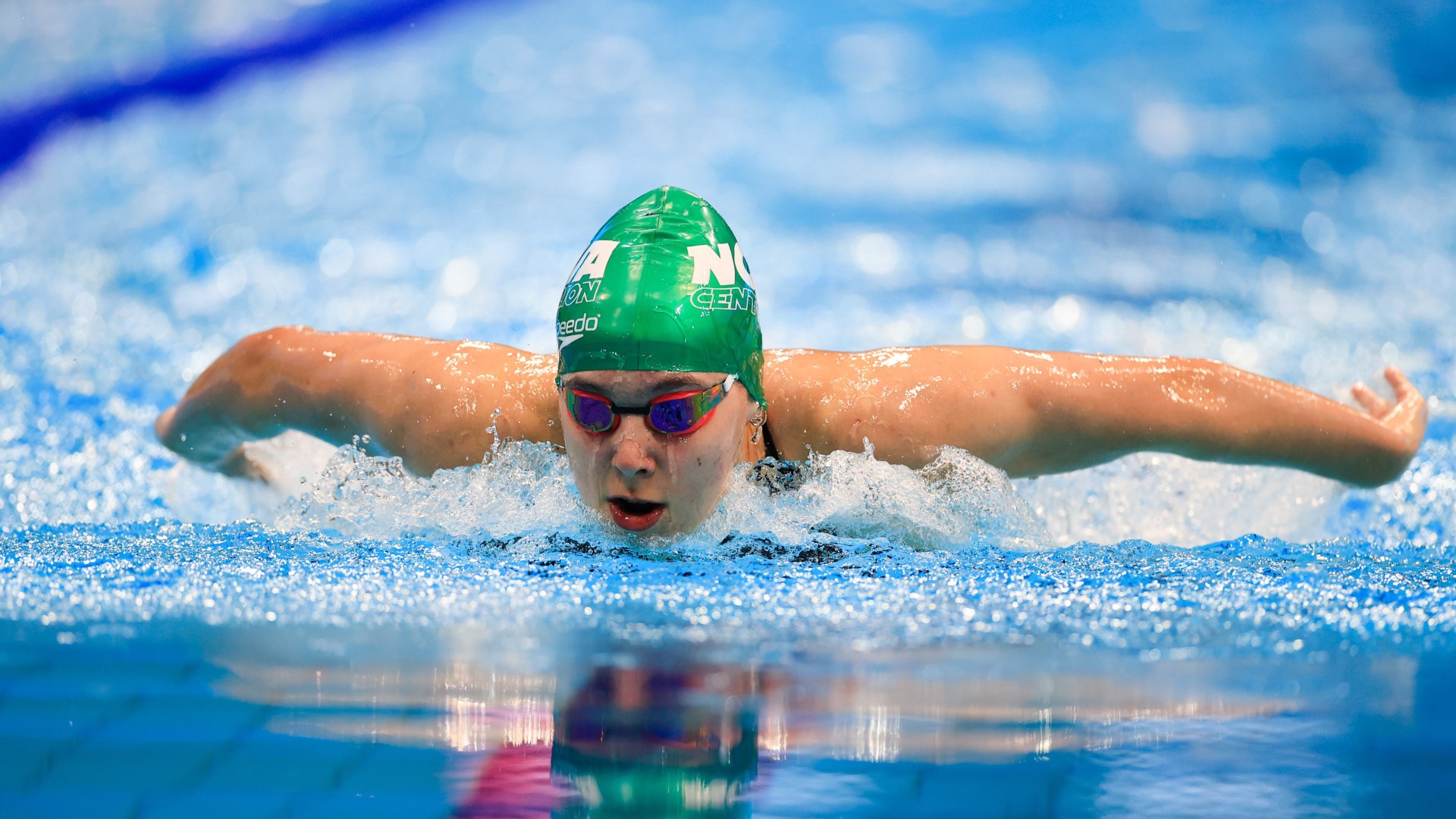 From swimming with her sisters in Grantham to winning a medal at the Commonwealth Games, Freya Colbert has come a very long way in a very short time – and she's still got the Olympics in her sights.
18-year-old Freya was a sporting natural in her younger years, taking part in any activity she could.
Her grandad was a PE teacher, and once Freya's swimming ability made itself known, a career path started to mould around her – but it wouldn't come without sacrifice.
"I was never a kid who dreamed of the Olympics or anything like that", Freya told The Lincolnite. "My parents did an amazing job taking the pressure off me, they were great at letting swimming be my thing and not theirs."
Most 15-year-olds would spend their summer on holiday with family, or hanging out with friends, but Freya was selected for European Junior Swimming Championships instead.
Her pathway to the elite was evident.
Since then she has gone from strength to strength, competing at the World Aquatics Championships in 2022, as well as earning multiple European Championship medals in both individual and team events.
The highlight of her career as an individual racer came in Sheffield last year, when she became the 400m individual medley British champion, as well as winning silver in the 400m freestyle and bronze in the 200m freestyle.
Speaking about these big stages, Freya said: "I've grown up a lot and with that these events have become fairly normal, but when I found out last April I was going to the Commonwealth Games I cried for hours!"
Representing your nation at any level must be a daunting experience, but Freya took it in her stride.
She was just 18 years old when she claimed a Commonwealth Games bronze medal last summer.
Going into the Games in Birmingham, Freya was somewhat of an unknown entity, perhaps not on the radar of many when it came to medal placing, but she soon put that to rest.
She was a part of England's 4x200m freestyle team that won bronze at the 2022 Commonwealth Games, and on her own she fell just short of another medal in the women's 400m freestyle – finishing 4th.
Freya recalls that experience as an opportunity for her to experience the truly elite level of global competition.
"I was more excited to see what I was capable of rather than feeling the pressure", she said. "I had a quiet confidence because I knew I was in good shape.
"But once we got to the village it was about enjoying the experience, because I swim my best when I'm happy in the moment."
Freya almost became overwhelmed with emotion when discussing her feelings in that 4x200m final, which earned her a Commonwealth Games bronze medal at just 18 years of age.
"When I walk out to races I've never been the kind of person to get my goggles on, put my head down and get my game face on.
"After the final I saw all these people cheering for us, it was insane and I get emotional just thinking about it.
"I want to remember all these times. My mum told me that I'd had the craziest summer ever, which is true because I couldn't go on holiday with my friends and I missed my school prom and results day, but I experienced something truly unique."
Lincolnshire unfortunately isn't renowned for consistent sporting excellence.
Freya had to relocate her training to Nottinghamshire in order to maintain a top-level career in swimming, but she still loves her rural Lincolnshire home.
She remembered when she first realised how famous she'd become after the Games.
"I don't think I ever really appreciated how many people in Lincolnshire got behind me," she said.
"After my bronze medal I went to Lidl in Grantham with my mum and three separate people walked up to me to congratulate me!
"It genuinely surprised me, because of the dedication to my career I was never really the most involved in the community, so it was really inspiring to see so many people from Grantham following my carer."
The elite mindset required to sustain a career at the top of your profession is something that Freya is continuing to work on, citing some of the greats in her field.
"Expectation from other people has never really bothered me because I expect myself to improve each time.
"I'm still young and improving year on year, but the older I get the harder it becomes. I've never experienced the expectation to win at that high level.
"We always speak about Adam Peaty's mentality, and I wonder how I would cope in his situation – I am just so used to chasing someone else rather than being the one that is being chased.
"I've not always known my potential and I often surprise myself, but I'm not afraid of brushing shoulders with the greats anymore, they used to be on a pedestal but now my heroes are my friends and peers."
Despite this, Freya is under no illusions as to what her career ambitions are, starting with qualification for the upcoming 2024 Olympic Games in Paris.
She says: "I'm now not afraid to say I want an Olympic medal. That statement used to make me nervous but I have worked towards that not being the case anymore.
"I want to be counted as one of the best on the planet, I feel like I have showcased it on a British scale, and now it's time to do it on the global stage."
---
MyLocal Lincolnshire is the new home of The Lincolnite. Download the app now.