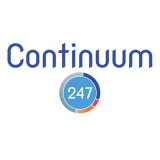 Continuum247 Limited is an online provider of workforce screening, deployment, attendance, tracking and financial management solutions, operating in sectors including manned security, construction, and the care sectors amongst others.
With almost a decade's worth of development of our key product behind us, and over two years in its current form, we are now growing exponentially each month, and are looking to develop our support and development infrastructure in the UK.
The company was founded by people who have a passion for both the IT development behind what we do, but also the requirements and needs of the clients and markets we operate with. We also understand the need for a truly realistic work-life balance, and that in developing software solutions for companies managing thousands of personnel each, we feel we understand the requirements of people, and not just systems.
Jobs at Continuum247 Limited