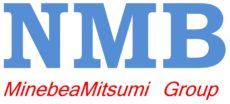 NMB-Minebea UK Ltd, is situated on Doddington Road in Lincoln, within easy reach of the A46 originally established in 1880 as Rose Bearings Ltd, the company was purchased by Minebea Company Japan in 1987
As a precision engineering firm, producing bearings for Airbus, Boeing and the global railway market we are the world's leading producer of bearings for landing gear on aircraft. Our products are shipped to Europe, North & South America, Russia and China.
The UK operation is part of the global Minebea Group – a leading supplier of super precision electrical and mechanical components for smartphones, PCs, automotive applications as well as aerospace and the construction industry. Minebea, quoted on the Japanese Stock Exchange, employs almost 60 thousand people in 20 countries with annual sales of almost US$ 7 billion.
We are looking for hard-working and ambitious people to join our forward-looking organisation.
Jobs at NMB-Minebea UK Ltd
NMB-Minebea UK Ltd - Lincoln
Full Time
Added Jun 24
NMB-Minebea UK Ltd - Lincoln
Full Time
Added Jun 24