July 3, 2012 4.05 pm
This story is over 136 months old
Local children in masterclass with renowned pianist
Masterclass: Six pupils were invited to improve their skills with an experienced pianist.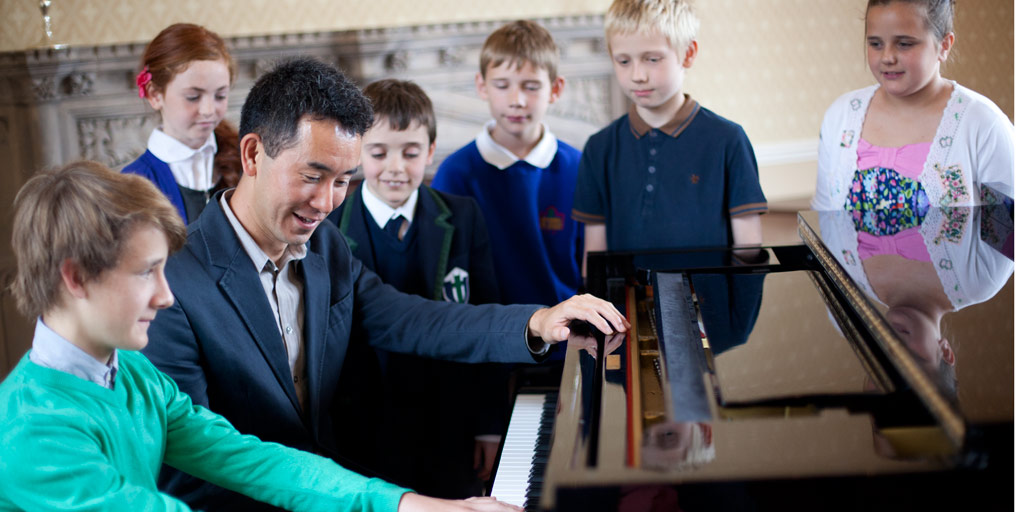 Mastercalss (L-R): Louis Moulding (14), Hiroaki Takenouchi (34), Lauren Young (10), James Bushby (10), Stanley Godfrey (11), Charlie Ashworth (10) and Harriet Dixon (11)
A world-renowned pianist visited Lincoln this week to help six young pianists improve their playing.
Hiroaki Takenouchi is a well-known concert pianist of 25 years and held his masterclass at The Old Palace in Lincoln on July 2.
Children from CofE schools in the Diocese of Lincoln who have achieved ABRSM (Associated Board of the Royal Schools of Music) or Trinity Guildhall Piano Grade 3 to Grade 8 could apply for a spot in the class.
Takenouchi spent 30 minutes with each pupil and listened to them play, offering advice on how they could improve their playing.
One child, Charlie Ashworth (10) has been playing for four years and also sings in the Lincoln Cathedral Choir.
"I love playing piano because it's a fun thing to do.
"The masterclass was really good fun; I enjoyed having the chance to learn something from Mr Takenouchi. He told me to keep my shoulders down and to control my breathing while I play.
"At first it was really hard because that's how I've always played, but I did notice that I improved when I took his advice. I will use his tips when I practise from now on."
Takenouchi said: "I had a very warm welcome from the children. This was a very enjoyable experience for me.
"I really enjoy working with young people, because when I teach, I learn.
"You really have to hone in on what is being played and focus on the improvements that need to be made.
"I can then put these into practice myself when I am practising for a show and spot any mistakes I might be making."
Takenouchi, who now lives in London, has appeared in many of the world's most well-known concerts.
He also featured as a pianist on the BBC4 documentary The Prince and the Composer: A Film about Hubert Parry by HRH The Prince of Wales.
The free masterclass helped raise money for the Lincoln Cathedral Music Appeal, which aims to raise £2.5 million for the future of the choir, organ music, maintenance and public performances.
Photos: Joshua Potter for The Lincolnite