Seven dispersals and three arrests for rowdy Lincoln and Leicester football fans
Sporting trouble: Following the cancelled Leicester friendly match, police tackle troublesome fans in the city.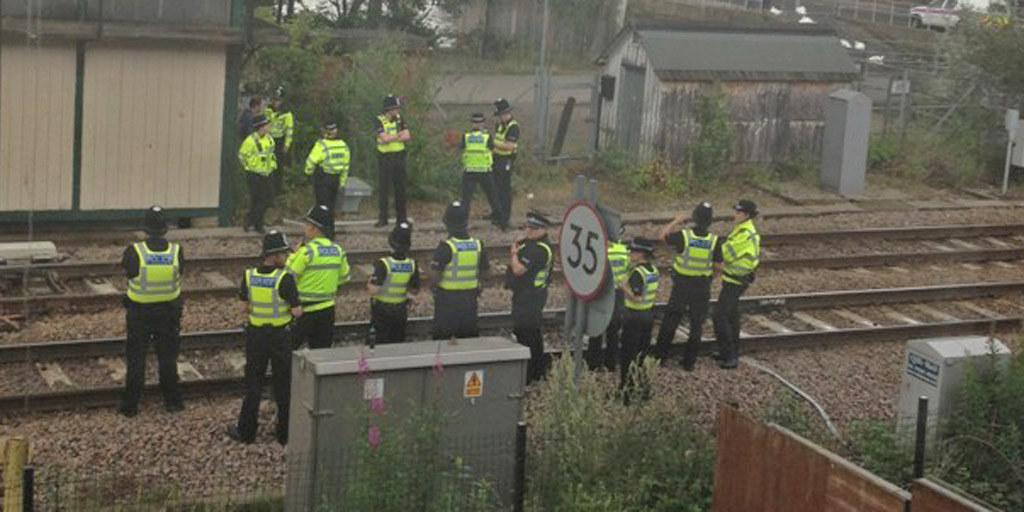 Police officers waiting for a train carrying 80 Leicester fans travelling to Lincoln on Saturday. The emergency cord was pulled and officers attended the incident, detraining the passengers and escorting the fans to the next train. British Transport Police said it is also investigating an alleged assault of a female guard on the train.
Lincolnshire Police handed seven dispersal notices and arrested three football fans in Lincoln, in the aftermath of a cancelled match due to security fears.
The Lincoln – Leicester friendly on Saturday was cancelled after police were tipped that the match may be disrupted by people travelling to Lincoln with the intention of causing serious disorder in the city.
Despite the fixture being cancelled, officers say two large groups of known trouble makers were present in the city from Lincoln and Leicester.
As previously reported, a small number of officers managed to keep the two groups apart.
Further trouble
Police dealt with an incident of disorder on Guildhall Street at about 4.45pm on Saturday, when rival supporters clashed.
Chairs and tables were used during the fight which broke out. As a result, two males from Leicester were arrested for Public Order offences.
Throughout the day a total of seven dispersal notices were issued to males from both Lincoln and Leicester, instructing them to leave the city centre.
A further arrest was made of a Leicester male for being drunk and disorderly at Lincoln train station.
'So-called' fans
Steve Prescott, CEO at Lincoln City FC, condemned the actions of the fans on Twitter : "The reported organised trouble in Lincoln confirms that we made the right decision in cancelling the friendly match.
"This game was cancelled by planned violence organised by a large number of Lincoln hooligans, many of whom claim to support the Imps.
"Lincoln and Leicester thugs organise violence in Lincoln, terrorise families and cost the club tens of thousands of pounds in lost gate receipts.
"Any 'so called' Lincoln City fans involved in today's violence are not welcome at the 12th Imp Sincil Bank Stadium," he added.