September 12, 2012 12.04 pm
This story is over 117 months old
Why my apprenticeship is better than university
Apprenticeships: Those wondering if university is the right choice for them should perhaps take a leaf from apprentice Farrah Cornwell's book.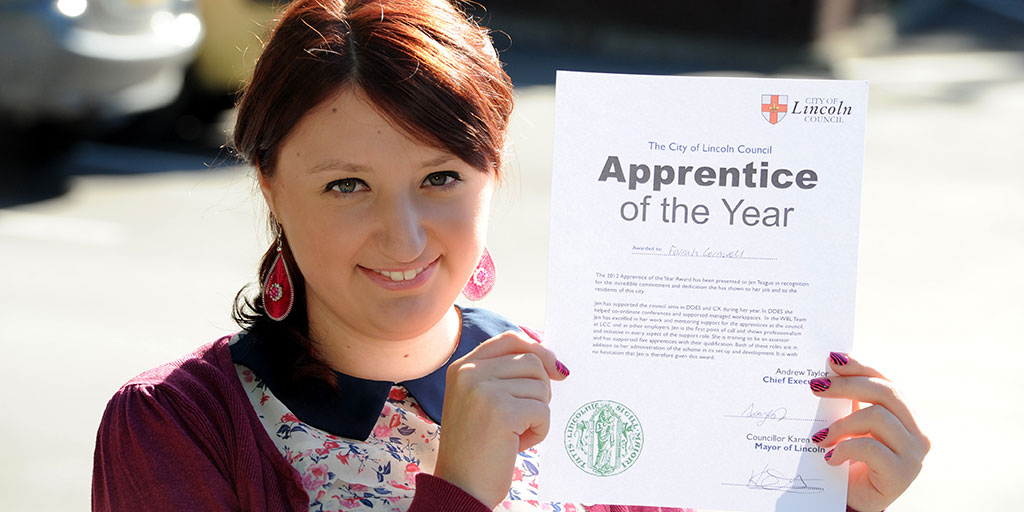 — Farrah Cornwell was faced with a tough decision when she came to the end of her time at sixth form: go to university, as encouraged to do, or seek out an alternative route into a career. After a year's apprenticeship at the City of Lincoln Council, not only has she earned the Apprentice of the Year title, but also value skills. Here, she explains more about her choice and time at the council.
---
Many people face the decision whether to go to university, get a full time job or an apprenticeship after they finish sixth form. The school I attended portrayed that university is the only step forward to gaining a career. There was a lot of pressure from teachers to go to university, because I was getting good grades, with no help to find an alternative path to follow after numerous occasions of expressing no interest in university.
Apprenticeships are often viewed as the last resort and not on a par with university. I couldn't disagree more; it certainly wasn't the case for me. In my opinion university is overrated, leaving you with thousands of pounds worth of debt with no guaranteed job at the end of it. Whereas apprenticeships enable you to earn money at the same time as gaining a qualification and not to mention the experience you gain is invaluable – what more could you want?
My year at the City of Lincoln Council has been brilliant. I was placed in the Communications team, where I have developed a passion for the industry and have chosen to carry on my NVQ Level 3 in Business Administration within the Communications Team to further my knowledge.
One highlight was painting a playroom at LIDAS (Lincoln Integrated Domestic Abuse Services), during National Apprenticeship Week, to give the people who live there a better standard of life. It gave us the chance to give something back to the community.
On a professional level, another highlight was being chosen to be part of the website team that reviewed and transferred the content on the old website to the new website, which was a major project and gave me a chance to shine. I even did a live radio interview on BBC Radio Lincolnshire recently, which was something I would have never have dreamed I'd have the confidence to do.
Recently I became the joint winner of 'Apprentice of the Year'. It was great to have my hard work and dedication awarded with this title. Along with this award comes the role of being an apprentice ambassador. This role entails promoting the apprenticeship scheme at the City of Lincoln Council to young people. This will be done in a variety of ways such as giving talks at events or presentations at schools, which is something I am passionate about.
If you ever find yourself in my position, my advice would be to not let anybody force you into doing something that you might regret, and do what is suited best for you. Always remember that there are options for everyone – it might be university, work or apprenticeships. In my opinion, apprenticeships are a great opportunity for somebody to get their foot through the door into the world of work at a young age.
To find out more about apprenticeships, visit the city council website.