November 15, 2012 10.59 am
This story is over 115 months old
Defence Technology Minister visits RAF Waddington
Testing technology: A defence minister took a tour around RAF Waddington yesterday, looking at the way new technologies are utilised.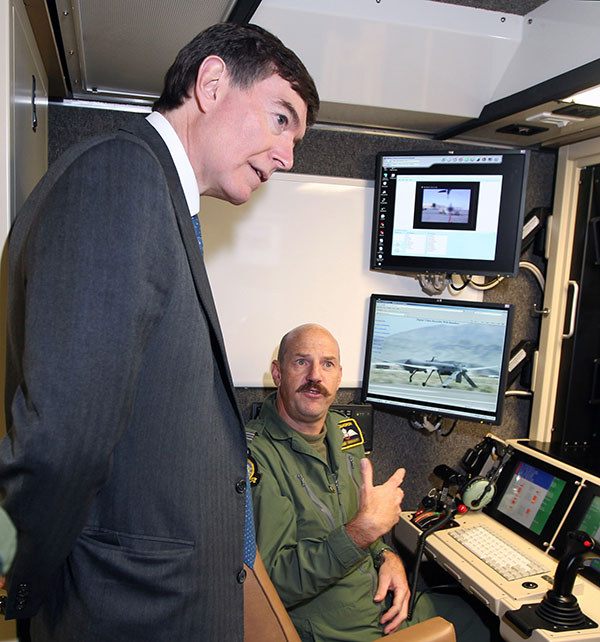 Philip Dunne, the Minister for Defence Equipment, Support and Technology visited RAF Waddington on Wednesday to see how new technology is used in operations.
The new 13 Reaper Squadron has been officially 'stood up' last month at the base, which flies unmanned drone missions over Afghanistan.
These work by using Ground Control Stations at Waddington, linked via satellite to Reaper MQ-9 aircraft (pictured) based in Afghanistan, providing support to ground troops.
He also met the aircrew and ground support staff who help fly the RAF's reconnaissance and surveillance aircraft, such as the E-3D and Sentinel R1.
These planes either secure UK airspace or if needed support of British interests overseas.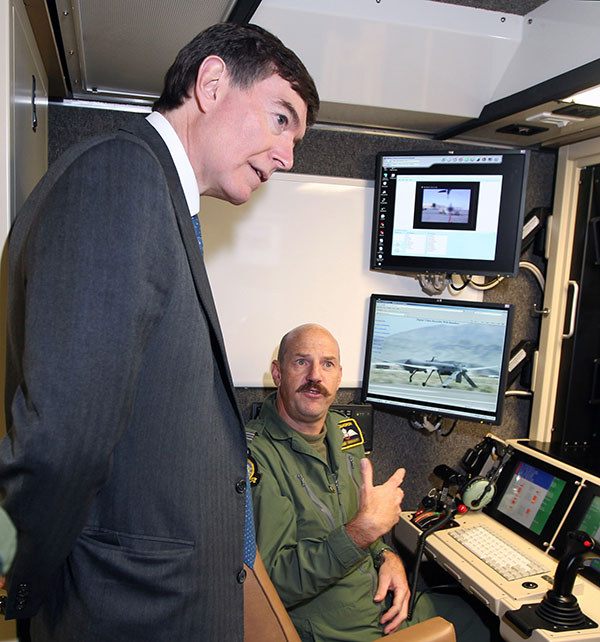 Defence Minister Philip Dunne with 13 Squadron personnel, inside a Reaper MQ-9 Ground Control Station
Dunne said: "The RAF's airborne 'eyes and ears' play a vital role in military operations around the globe, including in support of ongoing operations in Afghanistan, where timely and accurate intelligence allows our ground troops to conduct their operations more safely and effectively.
"I was also able to see first hand the new, state-of-the-art facility from where skilled RAF operators will control our remotely-piloted air systems in the skies over Afghanistan.
"Such systems – which are routinely used for surveillance, or can be used to attack targets with great precision when required – are increasingly playing a vital role alongside our manned aircraft."
"I have been hugely impressed by all that I have seen and heard at RAF Waddington today, and not least by the professionalism and commitment of the men and women who operate and support the RAF's sophisticated intelligence-gathering aircraft and systems."
Station Commander of RAF Waddington Group Captain Al Gillespie said: "It has been a privilege to host Mr. Dunne today and to have the opportunity to show him how RAF Waddington personnel are using the latest technology to ensure we support British interests at home and overseas."
Source: RAF Waddington | Photos: MOD Crown Copyright