December 17, 2012 4.57 pm
This story is over 114 months old
Lincoln Christmas Market stall holder prosecuted over hygiene
Not adequate: A stall at last year's Lincoln Christmas Market will have to pay fines over £2,200 after being found to not provide adequate wash facilities.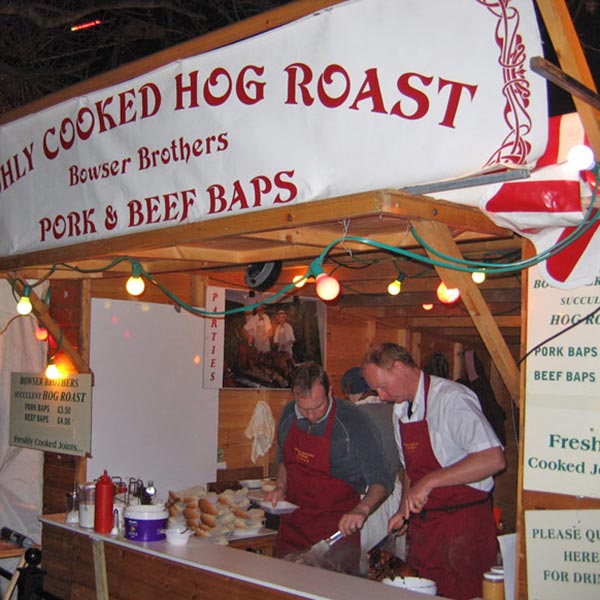 A food vendor at Lincoln Christmas Market 2011 has been fined over £2,200 by Lincoln Magistrates Court after breaching hygiene regulations.
Peter Bowser of Langworth ran a hog roast stall, called Bowser Brothers Hog Roast, in The Lawn on Sunday, December 4 last year.
He admitted to not having adequate and available hand washing facilities for employees, who were handling and preparing large joints of raw meat, placing them into gas fired ovens and slicing the cooked meat and then putting it into bread rolls for customers.
An inspection by the City of Lincoln Council's Food Health and Safety Manager found the portable unit provided for hand drying was empty.
Plus, the other facility provided for hand washing was a bucket of warm, dirty water with cloths in it, but this had been used by a food handler loading the raw meat into the gas ovens.
Staff serving the food were not witnessed during the inspection washing their hands.
A sample of the water from the bucket was sent to a lab, where it was found to have over 12 million bacteria in it — 40,000 times above the maximum level acceptable for hand washing.
Bowser claimed that the water in the portable unit would not stay warm due to the weather and they just ran out on hand towels.
Inspector Sara Boothright said: "It is of some concern that Mr Bowser had an apparent lack of understanding as to the importance of having good hand wash facilities that were appropriate and available for use at all times irrespective of the environmental conditions.
"The trivialisation of the lack of available hand wash facility and hand drying facilities is, in my view, a demonstration of the paying lip service to an extremely critical food safety requirement.
"The importance on ensuring hygienic hand washing and hand drying in this type of high risk food operation can not be overstated.
"Mr Bowser's failure to comply with this basic, yet food safety essential was a serious failure with the potential of putting public safety at risk.
"Raw meat can contain bacteria that will cause illness and in the worse case scenario death, such as, salmonella, E.coli and campylobacter.
"It should have been an imperative to ensure that public health is protected that a food business operator, carries out his food business in a manner that any potential risk to health is reduced to an acceptable level."
Bowser pleaded guilty to one count of not providing adequate hand washing facilities at his stall, and was ordered to pay a fine and costs totalling £2,215.
— Update, January 2013: Bowser Brothers have achieved in June 2012 a renewed Five Star (Very Good) Food Hygiene Award from their Local Authority.