May 9, 2013 1.21 pm
This story is over 125 months old
Lincoln's world famous skunk celebrates 3rd birthday
Special skunk: Lincoln has its own kind of internet celebrity — a pet skunk called Phoebe!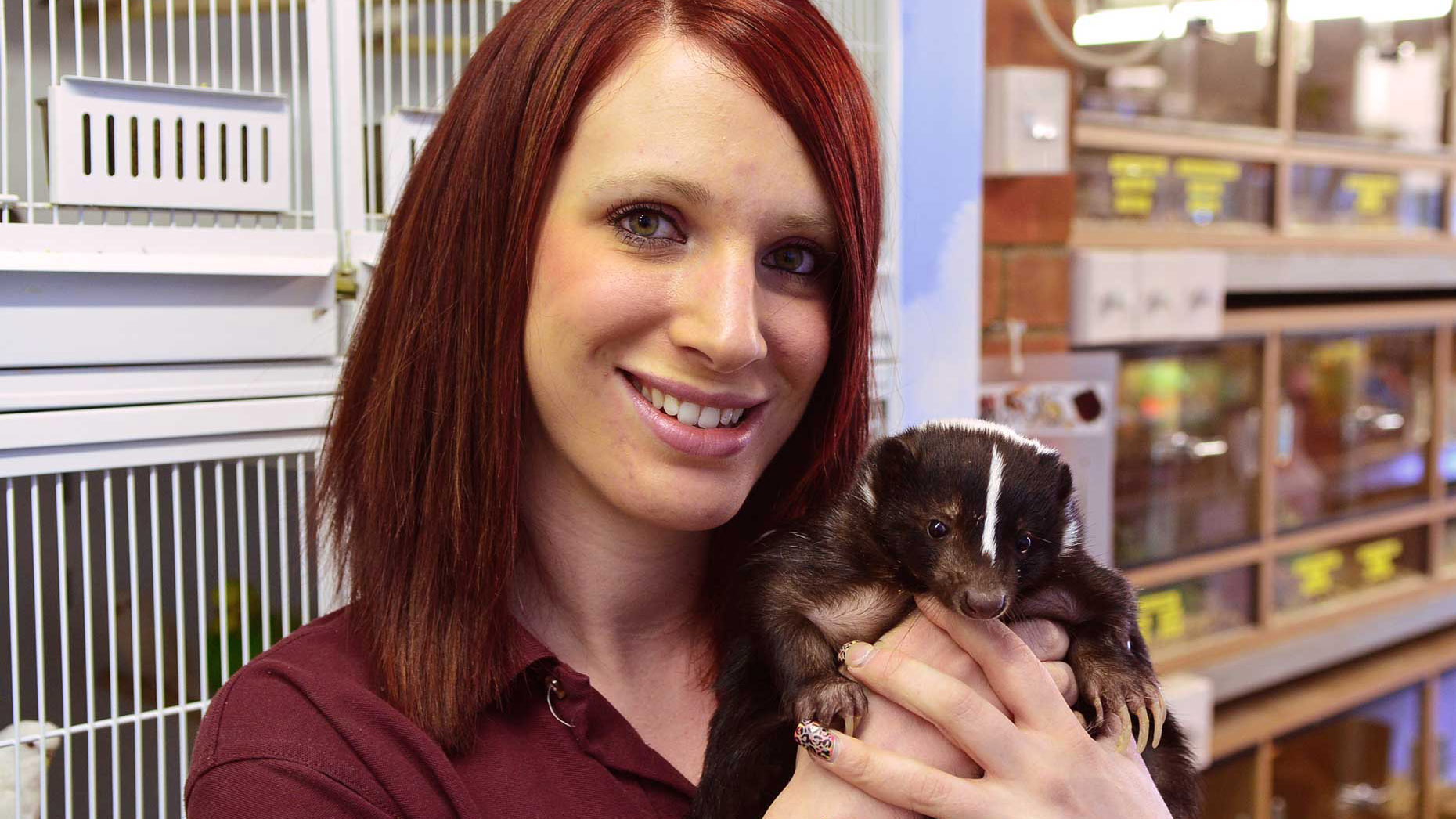 A Internet celebrity female skunk based in Lincoln celebrated her third birthday over the weekend.
Phoebe the skunk has been based at Pets Cabin on Newark Road for two years with owner Alyss Dickinson, where her visits prove popular with customers and fans.
Alyss acquired Phoebe after her previous owner passed away, leaving behind a number of animals.
"We went over to Nottingham to collect all the animals," Alyss said. "Phoebe was meant to be sold in a shop, but she wouldn't settle in the enclosures. I said that I'd bring her home, and she ended up staying."
Since her rescue, Alyss set the skunk up with her own Facebook page, which led to a massive following across the globe.
She's got over 2,500 people following her on the page and a "boyfriend skunk" in America called Endo, who sends her love letters. People also send her birthday and Christmas cards, presents, and letters.
From her Facebook, a number of people also come and visit the shop in the hopes of meeting the skunk, with one fan coming from Scotland to see her.
Lots of people like seeing Phoebe as she enjoys a cuddle, which can brighten people's days. One woman claims Phoebe's Facebook updates helped save her from depression.
Facebook isn't the only place Phoebe got her name out to the world — she made a few headlines in 2011 after making a great escape.
"She's been on BBC Radio 1, TV, newspapers and magazines because she escaped. She got out of may garden and went missing for four days. Obviously it's a bit weird to have a skunk go missing.
"We put posters out around Branston (where we live) then at about midnight a man called saying he'd just seen a skunk walking around. We went straight out, and it took us an hour to find her again."
It's not always plain sailing for the skunk though, as she has needed regualr emergency trips to the vets. Fortunately, her Facebook fans come in to help regularly.
"Sadly she had a womb infection which spread to her scent glands so she had to have everything removed [it is illegal to removed a skunk's scent glands except for medical reasons].
"Since then, she had to go to the vets because of fits, and she now has liver disease now. She goes to the vets every six months now. She is getting better though which is good."
Due to being an exotic pet, vets bills can amass hundreds or thousands of pounds, but Phoebe fans in the past have raised £900 of a £1,000 vet bill.
In a way of thanks, Phoebe does a number of fundraising events around the city to help raise cash for local brain tumour charity, Claudia's Cause.
"She goes to events for Claudia's Cause, and she went to the little girl's birthday party last year. A few of our other animals, like the meerkats, went along too.
"We do open days in the pet shop, and we do animal encounter parties called Phoebe's Close Encounters, it's Phoebe's own business! We can be hired out for events or to visit birthday parities."
She added: "We also take her shopping on her harness, and to pub gardens where she's quite well known!"
Phoebe can be visited most days except Monday in Pets Cabin, or invited along to charity or pet events. Find out more about Phoebe on her Facebook.