June 24, 2013 11.15 am
This story is over 125 months old
Lincoln parking wardens on double yellow 'permitted,' say county council
Parking woes: A Lincoln shop owner captured two parking wardens parking on double yellow lines — but Lincolnshire County Council said they are permitted to do so when at work.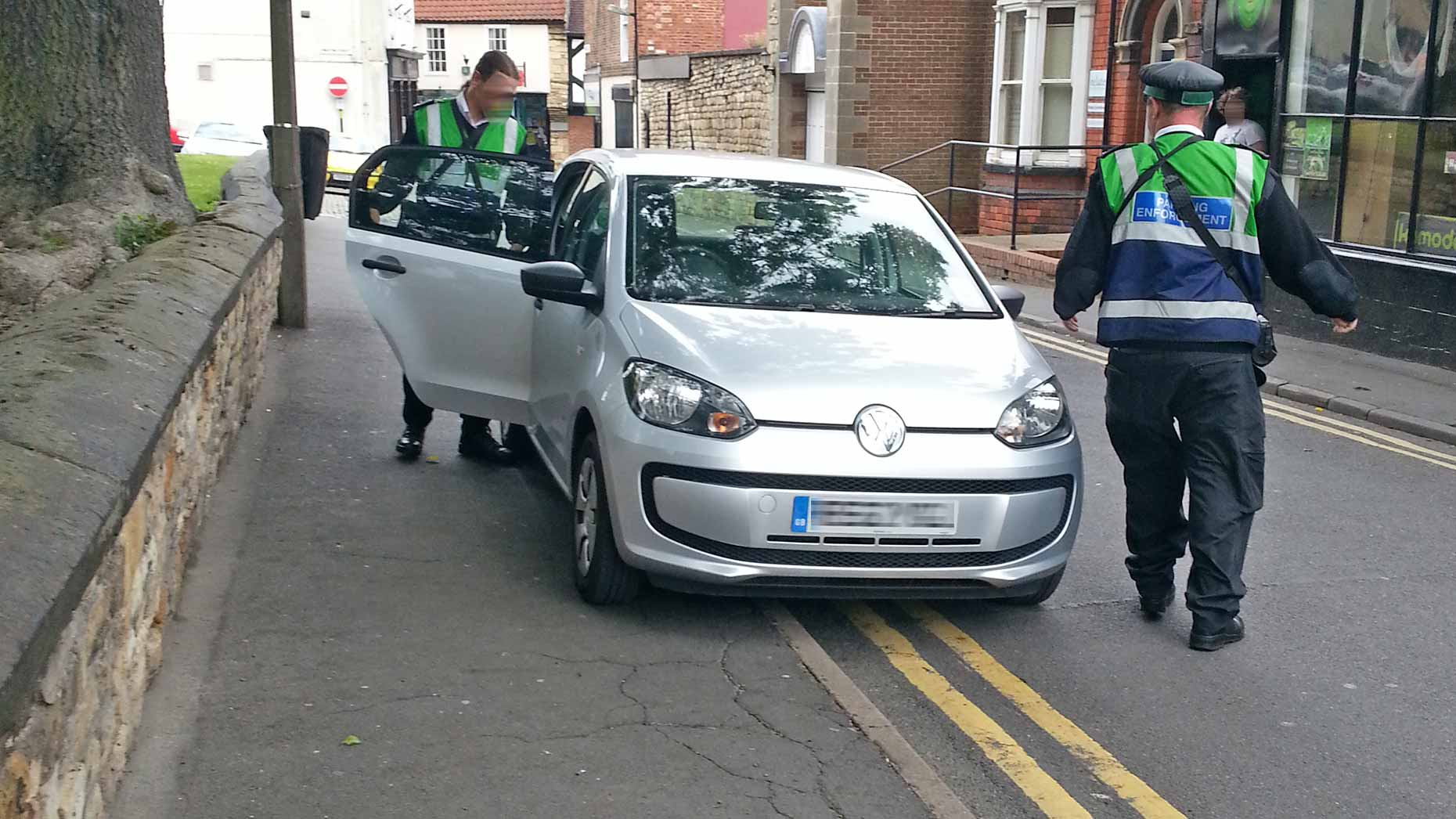 A Lincoln shop owner has captured the moment when two parking wardens parked on double yellow lines in order to go around and ticket cars — but Lincolnshire County Council said they are permitted to do so when at work.
The images were captured on Sunday, June 23, at around 2.15pm.
Andy Ferguson (26) is the co-owner at LA Reptiles shop on St Martin's Lane in Lincoln, and captured the incident with a friend's phone.
He said: "I saw a car with two parking wardens in it pull up on double yellows. I went to the shop door to see what they were doing or who they were ticketing.
"They both got out and headed for the 30-minute bay, where a yellow car was parked on double yellow lines.
"I watched one of the traffic wardens ticket [the yellow car] after waiting five minutes, whilst the other warden was ticketing a van parked next to a no entry sign.
"So I took a photo borrowing a friend's phone, and once they returned, took a pic of the two wardens getting into the vehicle.
"They told me 'We're parked legally, don't worry,' got into the passenger side, then got out and said that 'If those pictures appear on Facebook, we will be able to trace them.'
"I asked how they were parked legally, but they never responded and drove off," he added.
The shop owner said he previously received a ticket for parking on double yellow lines while loading stock for his shop, and an appeal for his fine was denied.
He said he was also fined recently for "parking in a bay in the 30-minute section, even though return within 1 hour rule applies, yet I was ticketed three hours later, purely because I happened to be in the same spot as first observed."
'Permitted to park in restricted areas'
Mick Phoenix, parking services manager at Lincolnshire County Council, said: "If no other suitable parking is available, enforcement officers are permitted to park where parking restrictions apply, providing they are using their powers under Civil Parking Enforcement, which is a statutory highway duty.
"This also applies to other people carrying out statutory highway duties, like emergency road repairs, traffic light works, as well as other universal services, eg post office collections, electricity/gas board works or emergency services," he added.
Since the civil parking enforcement officers started their job in Lincolnshire last December, they handed out 14,224 parking fines across the county by April 2013, with more than half — 7,215 — issued in Lincoln.
Through the fines, the parking wardens employed by Lincolnshire County Council raised £341,310, which is set to be reinvested into local transport projects.
Of the total number of fines, 891 were cancelled following appeals from motorists, while 3,617 were still outstanding at the last reported count in April.