April 16, 2014 1.52 pm
This story is over 92 months old
Street Pastors awarded Lincoln Civic Award
Outstanding merit: Lincoln Street Pastors have earned this year's Civic Award for their work helping keep the city safe at night.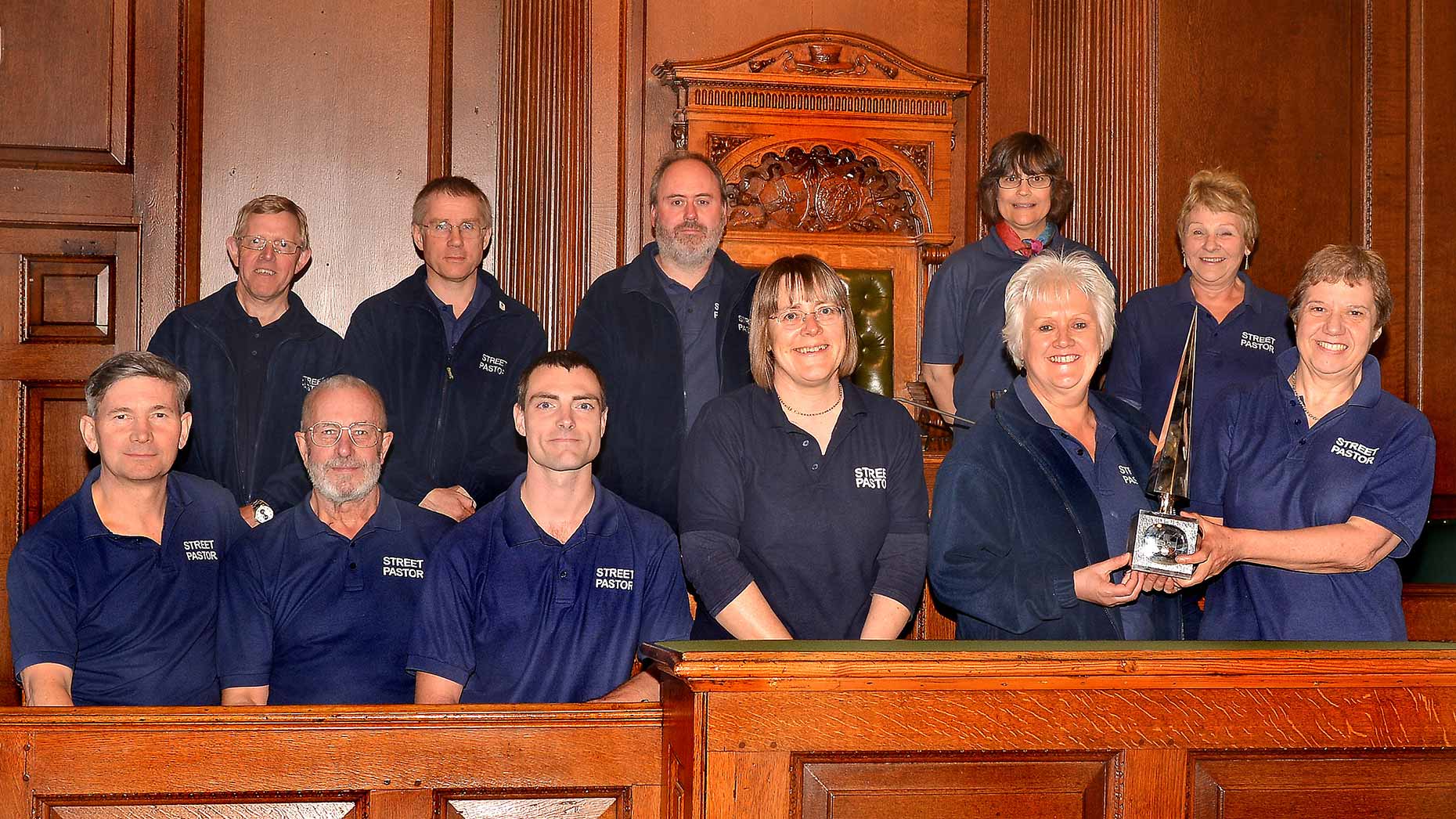 An organisation aimed at keeping people's nights out in Lincoln safe has won the the Lincoln Civic Award.
Lincoln Street Pastors patrol the city in teams of six on Friday and Saturday nights between 10.30pm and 4am.
The 60 volunteers aim to care, listen and help those on the streets in need of aid.
They offer flipflops to those who can no longer walk in their high heels, escort people to taxis, and carry water to help sober people up and flasks of soup for the homeless, as well as dog biscuits for their friends.
The organisation was started in 2007 by former Bailgate Methodist Church Minister, the Reverend Ian Brown.
Street Pastors include everyone from the unemployed to former teachers and an airline pilot, but more volunteers are always welcome.
Due to their hard work and dedication to the city, the Street Pastors were presented with the Civic Award at a ceremony in the Guildhall on April 16.
The award has been presented annually to special individuals, businesses, groups or charities that have brought credit to the city since 1966.
The Street Pastors' Co-ordinator Joy Liddle said: "We are thrilled. It is fantastic news and very humbling to think that we have been nominated by someone from outside of our group.
"This endorsement highlights a real appreciation for what we do, which is simply to offer caring, non-judgmental help to people, irrespective of their gender or creed.
"More than 20 churches support the scheme and our pastors range from people in their twenties to those who are in their seventies. We have just trained-up our eighth cohort of recruits.
"But we always need more. To join us, people simply need to have been a member of a church for at least 12 months and to be naturally passionate about caring for others."
As well as the Civic Award, six Mayoral Medals were awarded to:
Ms Alice Carter in recognition of her outstanding work in volunteering on numerous sport projects in the city
Dr Ahmed Elseragy in recognition from his role as the Chair of LSSF and with his involvement in celebrating diversity, tackling inequality and building community cohesion in Lincoln.
Mrs Susan Fletcher in recognition of her involvement with the Friends of Lincoln Hospital Association.
Mr Clive Rodgers in recognition of his voluntary work over the years in Lincoln as "The Real Santa", helping to raise money for lots of local charities.
Mr Barry Short in recognition of his hard work over the years at Hartsholme Country Park.
Mrs Sue Ormston in recognition of her work on numerous community based projects, in particular the St Giles Gala, and being an advocate for Early Presentation of Cancer (Epoc) Group.