January 6, 2015 8.00 am
This story is over 106 months old
Family pet sniffs out £12k 'space diamond' near Lincoln
Four months in a hedge near a Lincoln village: Rosie the spaniel managed to sniff out a £12,000 diamond that landed in a hedge four months ago.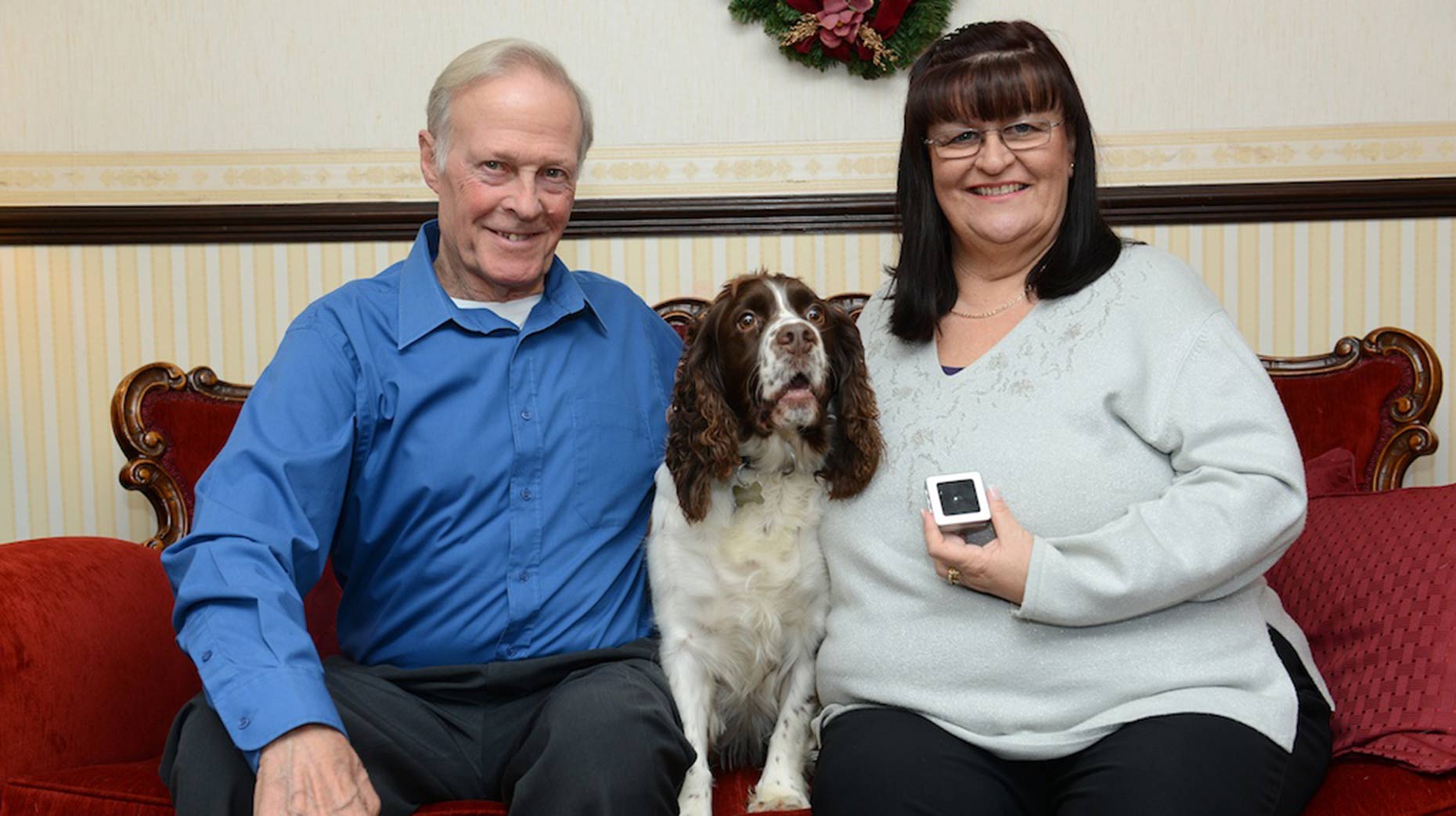 Retired lorry driver Allan Bell, 75, is praising his spaniel Rosie after she uncovered a diamond worth £12,000, which was launched into space four months ago.
The diamond was sent soaring to the edge of space (100,000ft) attached to a helium balloon on August 7, 2014 as part of a PR stunt by London retailer 77 Diamonds.
The plan for the balloon to pop at the edge of space before parachuting back to earth for the lucky finder to keep hit a glitch when its GPS signal was momentarily lost, and the gem 'vanished' off the grid.
The diamond was reported to have landed somewhere within a five mile radius of the village of Lea in Lincolnshire and thousands of treasure hunters flocked to the area in search of the valuable gem.
No one found the missing diamond and four months passed by until, two days before Christmas, spaniel Rosie got on the scent of something interesting and shot under a hedge.
Allan Bell had been walking Rosie and Dylan, a Saluki cross, along a country path in the village of Brattleby when Rosie's scramble unearthed a package attached to a limp orange parachute.
Allan – who celebrated his silver wedding anniversary with wife Pat, 59, this year – said he had seen reports on TV about the missing gem and had 'kept his eyes out for it' since August during his daily dog walks.
He said: "As soon as I heard about this diamond landing around these parts I kept my eyes out for it – but never in a moment did I think I would ever find it.
"I was walking Rosie and Dylan along and Rosie suddenly darted under a hedge and got a hold of something big.
"She took about 10 minutes dragging it out from under the hedge and I saw that it was covered in mud and leaves.
"I didn't fancy carrying it for the rest of the walk, so decided to leave it until we walked back along the road on our way home."
It wasn't until about 30 minutes later that it hit him that it could be diamond everyone was searching for and he dashed back to the hedge to retrieve the package.
He said: "I looked a bit closer and saw the package had an orange parachute underneath it and details of who to contact written on it – and I knew it must be the diamond
"I got back to the car and drove home to open it up in a state of some excitement."
Allan said he opened the box with his wife and found the gem inside. The couple were congratulated on the find by 77 Diamonds and Pat has yet to decide what she'll do with the 1.14 carat diamond.
She said: "I couldn't believe it when we opened it up – you could have knocked me down with a feather.
"I suppose if I led a glamorous lifestyle I would be wearing it out and about in all the best places, but I don't lead a rip-roaring lifestyle, so such a beautiful diamond might be wasted on me.
"Allan got me a lovely bracelet for Christmas, but this diamond has trumped it – just a bit!"
She said she and her husband would 'probably' sell the diamond and go on a Mediterranean cruise to celebrate their silver wedding anniversary.
Tobias Kormind, co-founder of 77 Diamonds said: "Having launched the diamond into space back in August we were starting to doubt whether it would ever be found.
"It really captured the imagination of the nation at the time and we were overwhelmed by the thousands of people who joined in the treasure hunt to find it."