Plans for £1m Brayford restaurant within a year
Brayford investment: A new two-storey restaurant development, valued at around £1 million, has been proposed for the Brayford waterfront area of Lincoln.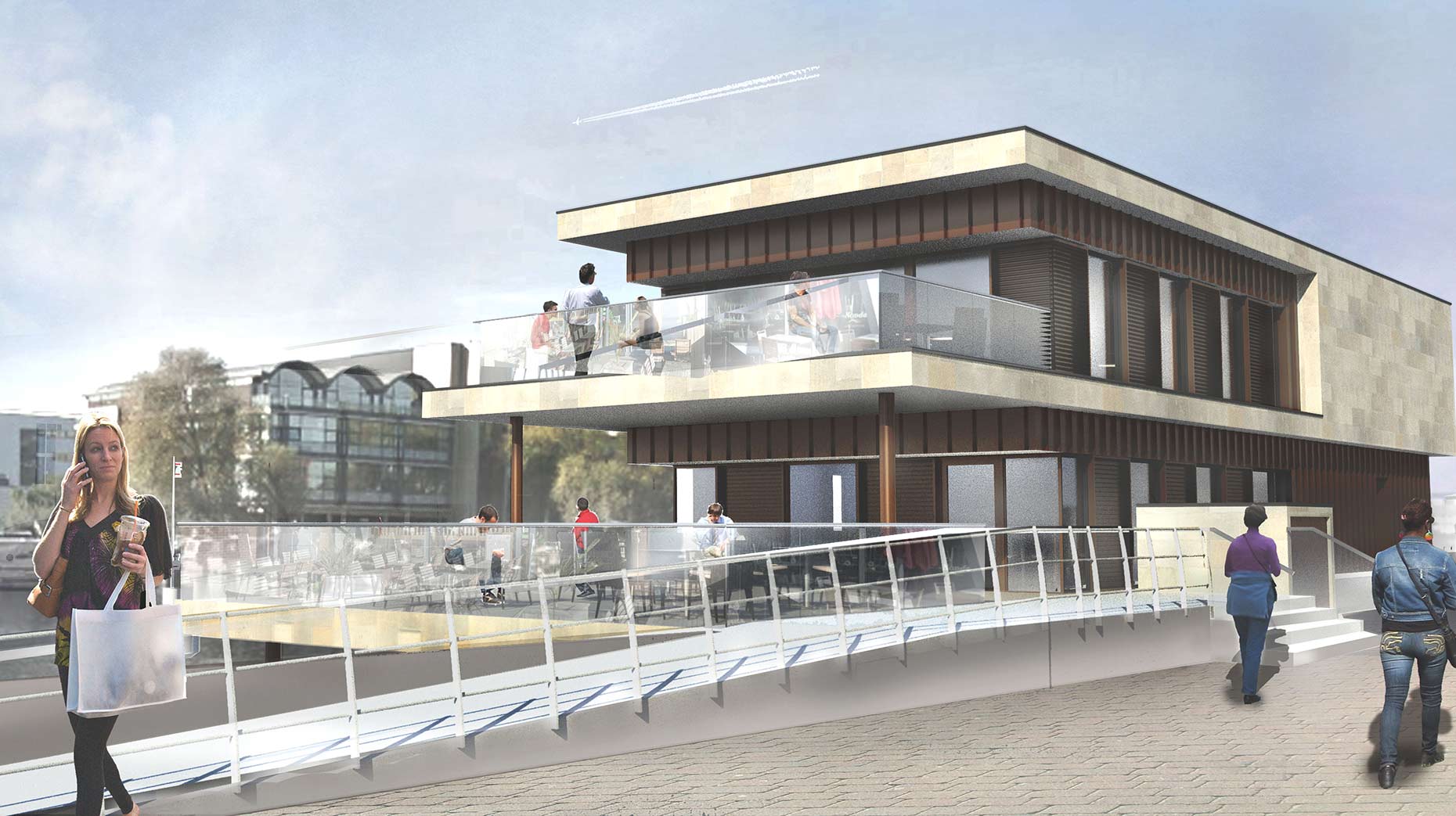 A new two-storey restaurant development, valued at around £1 million, has been proposed for the Brayford waterfront area of Lincoln.
Lincoln-based Stem Architects, on behalf of applicants Investors in Lincoln, have set out initial plans for the 529 sq metre building in powder coated aluminium with glass balustrades.
Part of the building will be on stilts and the structure will be similar in appearance to the Wagamama restaurant which opened in 2012 – also designed by Stem
The site is presently occupied by a small viewing platform and developers say the structure is unsafe and in need of replacement.
The plans will go before the City of Lincoln Council in February, after which planners will put construction works out to tender.
Investors in Lincoln say the project, which would see the building leased to a well-known restaurant chain (yet to be decided),  is hoped to be completed within a year.
Investors in Lincoln Chief Executive David Rossington, who is also the director of The Brayford Trust, said:
"There is so much more retail interest in Lincoln than there was years ago. The Brayford is a jewel on Lincoln's crown but it needs a lot of polishing.
"The development will create jobs both during the construction phase and also on completion. The Wagamama restaurant created around 30 local jobs and I see this project having a similar result.
"Another aim of the project is to provide secure income for the Brayford Trust from the rental of the building. The trust has no source of income other than the rental of the moorings. About a third of the moorings need renewing so we need to do all we can to fund the upkeep of the Brayford."
The Brayford Trust which oversees restoration and development of the waterfront area, previously set out its vision for the future that involves creating a circular route around the perimeter of the pool.
David added: "We have aspirations of two new footbridges to improve pedestrian access around Brayford Wharf. We are still looking at this but would however need to rely on grant funding or private investment."
Objections
The plans have so far been met with some local objections, including representations from the West End Residents Association.
Sandra Lewis said: "We are of course aware that the Wagamama restaurant has set out a precedent of sorts for this type of development but this was only a replacement for an existing building (Harbour Master's Offices).
"We feel strongly that any further encroachment onto the view across the Brayford should be strongly restricted as if this application is approved then it could open the door to further similar ones.
"We do feel that there are sufficient restaurants already along that area of the Brayford."