February 26, 2015 10.16 am
This story is over 86 months old
Lincoln City FC to create Dambusters mosaic in fundraising drive
Fundraising campaign: Lincoln City FC has announced plans to create a mosaic of the Dambusters to rescue them from their financial crisis.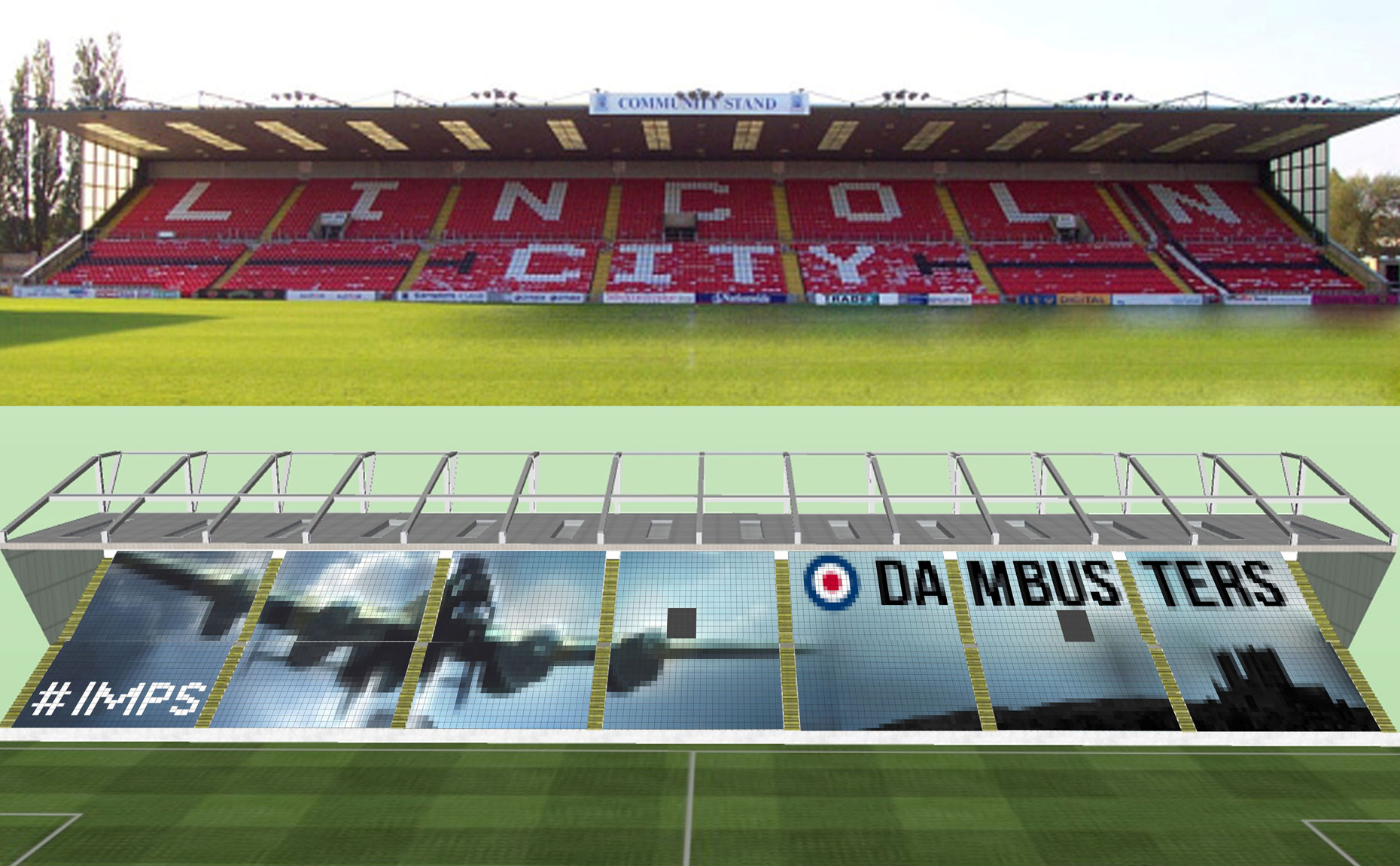 Lincoln City FC has announced plans to create a giant mosaic of the Dambusters in a bid to rescue them from their latest financial crisis.
The mosaic will feature an image of a Lancaster bomber and a silhouette of Lincoln Cathedral alongside the RAF logo and Dambusters name.
The club hopes that local businesses and fans from Lincoln and around the UK will get involved in the project by pledging money for individual or groups of seats that make up the design.
The Imps need to raise at least £380,000 in funds after the Co-operative Bank called in the debt it is owed and asked the club to find new bankers.
The cost of the scheme is estimated to be just under £100,000, with the club hoping to raise the majority of the funds it needs to survive from this project.
Prices start at £40, rising to £250 for special sections with donors receiving a special pin badge, certificate and an invitation to be part of a team photo when the mosaic is completed.
"We have been discussing a way of celebrating the club's connection with the Dambusters for some time," said acting managing director Kevin Cooke.
"We already acknowledge the amazing feats of these brave men by playing the theme at home games but we wanted something more significant.
"The idea of creating this iconic image in one of our stands emerged and everyone we have spoken to has been really excited by the idea.
"The timing could not be better. We need something to rescue us from this current financial crisis and what better to save us than the Dambusters."
The campaign is being supported by Crowdfunder.co.uk, which has already raised £4 million for thousands of projects.
However, the Imps' project has the potential to be the biggest campaign launched by the website to date.
In 2001, when the Imps entered administration, the club held a 'buy your seat' campaign to raise funds and it is hoped that fans who bought a seat as part of that campaign will get the opportunity to purchase the piece of mosaic which will be put in its place.
The idea for this particular fundraising project came from seeing a mosaic of England football legend Tom Finney at Preston North End's Deepdale stadium.
The club plan to start work on the stand following the Madness summer concert at Sincil Bank, and have it finished for the start of the new season in August.