July 30, 2015 2.56 pm
This story is over 77 months old
Lincoln business expo turns heads on Tritton Road roundabout
On the roundabout: Businesses show of their creativity in the middle of a busy Lincoln roundabout.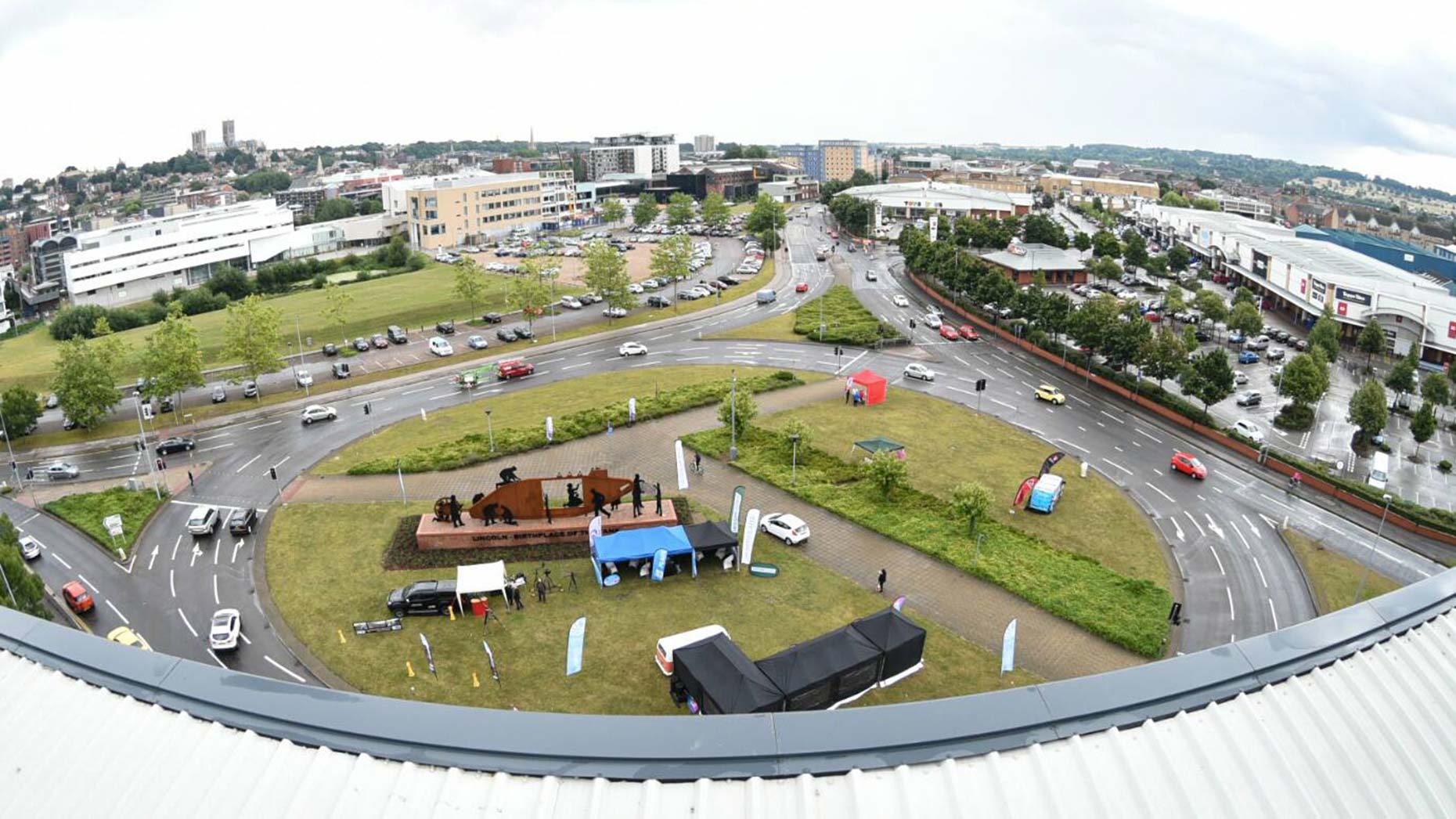 For the first time, a creative business exhibition has been held on a busy Lincoln roundabout showcasing just how imaginative firms in the city can be.
On the Roundabout is the first known event of its kind, held on Tritton Road roundabout in the heart of Lincoln, Thursday, July 30.
Organised by LMA Events, nine businesses based in tech, digital and the creative industries, including media, marketing and web development, came together to showcase the services on offer locally.
Lincolnshire-based businesses that exhibited included Your Print Partner, Lincoln Marketing Agency (LMA), Laser Red, Lincolnshire Business, Allen Signs, Bluecube Telecommunications, Relish, Kurnia and The Lincolnite.
Dean Graham, Managing Director of LMA, came up with the idea of the exhibition on the roundabout. He said: "We often hear of businesses sourcing creative services from outside of the city or even the county because they aren't aware of what is available locally.
"This event was designed to promote those businesses who are often too busy doing great work to shout about it."
Stuart Maclaren Managing Director of Your Print Partner said: "We are here to show how creative businesses in Lincoln can be and are excited to be able to speak to other companies who want to become more creative with their printing design and needs.
"Today we can see that Lincolnshire does have a creative side to it and there are companies in Lincoln that want to produce products such as flags.
"We have creative media companies, web developers, SEO companies. There are a wide range of products that are produced for the creative industry in Lincoln that people probably don't know about."
Another exhibitor, Michael Kheng owner of Kurnia Aerial Photography & Videography, was demonstrating how drones can help businesses reach new heights.
He said: "It is quite bizarre being in the middle of a roundabout. It is a very unique location. It is about getting our name out there and with all of the cars driving passed we are getting our name out there.
"With a drone you get that different view point, whether it's from videos or photographs. Any company can benefit from it."
Liam O'leary, owner of Laser Red enjoyed the opportunity to showcase the talents of his company which deals with creating websites.
He said: "Today we showcased our websites, to help people be more efficient with their time. Businesses have to be different, they have to stand out.
"There's too many businesses now where the potential customer would look at the differences between them and then not really know which is which.
"Usually it will then come down to cost. This doesn't work because they just undercut each other and some go out of business.
"We try and differentiate ourselves on design but we are not cost competitive. We will be competitive in other areas like customer service and quality."
---

For the latest dispatch of business news from across Lincolnshire delivered in your inbox every Friday, subscribe to the Lincolnshire Business magazine.