July 15, 2015 3.35 pm
This story is over 81 months old
Refurbished Lincoln Castle welcomes 100,000th visitor
Special surprise for visitors: A family from Glasgow have become the 100,000th visitors to Lincoln Castle since it was restored earlier this year.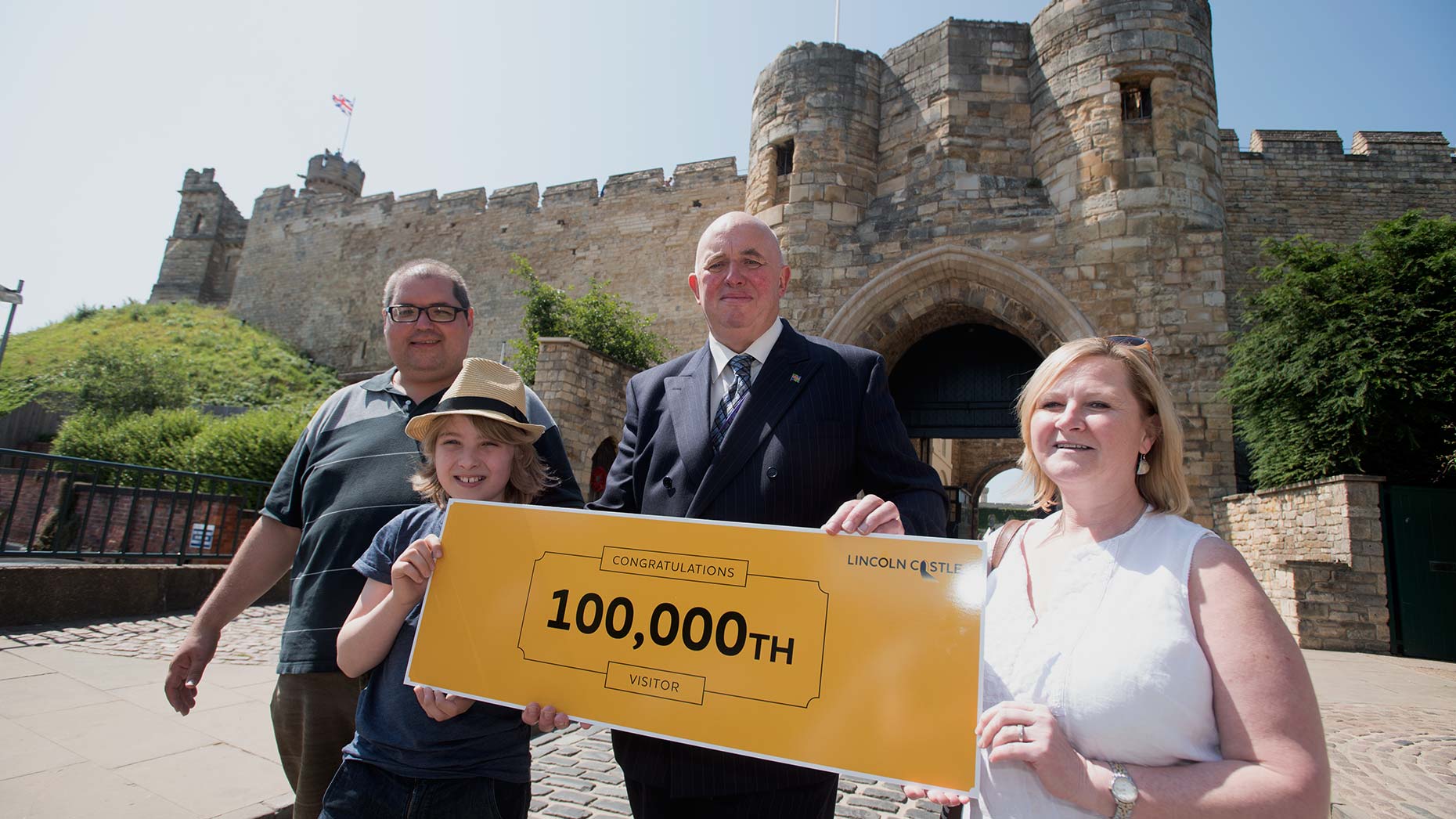 Ten-year-old Noah Brown from Glasgow has become the 100,000th visitor to Lincoln Castle since it was restored earlier this year.
Noah, with mum and dad Robina and Mark, from the Brookfield area of Glasgow came through the castle gates at just after 2pm on July 15.
The castle re-opened following a £22 million renovation on April 1, and received a royal seal of approval from Princess Anne in June.
The Browns will receive a special 'golden ticket' giving them free entry to the castle for a whole year and hamper of goodies from the Lincoln Castle shop, including sparkling wine and Bateman's special Law of the Land beer.
Councillor Colin Davie, Executive Member for Economic Development, said: "I'm delighted we've been able to hit this impressive milestone in such a short space of time.
"The new-look castle has undoubtedly brought a real boost for the county's tourism industry, and I'm sure local businesses will have seen the benefits of having so many extra visitors.
"I hope Noah and his family enjoy their day and use their golden ticket to return over the year.
"And if you haven't been to see all the new-and-improved site has to offer, make sure you pay us a visit soon."
Councillor Nick Worth, Executive Member for Culture and Heritage, added: "The way in which people have taken to the new-look castle is beyond anything we imagined.
"We'd originally expected to attract around 120,000 visitors over the course of the first year. This was a deliberately conservative estimate, but, even so, it's a fantastic achievement to have hit the 100,000 mark in little over three months.
"Ever since the gates re-opened, there's been a real buzz about the place.
"And with the school holidays coming up and a summer packed with events, I wouldn't be surprised if that number doubles by the end of the year.
"So if you haven't found out what all the fuss is about yet, make sure you pay us a visit soon."