August 6, 2015 2.03 pm
This story is over 76 months old
Lincoln College student brings back gold from Special Olympics in America
Multi-medallist: A Lincoln College student who travelled to Los Angeles to compete in the Special Olympics World Games has returned with a gold medal around his neck.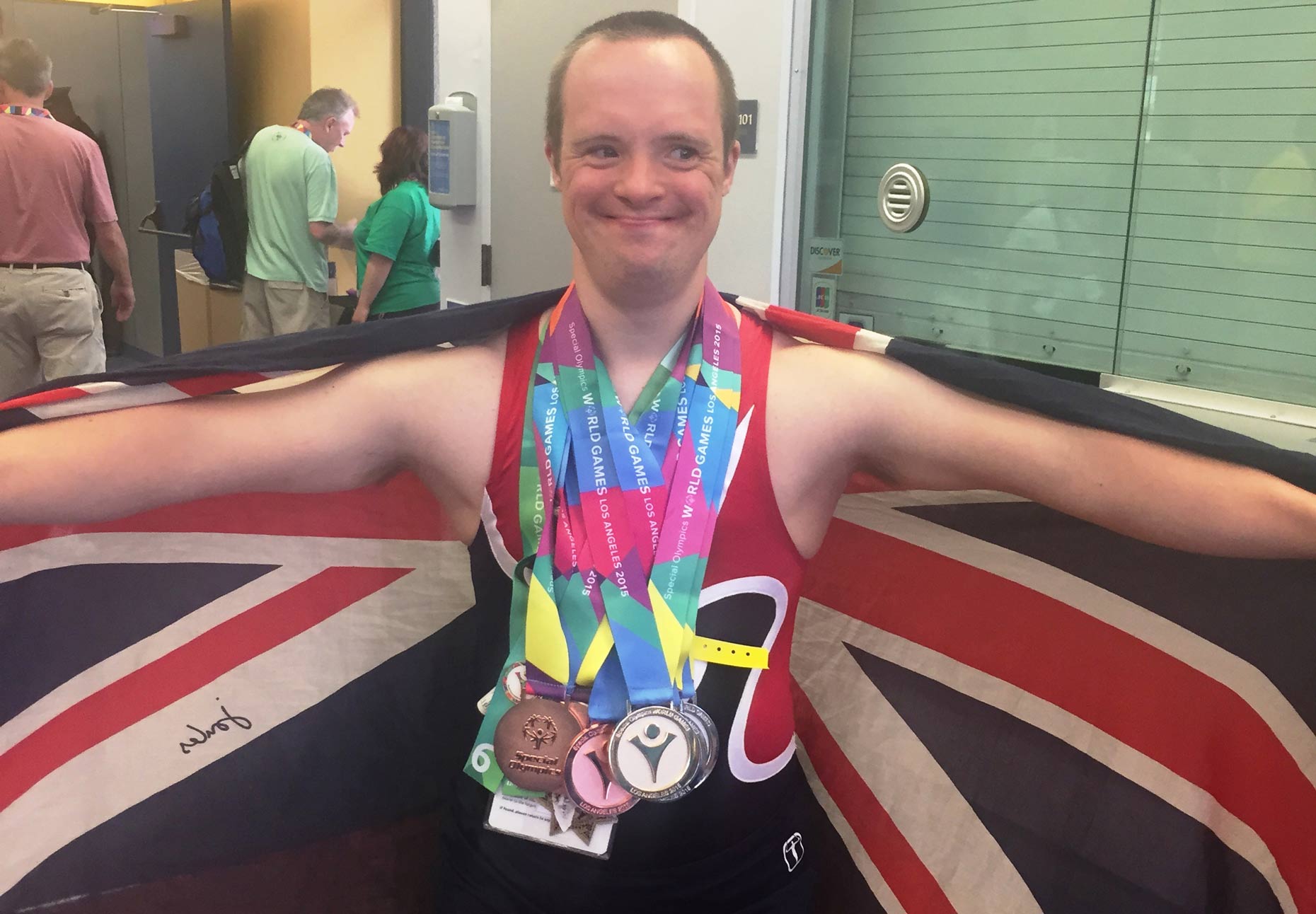 A Lincoln College student who travelled to Los Angeles to compete in the Special Olympics World Games has returned with six medals including gold around his neck.
Andrew McLaughlin, who has Down's Syndrome and severe learning difficulties, won gold on the horizontal bars during the Gymnastics (Artistic) events which took place between July 30 and August 1.
The 30-year-old from Middle Rasen competed on another five pieces of apparatus, securing silver medals for his performance on the rings and his floor routine, finishing third on the vault and parallel bars, and coming in sixth place on the pommel horse.
Andrew's overall performance ensured that he received an all-round bronze medal in the event.
Helen McLaughlin, Andrew's mum, said: "He loved his time in Los Angeles and was excited to meet people from all over the world.
"He earned the title 'Andrew the Gent' from his coaches as he welcomed everyone he met with a smile, a handshake and a personal introduction of, 'Hello, I am Andrew and I am 30 years old.'"
Andrew, who first became interested in gymnastics in 2000 when he was invited to join a disabilities gymnastic group, was one of around 6,500 athletes from 165 countries selected to compete in the games.
He will add his latest medals to his burgeoning trophy cabinet, having secured three silvers from the Special Olympics GB National Summer Games in Cardiff in 2001, medals on four of the six pieces at the National Summer Games in Leicester in 2009 and four gold medals, two silver medals and Gold All Around at the 2013 Games in Bath.
Michael Roberts, from the Lincoln Gymnastics Club, has been Andrew's coach since 2013.
He said: "Andrew has worked extremely hard in preparing for the games and this has all paid off with his collection of medals.
"Representing Great Britain at the Special Olympics World Games is the highest accolade a disability sports person can receive and his sporting achievements are an inspiration to us all."
Andrew was helped in his preparation by a year's free membership to Deans Sport & Leisure courtesy of Lincoln College where he trained with Strength and Fitness Consultant Bob Willmington.
Lincoln College Group CEO Gary Headland said: "We're enormously proud of Andrew's achievements and he is a real example to us all of what can be achieved through ambition, hard work and dedication.
"We hope his training at Deans Sport & Leisure helped him along the way and we will do our best to support his future sporting endeavours in any way we can."