August 7, 2015 9.51 am
This story is over 99 months old
Lincoln slimmer united with writer of moving letter
Happy ending: After an appeal to find the writer of a touching letter was shared by thousands, a Lincoln slimmer has been reunited with his admirer.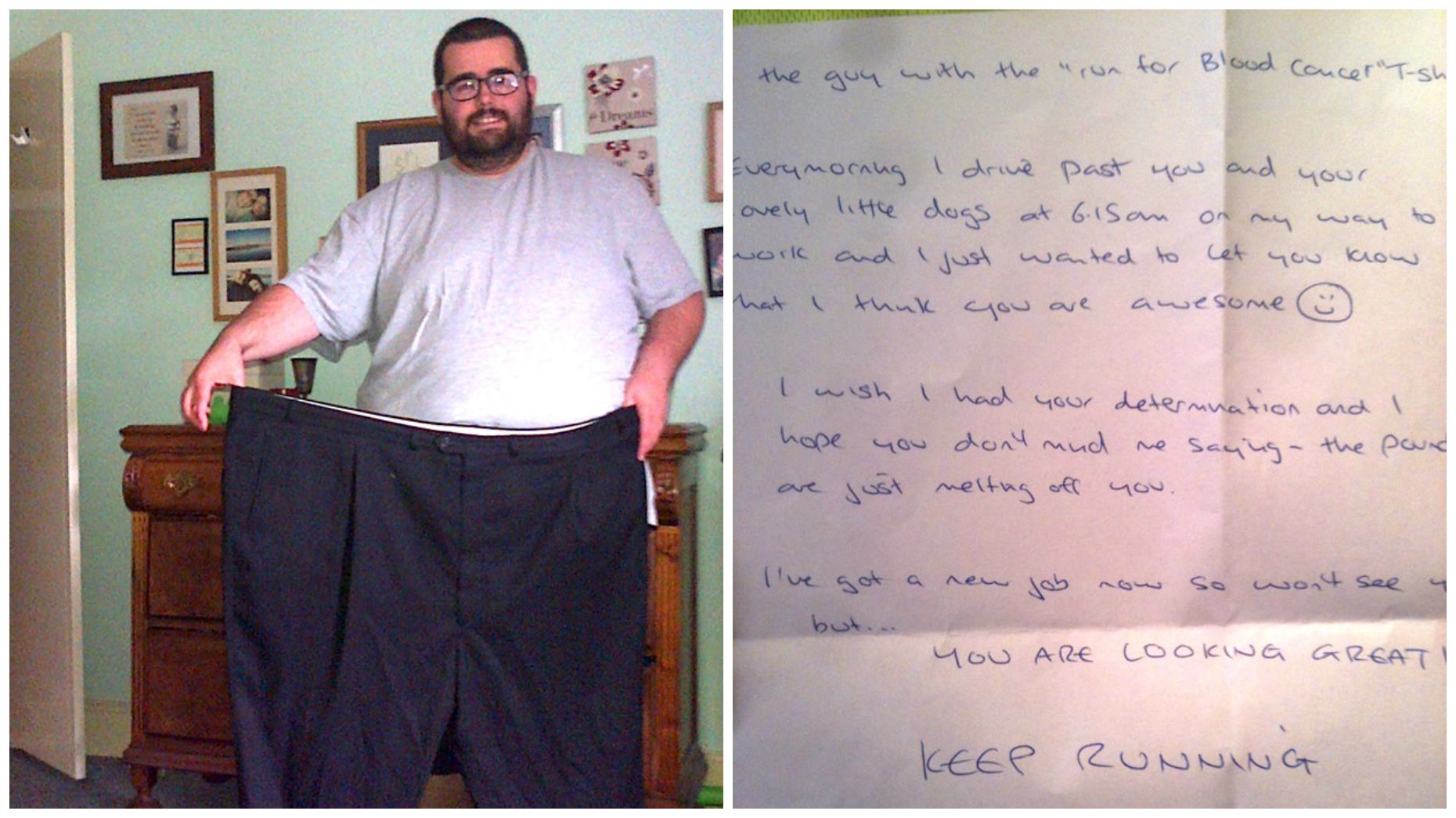 When Jonathan Bellshaw from Lincoln went for his daily early morning run yesterday he never expected to find a note on his route congratulating him on his staggering weight loss.
Now, after an appeal on The Lincolnite was shared by at least 1,000 people, he has been united with the writer of the touching letter.
Jonathan, who weighed 30 stone just ten months ago, was spotted by daily commuter 'Lucy' as he shed nine stone – raising money for Leukaemia and Lymphoma Research.
Inspired by his determination, and saddened that a new job would mean she wouldn't see him on her commute, Lucy scribbled a letter on some copy paper, sealed it in an envelope and taped it to the utilities cabinet on South Park Avenue.
It read:
"To the guy with the 'run for Blood Cancer t-shirt',

Every morning I drive past you and your lovely little dogs at 6.15am on my way to work and I just wanted to let you know that I think you are awesome.

I wish I had your determination and I hope that you don't mind me saying – the pounds are just melting off you.

I've got a new job now so won't see you, but you are looking great – keep running."
Jonathan's story spread online, with many wishing him luck with his ongoing weight loss journey, fundraising page and inspirational blog.
Jonathan said: "I was getting constant notifications of shares by random strangers, lots of kind comments and hundreds of likes.
"What struck me is how many people said it was great and what Lucy had done has restored their faith in humanity.
"I have no idea how many people have been touched, inspired or motivated by my story but I had someone shout from the pub to keep going tonight after they asked 'were you the guy on the internet today?"
Lucy, who got in touch with The Lincolnite, said that while she preferred to remain anonymous in the world of local media, she is looking to meet up with Jonathan for a 'drink and a dog walk'.
She explained that her new job meant she wouldn't see him on the drive in. She said: "A friend of mine has a toddler with Diamond Blackfan Anaemia, and I had just joined the Anthony Nolan Register providing lifesaving transplants for people with blood cancer when I first started noticing him.
"I wanted to leave the note because I used to weigh 22st myself and lost 10st when I started running, so I know how tough it can be following a strict diet but still having to find the energy to get of bed at stupid o'clock in the morning to exercise.
"Sadly I've put half of it back on after having a baby which is why I said that I admired his determination because I've had so much going on in my life recently that I've neglected my health, and I wished I had the commitment to squeeze 60 minutes every day out of my busy schedule to do something about it."