October 19, 2015 11.08 am
This story is over 96 months old
Anti-drone protesters hold vigil before RAF Waddington fence cutting trial
Trial due: The four activists who broke onto RAF Waddington to protest against the use of drones face trial on October 19.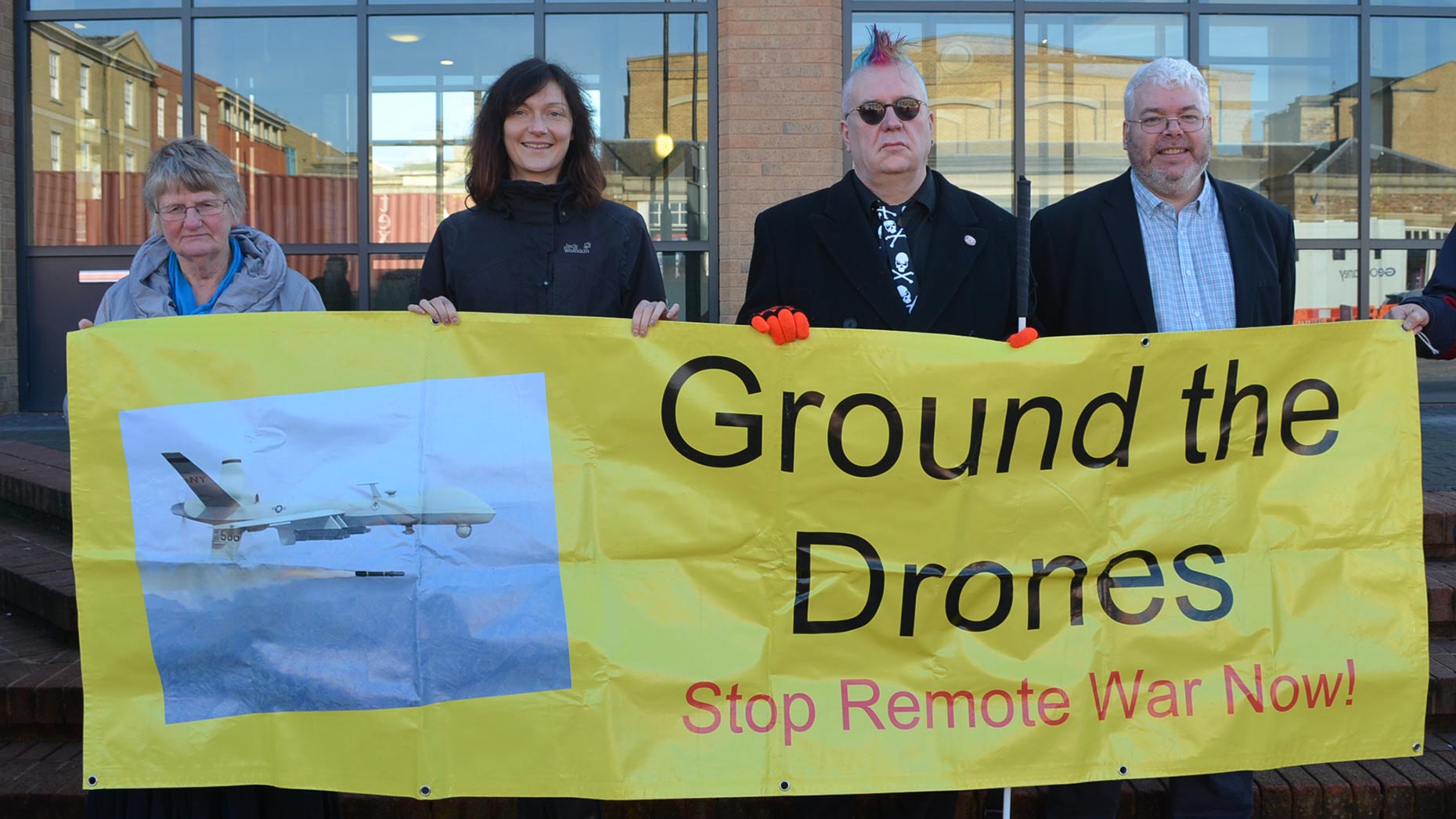 The four campaigners who broke onto RAF Waddington to protest against the use of drones from the base held a show of solidarity outside Lincoln Magistrates' Court before the start of their trial on October 19.
As previously reported, Christopher Cole, 51, from Oxford, Gary Eagling, 52, from Nottingham, Katharina Karcher, 31, from Coventry, and Penelope Walker, 64, from Leicester first appeared in court on Tuesday, February 10, pleading not guilty to charges of criminal damage.
Their trial was originally scheduled to take place on May 27 but was postponed to allow for more witnesses to come forward and to give the prosecution and defence time to build their cases.
The protesters, who belong to the End The Drone Wars group, are charged with Obstructing a Person Engaged in a Lawful Activity and Criminal Damage after breaking onto RAF Waddington on Monday, January 5.
The activists used bolt cutters to break through a fence onto the base near Lincoln, armed with banners and leaflets condemning the use of drones.
RAF Waddington is home to the Reaper Ground Control Station, which pilots unmanned missions across the globe.
The protesters were then arrested and charged by Lincolnshire Police before being released on bail.
Before heading into court, the protesters were joined by fellow supporters and activists, with banners reading 'Drones fly, children die', and 'Bombing people creates terrorists'.
Their presence also attracted the interest of several passers-by, who shouted obscenities at the group before walking on.
Christopher Cole said: "We will be arguing in court that we had a reasonable and lawful excuse to prevent crime at the base. It's perfectly legitimate under UK law to do that.
"RAF Waddington is the home of drone warfare not just in the UK but in Europe. There will continue to be protests, demonstrations and challenges to the use of drones at the base.
"The best way to create security in the world is through diplomatic solutions, not armed warfare.
"We all saw what happened in Iraq – there were no weapons of destruction. We destroyed the country and our involvement has had a direct link to the rise of Isis.
"Who knows what this unlawful and illegal bombing will lead to in the future?"
A number of anti-drone protesters returned to RAF Waddington earlier in the month, staging a protest outside the base alongside a counter-protest from members of the English Defence League (EDL).
---
This is a developing story, and will be updated accordingly.