November 27, 2015 2.31 pm
This story is over 73 months old
Lincolnshire Police lifesavers praised for dedication to public service
Police awards: Special Lincolnshire Police officers have been praised by Chief Constable Neil Rhodes at an awards evening.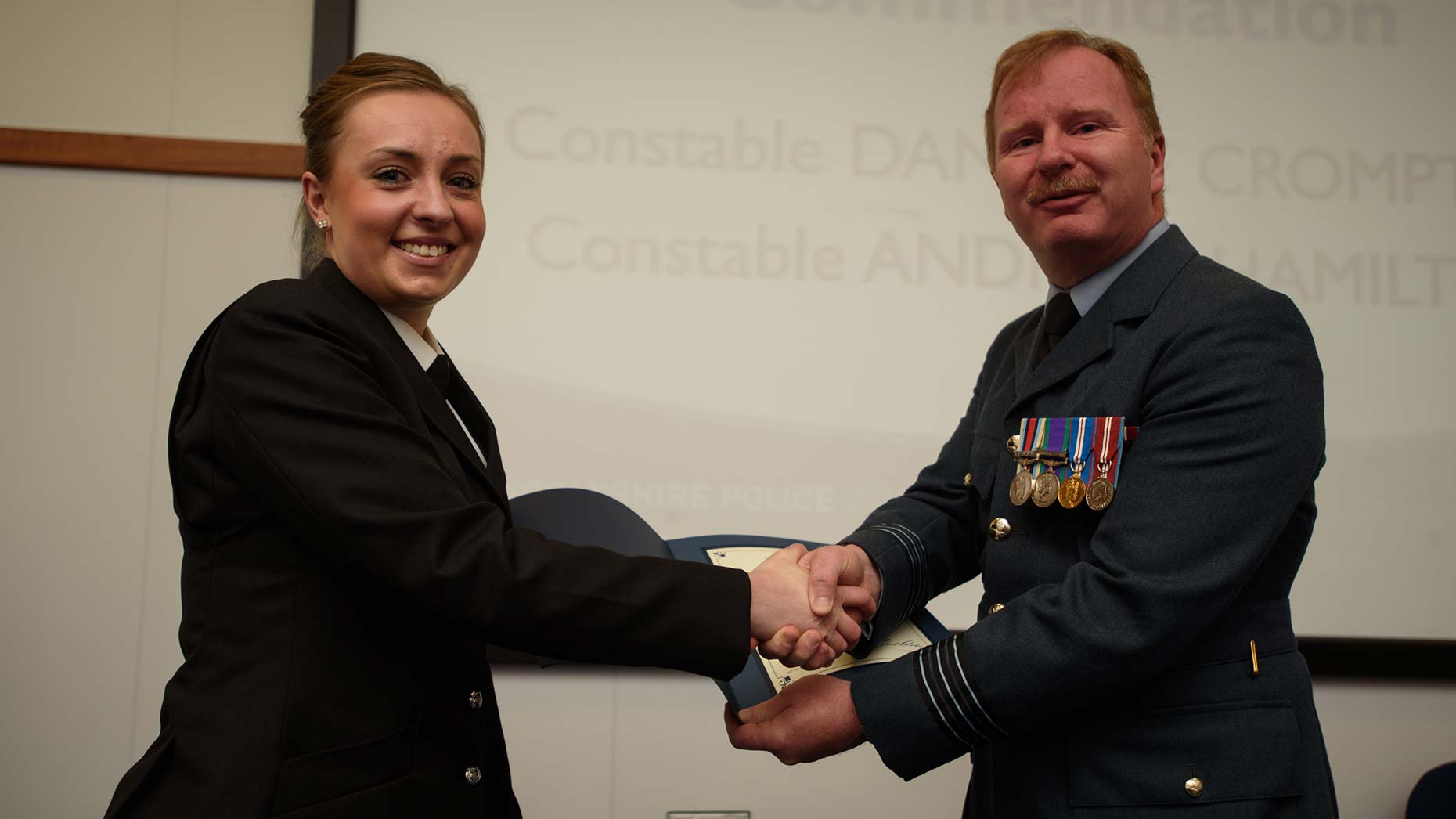 Lincolnshire Police officers who have gone above and beyond the line of duty have been commended along with long-serving stalwarts at an 'evening of pride and celebration' on November 26.
The evening saw officers receive honours for their actions, which included saving the lives of a stricken driver and a fellow policeman suffering a heart attack.
Awards were presented to dedicated officers by RAF Scampton Wing Commander Mike Harrop, who was invited to the event by Chief Constable Neil Rhodes.
Some of those success stories included:
Traffic disaster averted
Police constables Danielle Crompton and Andrew Hamilton were driving their marked patrol car along the A46 dual carriageway in June and began to slow for queuing traffic ahead they noticed that the driver of an Audi which drove past them in the same direction was slumped at the wheel.
The car then hit the central reservation but continued driving.
Danielle, who was driving the patrol car, immediately accelerated and tried to use the patrol car to bring the out-of-control Audi to a halt.
She said: "I could see the Audi was heading towards the stationary traffic ahead at Carholme roundabout and could see the potential for serious injury to the driver and other road users.
"I managed to manoeuvre our patrol car alongside the Audi and push it into the barrier and bring it to a stop before it collided with the other traffic."
The two officers immediately began first aid on the collapsed Audi driver until paramedics arrived.
It transpired that the man had suffered a seizure at the wheel and has since made a full recovery.
Chief Constable Rhodes awarded the officers commendations for their keen observational skills, outstanding professionalism and swift decisive actions which prevented serious injury to the Audi driver and other road users.
Officers save life of colleague
In the same month, the Tactical Support Team were undergoing training at RAF Newton for public disorder situations when PC Terry Stamp had collapsed halfway into the test.
His fellow officers went to his aid and started CPR on Terry.
Another officer found a defibrillator which was used to revive Terry after which he was airlifted to hospital.
Chief Constable Rhodes said: "Terry spent a few days in hospital. It was confirmed he had indeed suffered a heart attack and fortunately, five months later he has fully recovered and is back at work."
Junior cadets save elderly woman's life
Two of Lincolnshire's junior police cadets were assisting the Louth neighbourhood policing team to deliver Halloween posters and leaflets on October 14 when they came across a house all in darkness but with all its windows wide open.
They went inside the house and found the elderly lady barely conscious behind the bathroom door and immediately called for assistance.
Inspector Colin Haigh, from the Wolds beat team, said: "The intervention of the two cadets enabled appropriate medical care to be provided and she will now hopefully make a full recovery thanks to their actions.
"This is an excellent example of public service and I am immensely proud of them for representing Lincolnshire Police in such a positive way. The actions of the cadets saved her life."
Tenacious officer
Skegness Constable Aaron Thorpe was following up investigations into an earlier stabbing in the town in July.
His enquiries had taken him to the Keal Coates Post Office and after viewing CCTV footage he established that the suspect had only left the post office a few hours earlier.
As he was driving away he saw the suspect in a white BMW who immediately ran away.
Constable Thorpe alerted colleagues by radio and set off on foot in pursuit, a pursuit which lasted over a mile across fences, a field full of cattle, a meadow and he finally came across the suspect trying to conceal himself in a stagnant pond.
Once his colleagues arrived, Constable Thorpe waded into the pond and arrested the man.
Long service rewarded
Retired officer and current support staff member Derek Canton was presented with a certificate for 40 years of service.
Special Constable Christopher Riley received the Special Constabulary Long Service Medal and Constables Emma-Jane Crisp, David Eldridge, James Hodgson and Philip Pescador-Smith were given the Police Long Service and Good Conduct Medals.