Yarn bombers decorate Lincoln Tank Memorial with knitted poppies on Armistice Day
Yarn bombed: The Lincoln Tank Memorial has been adorned with knitted poppies thanks to a group of 'yarn bombing' enthusiasts on Armistice Day.
The Lincoln Tank Memorial on Tritton Road Roundabout has been adorned with knitted poppies thanks to a group of 'yarn bombing' enthusiasts on Armistice Day.
As dawn broke on Wednesday, November 11 around 10 people from the group known as the Lincoln Yarn Bombers began to drape the sculpture in a garland of 230 hand-knitted poppies as a tribute to the British war dead.
The poppies were knitted by number of different groups, with many joining from across the globe – some even travelling from Canada and New Zealand.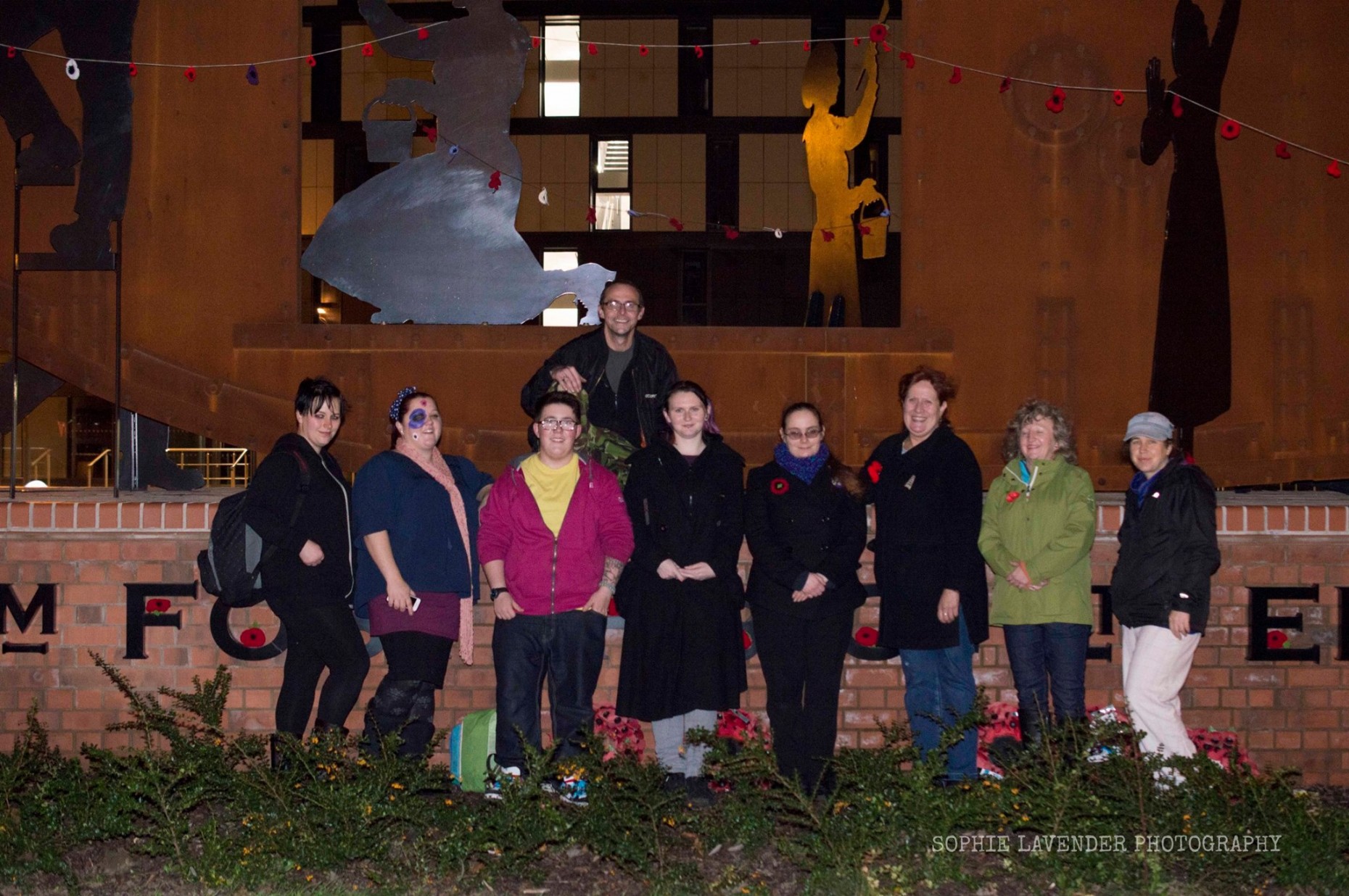 Nuala Barczak from the group explained: "It all started about five months ago when we began planning our next event. A member of the group came forward with the idea of a tank memorial garland and from there everyone began telling their own war time stories and connections.
"It turned out many people in the group were veterans or ex-SAS, and many had fascinating family histories.
"The idea snowballed and we were all learning so much along the way. It even began to incorporate white peace poppies (symbolising belief in peaceful ways to end conflict) and even purple poppies (commemorating animal victims of war).
"We have lots of pacifists in the group who don't agree with war, and it's brought everyone together with the one aim of remembrance.
"We decided to expand on the Royal British Legion's mission to create 5,000 poppies and create 5,000 of our own. In the end, through social media, groups from all over the world were joining in with our mission. It had become a worldwide symbol of amnesty.
"We have so many people to thank to financial support and supplies, including Greenhouse Cafe, Queen in the West, Frocktopus, Angel-Demon Productions and Jacam."
The groups have recently exceeded their 5,000 target and stand at around 5,400. They are all being donated to poppy sellers and sold to raise money for a number of charities including Help for Heroes, the Royal British Legion and animal and peace charities.
Remembrance services are taking place across the county during the day, with a two-minute silence being observed at the 11th hour on the 11th day on the 11th month – the time in 1918 when guns fell silent along the Western Front.
Armistice Day follows a number of services that took place in the area for Remembrance Day.
A number of poppy wreaths have also been placed at the Lincoln Tank Memorial, which was unveiled in May.
The £100,000 memorial is a representation of the Mark I Foster Tank, first designed and built in Lincoln in 1916, and placed close to the Wellington Foundry where it was produced.
Reminding visitors and residents of Lincoln of an important slice of the city's history, the structure was gifted by the Lincoln Tank Memorial Group.
It isn't the first time the group of knitters have set their sights on Lincoln monuments.
In July, the 25 Lincoln Baron sculptures were given a new wooly look after the bombers dressed them in knitted scarves.
People can find out more about the Lincoln Yarn Bombers through their Facebook page here.