February 19, 2016 7.00 am
This story is over 93 months old
New air show to be staged at RAF Scampton in 2017
Air show to return: Lincolnshire will have its own air show again, to be held at RAF Scampton from 2017.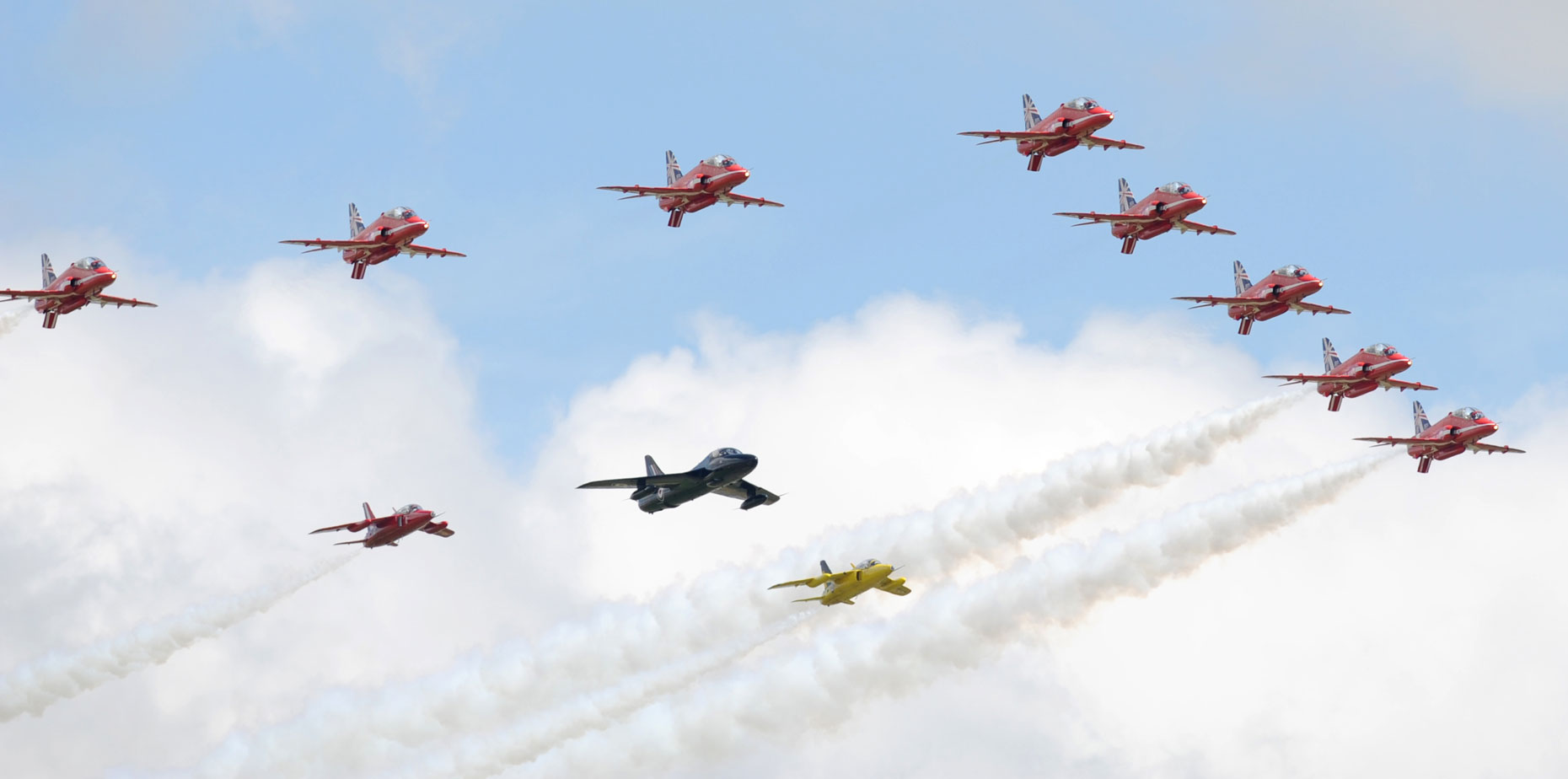 Lincolnshire is once again set to host its own air show after an agreement was reached to hold an event at RAF Scampton from 2017.
The Minister of State for Defence, Earl Howe, and the RAF Charitable Trust (RAFCT) have announced an agreement has been made with the Royal Air Force to organise an air show at RAF Scampton north of Lincoln, the home of the Red Arrows.
As previously reported, the popular air show at RAF Waddington was officially scrapped in September 2015 due to "significant security concerns and operational risks," as the base is home to the 39 Squadron which controls the Reaper drones in Afghanistan. A major runway replacement project is also underway.
Calls for a replacement show in Lincolnshire grew louder following the decision, with RAF Scampton's Station Commander, Mike Harrop, telling The Lincolnite he would welcome an air show on the base.
Earl Howe wrote in a letter to Sir Edward Leigh, MP for Gainsborough (with RAF Scampton in his constituency) on Wednesday:
"I am now in a position to write to you further regarding the future of RAF air shows in the East of England, following the cessation of the air show at RAF Waddington of which you were previously advised.
"You are aware that proposals were submitted for an event to be hosted at RAF Scampton. Further work has now been undertaken and I am pleased to tell you that I am now hopeful this will happen.
"The RAF Charitable Trust (RAFCT), who already organise the Royal International Air Tattoo, have agreed in principle to organise a similar event at RAF Scampton, although this will not be possible until 2017 at the earliest."
RAFCT Chairman, Air Marshal Sir Kevin Leeson, said: "Bringing a new air show to the area is an exciting prospect that will involve a lot of planning and support.
"Our charity is delighted to rise to the challenge of staging an aviation spectacle befitting an RAF station that was once the base of the legendary 617 'Dambusters' Squadron and is now home to the world famous Red Arrows.
"Having agreed to stage an air show at RAF Scampton in September 2017 at the earliest, work will now begin on looking at the finer details."
Chief Executive of RAF Charitable Trust Enterprises, Andy Armstrong, said: "My team has a wealth of experience organising airshows and over the coming months we'll engage with local agencies and community representatives to deliver a new, exciting and enjoyable day out for the whole family.
"Across Lincolnshire, there's a great appetite for a new airshow and we are determined to create one whose identity reflects the region's strong aviation links – past, present and future."
Sir Edward Leigh said: "I am really pleased to see the RAF's international air show come to the home of the Red Arrows, RAF Scampton. I know that the show will find a warm welcome in my constituency. I am grateful that the ministry has seen the benefits for Lincolnshire in keeping the event in 'bomber county'."
Jayne Southall, CEO of the Lincolnshire Showground, situated next to the base and home of the Lincolnshire Show, said: "It's absolutely fantastic that the air show will take place at RAF Scampton from 2017.
"It's great news that Lincolnshire will be retaining  the event in the county and we will offer any support we can to ensure that this happens."
A new website has also been set up for the Scampton Air Show, which will provide updates on the progress of the event.