February 25, 2016 12.00 pm
This story is over 76 months old
RAF Red Arrows 2016 team fly together for the first time
Gearing up for the display season: The 2016 Red Arrows team have reached a major milestone in their training – flying together for the first time in a practice display.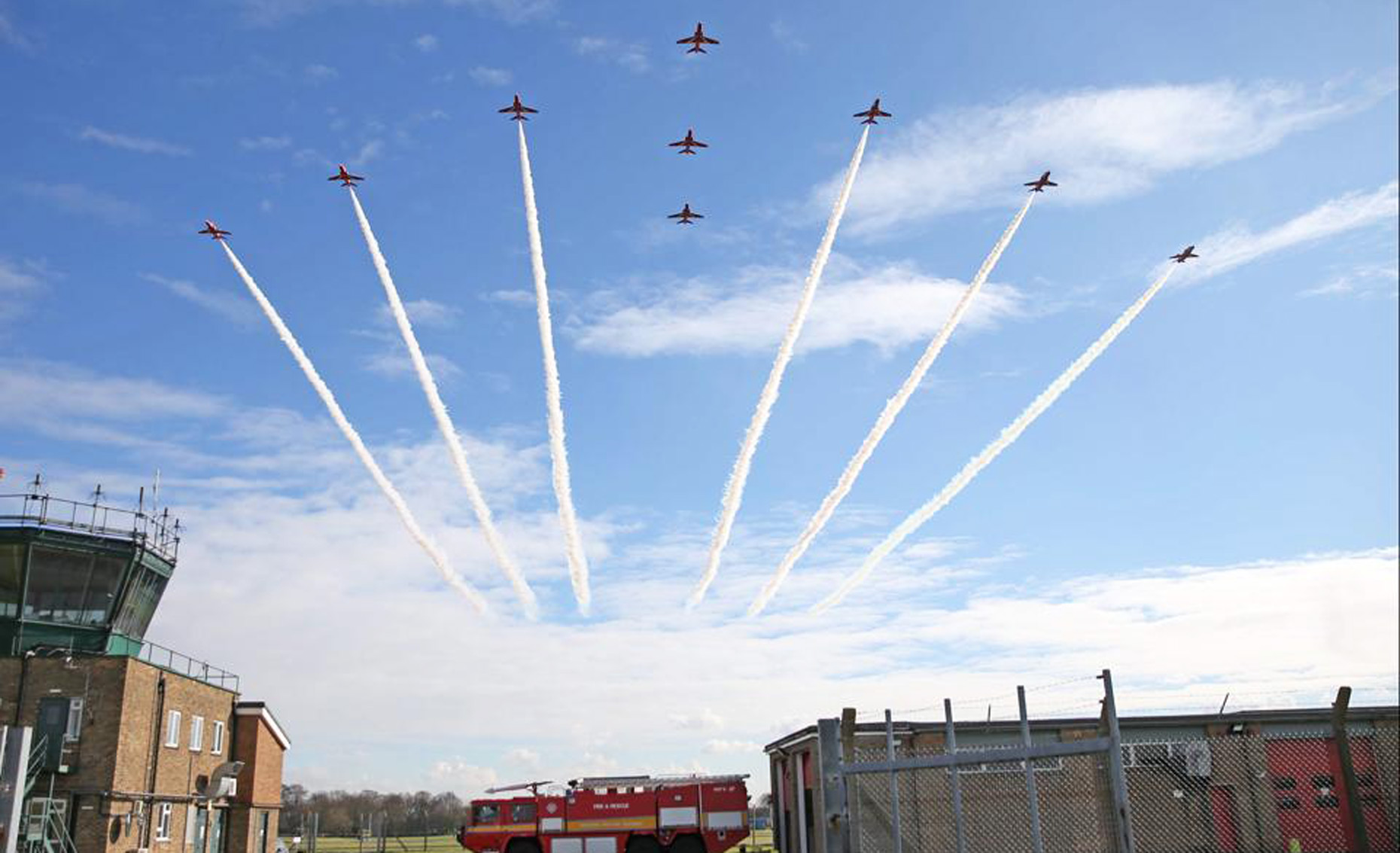 The 2016 Red Arrows team have reached a major milestone in their training – flying together for the first time in a practice display.
The first so-called "nine-ship" of the year was completed at RAF Scampton, the Lincolnshire home of the Royal Air Force Aerobatic Team, on Wednesday, February 24.
The Squadron is renowned for displaying with nine, British-built fast-jets and bringing the whole formation together is a key moment in the six-month winter training programme.
The occasion saw the team's trademark Diamond Nine formation flown, among other manoeuvres that will feature in this year's show.
Two of the Red Arrows' nine pilots are new to the team for 2016.
Flight Lieutenant Matt Masters, who is Red 2 and a former Tornado pilot, said: "The first nine-ship is the culmination of many months of training and a relentless effort by the whole team – flying several times a day and gradually adding more and more elements to the sorties.
"It's a very rewarding moment, as a pilot new to the Red Arrows, to reach this milestone and see the whole formation together.
"However, it is just another step in the training programme and our constant pursuit of excellence.
"There are still many sorties to be flown before the team prepares for Public Display Authority, with the aim of performing shows across the UK and overseas this summer."
The first nine-ship is an important occasion for the whole Squadron – including the ground team, who number more than 100 and comprise technicians, suppliers, drivers, photographers, administrators, operations staff and a public relations department.
Displays announced
The Red Arrows begin training for the forthcoming season almost as soon as the previous year has ended.
Each pilot flies three sorties a day, five days a week, and the formations grow in aircraft number as training progresses.
Winter training lasts until mid-March, when the team usually moves overseas to a location with more predictable, settled weather to maximise flying hours and perfect the display. This is known as Exercise Springhawk.
It is hoped the first display to the public in the UK will be on May 8 this year, for the Shuttleworth Season Premiere, Biggleswade, Bedfordshire.
The team will take part in 51 displays across the country, however the cancellation of the annual Waddington Air Show meant Cleethorpes will be the only Lincolnshire display destination in 2016.
As previously reported, an air show is expected to return to the county from RAF Scampton from 2017.
The full list of displays for the 2016 season can be found here.
Did you manage to photograph the 2016 team as they took their first flight together? Send your pictures to [email protected]