October 19, 2015 11.35 am
This story is over 74 months old
Two new pilots given wings with RAF Red Arrows
New reds in town: Two new pilots have begun training with the Lincolnshire-based RAF Red Arrows team.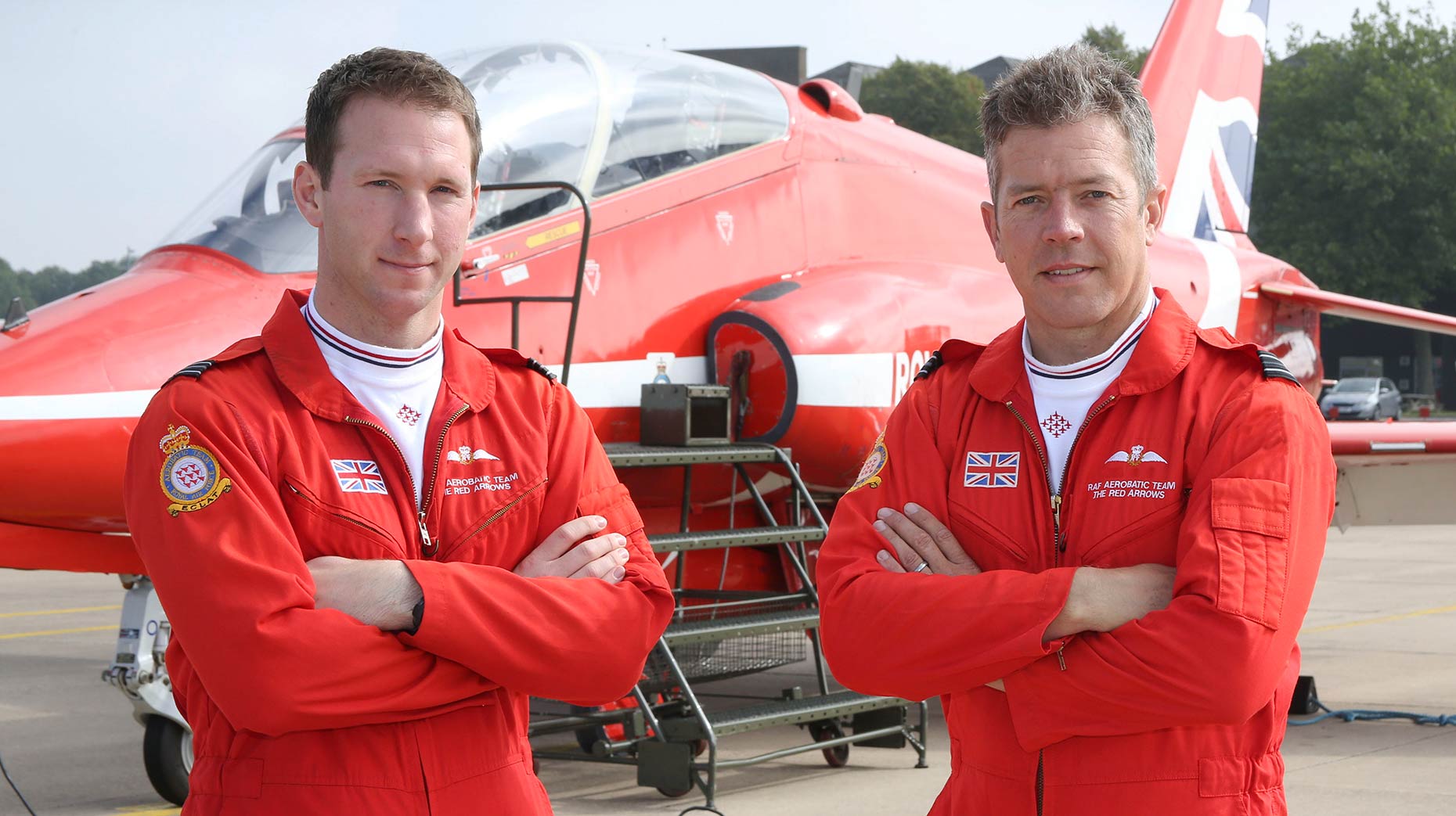 Two new pilots have begun training with the Lincolnshire-based RAF Red Arrows team.
Flight Lieutenants Matt Masters and Si Taylor are the latest recruits to the aerobatic team and are embarking on six months of intensive training and practice sorties.
They'll begin preparations for the 2016 display season at RAF Scampton, north of Lincoln, after the 51st season this summer.
The pilots are joining the team after impressing during a tough selection process that involved flight tests, interviews and other exercises.
The Red Arrows are ambassadors for the United Kingdom and showcase the excellence of the Royal Air Force – performing to millions of people at home and overseas each year.
The team consists of nine display pilots flying Hawk fast jets in precision formations and dynamic loops, rolls and close-passes.
Each year, two or three experienced Royal Air Force pilots join the team, succeeding the same number leaving the Squadron.
To be considered for selection, a pilot must be rated as the very best in terms of flying ability, have previously flown operationally and have 1,500 fast jet hours.
On completion of a three-year tour with the Squadron, the pilots either return to the frontline, instructional or staff duties.
Flt Lt Masters, 39, who joined the Royal Air Force in 1998, said becoming a Red Arrows pilot was a long-held ambition.
He was brought up in Southampton and was awarded an RAF Sixth Form and Flying Scholarship at King Edward VI School.
During his Royal Air Force career, he flew the Tornado F3 operationally – helping to secure the skies of the United Kingdom on Quick Reaction Alert – and, more recently, he has flown the Hawk T1 while based at RAF Leeming.
Masters, who will become 'Red 2', said: "It has been a childhood dream that I have wanted to become a reality. The Red Arrows' legacy of precision flying and striving for excellence, combined with the overall popularity amongst the British public, were all key factors in inspiring me to join the team.
"I will be extremely proud to be part of a team that can, and has, influenced so many people around the world."
Flt Lt Taylor, 35, was born and brought up in Leeds, where he attended Allerton High School. He then went on to study ergonomics at Loughborough University and graduated in 2002.
He joined the Royal Air Force in 2003 and has deployed on numerous occasions, flying both the Tornado GR4 and Typhoon aircraft operationally.
Flt Lt Taylor, who will be Red 3 for the 2016 display season, said: "I can't imagine a bigger professional honour than putting on a red suit and flying as part of the team. It still hasn't sunk in yet to be honest."
"I've been going to air shows and watching the Red Arrows since I was a small boy. Everyone in the crowd looks forward to watching the team display because they are exciting and always put on a great show."
Following a conversion course he joined 3 (Fighter) Squadron at the end of 2012 and spent two years back on the frontline at RAF Coningsby.
During this time, he deployed to the Falkland Islands and took part in exercises in Oman, UAE and Poland.
At the end of 2014, Flt Lt Taylor was posted to 29 (Reserve) Squadron at Coningsby as an instructor on the Operational Conversion Unit.
Before the pilots can officially wear the team's famous red flying suits and perform aerobatic displays for a public audience, they will have to complete winter training.
Pilots fly three-times-day, five-days-a-week with each sortie filmed and scrutinised in detail.
The team hopes to gain Public Display Authority in April and begin its 2016 season shortly afterwards.
The 2016 Red Arrows team will comprise the following pilots:
Officer Commanding, Royal Air Force Aerobatic Team: Wing Commander Martin Higgins
Red 1 and Team Leader: Squadron Leader David Montenegro
Red 2: Flight Lieutenant Matt Masters
Red 3: Flight Lieutenant Si Taylor
Red 4: Flight Lieutenant Mike Bowden
Red 5: Flight Lieutenant Emmet Cox
Red 6 and Synchro Leader: Flight Lieutenant Steve Morris
Red 7 and Synchro 2: Flight Lieutenant Tom Bould
Red 8: Flight Lieutenant Stew Campbell
Red 9 and Executive Officer: Flight Lieutenant Joe Hourston
Red 10 and Supervisor: Squadron Leader Mike Ling