"It's not a fashion statement," explains owner of 'doggles' wearing Lincoln pooch
Maya the four-year-old Collie may look pretty trendy in her electric blue and orange ski goggles, but her Lincoln owner says there's more to her specs than meets the eye. Maya suffers from chronic superficial keratitis, also know as pannusa, a degenerative eye condition causing blood vessels to grow over her cornea. She will sadly…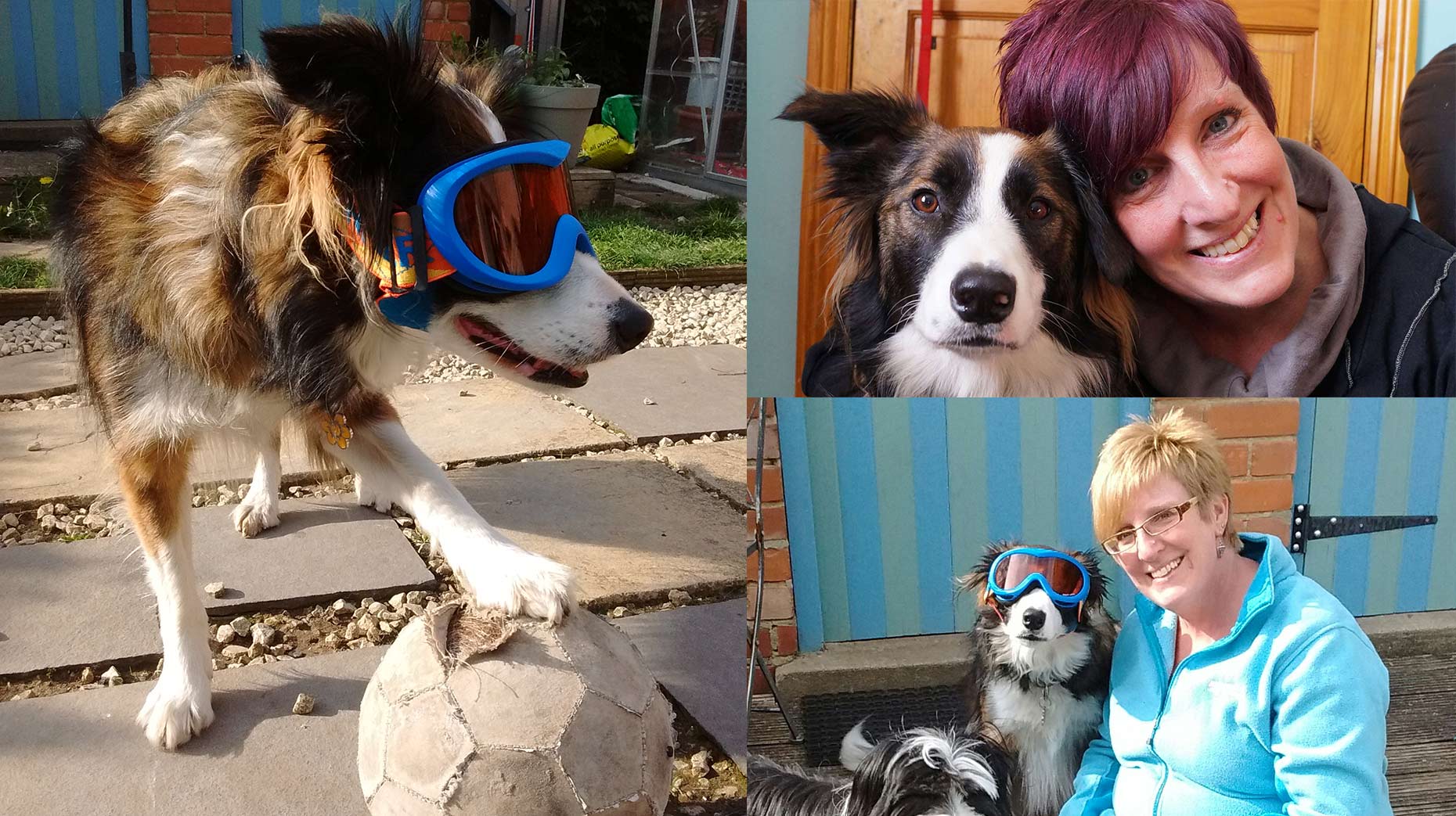 Maya the four-year-old Collie may look pretty trendy in her electric blue and orange ski goggles, but her Lincoln owner says there's more to her specs than meets the eye.
Maya suffers from chronic superficial keratitis, also know as pannusa, a degenerative eye condition causing blood vessels to grow over her cornea.
She will sadly have the condition for life, and needs two lots of eye drops a day and protection from UV light to prevent the condition from worsening.
Eventually, she could lose her sight altogether.
Her owner Joanne Cook, 51, from Lincoln first discovered she had the condition two years ago after Jo and her husband Bob noticed white spots in her eyes.
After being referred to a specialist, the white parts of her eyes were found to be fatty deposits, which were causing the condition.
The family have since tried everything to help protect her eyes from harmful UV, including forking out for specialised sunglasses for dogs.
The glasses can cost up to £50 but the playful pooch scratched them while trying to remove them.
"I then tried her with a second pair that were a lot lighter and looked like rim-less sunglasses. They were fancier so I called them her Sunday best," she said.
"I thought they might be better for her, but they're not very strong at all and also got scratched quickly. We then tried a mesh pair but she really did not like them. I don't think she could see through them very well at all."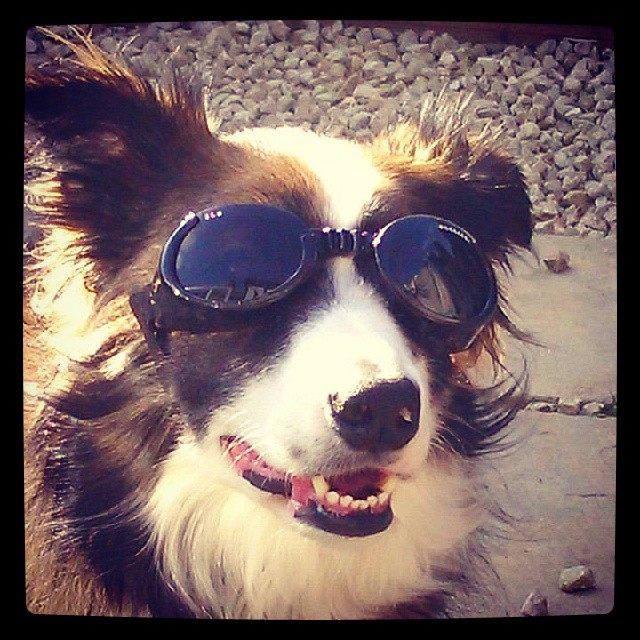 Joanne, who is the manager at The Lincoln Soap Company on Steep Hill, said Maya 'reluctantly' wears goggles when provided with treats, "but she hangs her head in public as though embarrassed by her eyewear."
Mum of two Jo said: "We tend to walk Maya early on or later in the day when the sun is not so bright. If Maya wears her sun glasses on walks everyone wants to touch and pet her because they think she looks cute! As she is quite a nervous dog this can cause problems."
She explained that Maya gets a lot of attention when out on walks, but gets anxious when people try to touch her.
"It takes a lot of encouragement to get her relaxed enough to wear the goggles, so if people do see us walking around feel free to talk to us, but please do not try to stroke her.
"People always think it's a fashion statement but it's just not.
"It's quite sad for Maya, it's not because I want my dog to look cool! It is because I want to save her eyesight.
"Maya doesn't particularly like wearing the goggles. If we are in the garden she likes lying in the sun but we try to get the goggles on her straightaway. She is wearing them little and often now that the sun is getting brighter and is now starting to accept them more.
"Lots of praise and rewarding with treats is the best thing to do. If she is sleeping outside then I will pop a sunhat on that I made for her, to shade her eyes."
After not much success with expensive specialist glasses, Joanne opted for £12 children's ski goggles.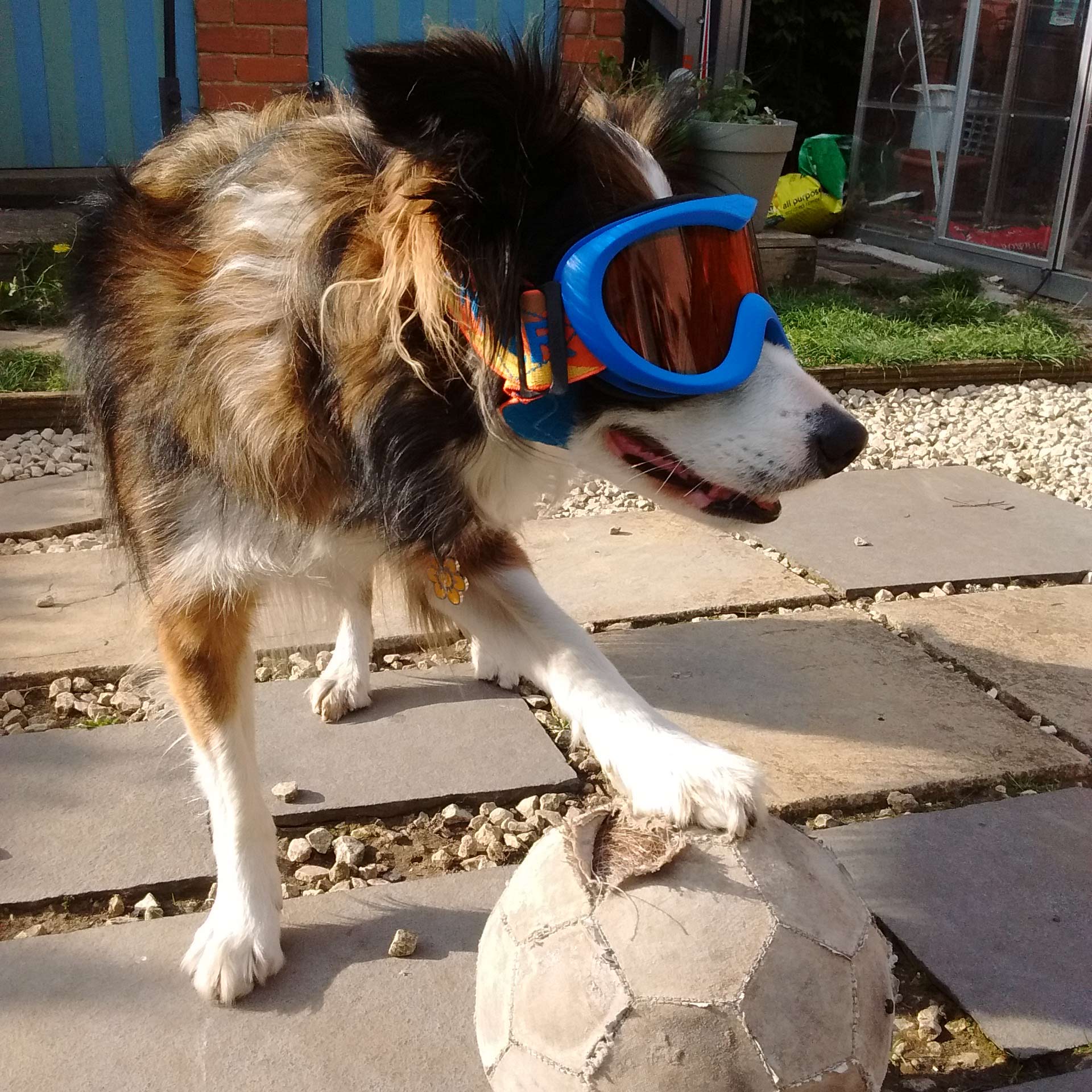 "I was walking Maya near Go Outdoors and popped in to ask if they had any children's skiing goggles. They were very helpful and found me a pair from the stock room.
"I tried them on Maya and they fitted well. They are quite padded and seem more robust than others we've tried, plus the lens is protected on them so they shouldn't get scratched!"
Jo describes Maya as a 'tomboy' and says the must be able to see clearly with her new goggles because her football coordination is spot on.