June 7, 2016 4.45 pm
This story is over 88 months old
Cash-strapped Lincolnshire councils forced to spend £3.1m on printed public notices
Calls are mounting for an end to "costly, outdated and ineffective" laws which force councils to publish notices in local newspapers, which have cost Lincolnshire taxpayers over £3.1 million in the past five years. A Freedom of Information request by The Lincolnite to all 10 councils in the Greater Lincolnshire region has revealed that the…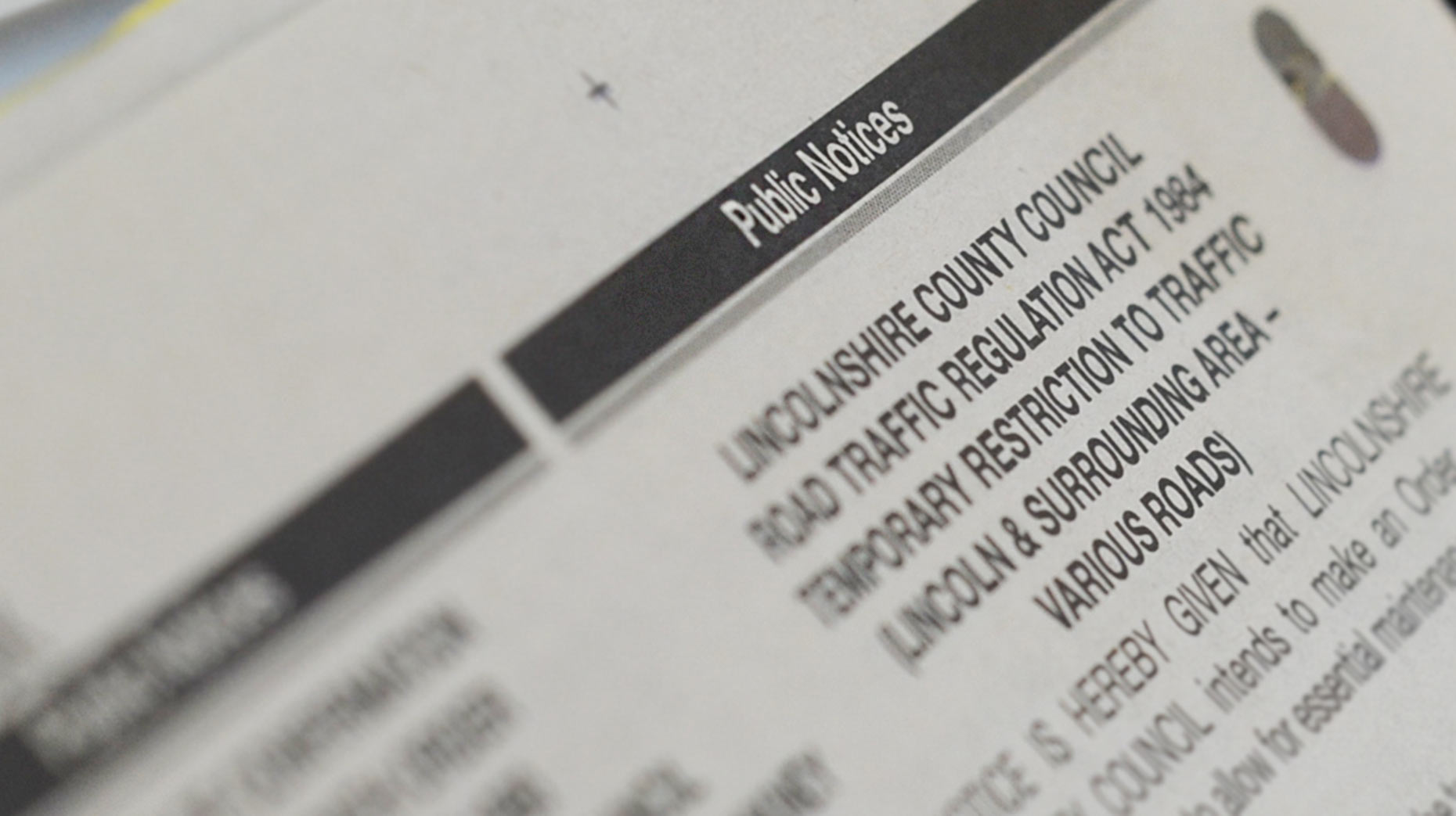 Calls are mounting for an end to "costly, outdated and ineffective" laws which force councils to publish notices in local newspapers, which have cost Lincolnshire taxpayers over £3.1 million in the past five years.
A Freedom of Information request by The Lincolnite to all 10 councils in the Greater Lincolnshire region has revealed that the authorities paid a staggering £3,129,542.42 to print newspapers over the past five years.
This figure is potentially even higher as one local authority (East Lindsey) only disclosed data over a four-year-period.
Now, both the leaders of Lincolnshire County Council and City of Lincoln Council have declared their frustration at the costly law.
The £3.1 million figure is in addition to nearly £1.3 million Lincolnshire County Council and City of Lincoln Council have spent producing their own magazines in the same period, something both councils describe as "excellent value for money".
Outdated legislation
Councils have a statutory duty to publish public notices such as planning applications and road closures under laws brought in nearly 45 years ago.
However, critics have pointed out that the legislation does not take into account how people actually consume news in the 21st century, with nothing in the law that mentions the rise in mobile, tablet and desktop use compared with dwindling traditional newspaper circulation.
Newspapers are also able within the law to charge inflated prices for these council notices.
According to the Local Government Information Unit, which has called for radical reform of the way public notices are distributed, the individual cost of publishing a notice can be upwards of three times that for a normal advert, reaching over £20 per column cm in some publications.
The table below illustrates the real cost to taxpayers across Lincolnshire of the antiquated legislation.
Some of the local authorities said that they were unable to break the costs down by publication.
However, Lincolnshire County Council, which covers the whole of the region excluding North and North-East Lincolnshire was able to break down the figures as requested.
View the full data for Lincolnshire County Council here.
"Unnecessary expense"
Councillor Martin Hill, leader of Lincolnshire County Council, said that the council has a statutory obligation to publish notices in local newspapers, but added that the cost of this requirement is "enormous".
He said: "In these austere times for local government, when we are having to reduce the things we do to keep frontline services running, this is very frustrating. The requirement to publish notices is hugely expensive.
"Over the past five years, advertising public notices has cost us in the region of £1.7m which is an enormous amount of money.
"We have always thought this is an unnecessary expense and not the best use of taxpayers' money, but our hands remain tied.
We would much rather advertise the notices online at little to no cost.
"This would also make it easier for people to find the information, as notices towards the back pages of newspapers could easily be missed.
"We have lobbied the government to make changes and were encouraged they were looking at reviewing the requirement, but unfortunately these plans seem to have stalled."
City of Lincoln Council leader, Councillor Ric Metcalfe, has also said that he would welcome a change in the law that allowed public notices to be placed online.
He said: "Clearly, there are other things we would prefer to use the money on but, at this moment in time, placing public notices in newspapers is an easy and relatively cost-effective way of communicating important information to people in the city.
"Government has, for quite some time, been looking at potentially changing this requirement and allowing notices to be placed online instead.
"While we would welcome this decision there are people in the city who do not have internet access so, while a financial saving would initially be made, we would still need to ensure important messages are received by all."
Campaign for change
The campaign for change stretches far further than council leaders in Lincolnshire.
The Local Government Association (LGA), which represents councils at a national level, has long campaigned for an end to the current legislation.
A spokesperson for the LGA said: "The LGA has long been calling for the system of delivering statutory notices to be reformed.
The current system is costly, outdated and ineffective, and there are better ways of councils and local news organisations working together to improve the way statutory notices are communicated.
Low tax pressure group The TaxPayers' Alliance has also lent its support for an overhaul of the current legislation, stating that money wasted in this way could be used to save precious council services.
Jonathan Isaby, Chief Executive of the TaxPayers' Alliance, said: "Residents will struggle to understand how councils could've possibly considered this to be good value for taxpayers' money.
"When times are hard and authorities across the country are having to make necessary savings, every penny must be spent wisely.
"Councils must get their priorities right and channel precious resources towards funding essential services like adult social care."
The Department for Communities and Local Government has recently run a series of pilot projects designed to find more modern and cost-effective ways for councils to inform residents about developments in the neighbourhood.
The project, called Statutory Notices for the 21st Century, funded 24 pilots to test new innovative ways of publishing and marketing statutory notices.
The pilots had the buy-in of both the Local Government Association (LGA) and the News Media Association (NMA).
What the money could have been used for
Put into context, the £1.7 million Lincolnshire County Council spent on printed public notices over the past five years is almost exactly the same amount the authority claims it is saving from changes to libraries and street lights, and slightly more than the amount it anticipates saving from the controversial proposals for Lincolnshire Fire and Rescue.
As previously reported, Lincolnshire County Council has cut the number of libraries from 45 to 15, with the remainder being transformed into community-run hubs with 10 others.
The authority claims this saves around £1.7 million a year.
Similarly, the decision to revert over half of Lincolnshire's 68,000 street lights to a 'part-night' lighting system has been introduced in a bid to save £1.7 million because the council claims it cannot afford to provide services at its current level.
Finally, the proposed changes to Lincolnshire Fire and Rescue which would see Lincoln South fire station downgraded are expected to save the authority £1.67 million over three years, about £35,000 less than the amount spent on public notices.