July 12, 2016 10.58 am
This story is over 88 months old
Drone ice cream delivery service trialled on Mabletherpe beach
Beachgoers in Mablethorpe could soon have their favourite chilled snack delivered to them on the beach by drone. In what is believed to be the first trial of its kind in the UK, sun-worshippers would be able to order from a menu of over six varieties of ice cream using a mobile app. When an…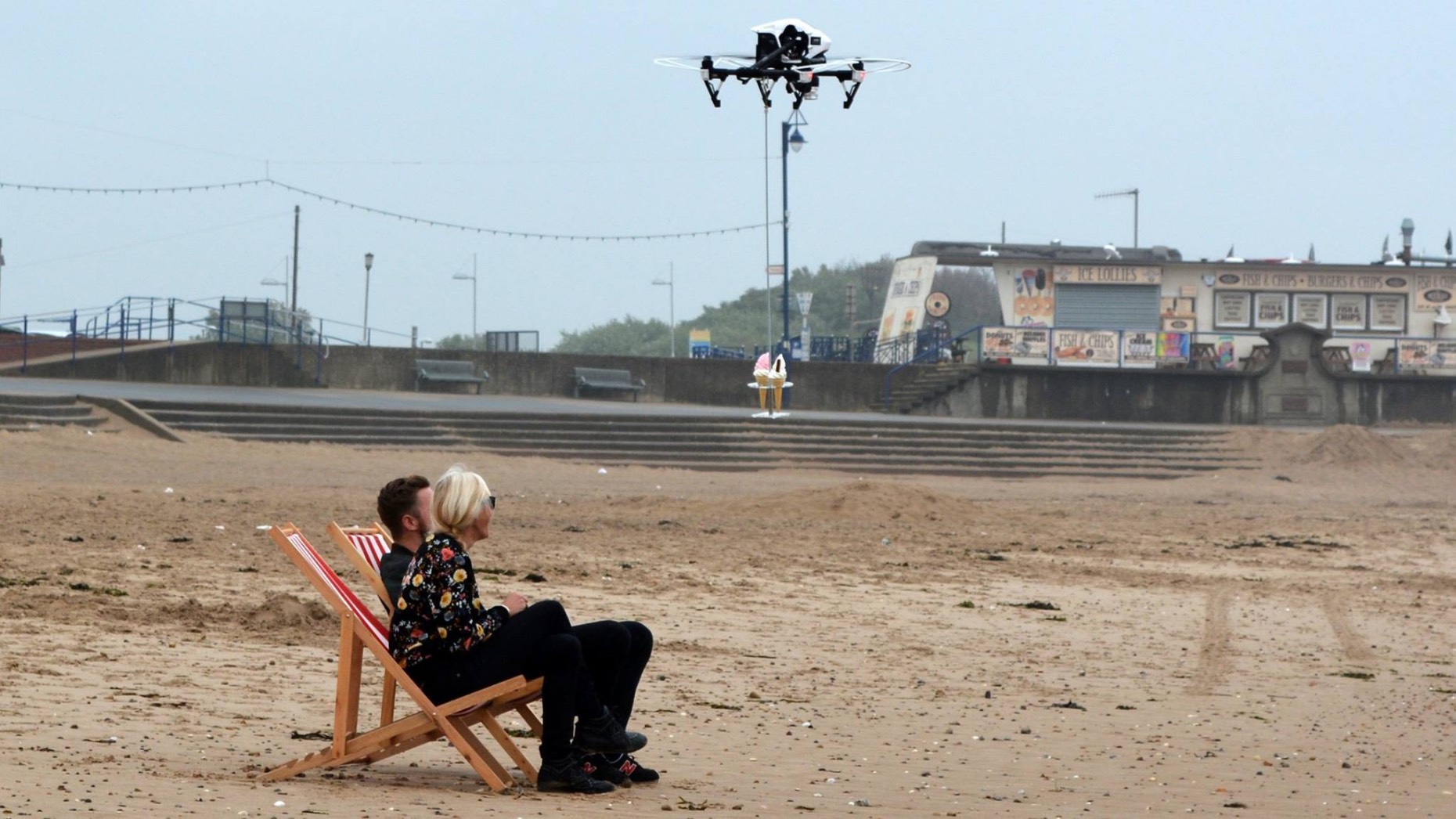 Beachgoers in Mablethorpe could soon have their favourite chilled snack delivered to them on the beach by drone.
In what is believed to be the first trial of its kind in the UK, sun-worshippers would be able to order from a menu of over six varieties of ice cream using a mobile app.
When an order is placed the app, which is currently in development, it would alert Rock & Ices Limited, the ice cream shop located on the promenade at Mablethorpe.
The order will be prepared and then loaded on the drone for delivery.
Using GPS co-ordinates, the drone promptly delivers the ice cream via an approved flight path to the customer.
The drone used – a modified DJI Inspire that has been fitted with three GPS sensors for additional safety – can carry a weight of 1.2kg – the equivalent of 10 Mr Whippy's.
TheDroneMan.net is the drone company behind the trails. People can follow updates from them via their Facebook page. 
Chief operator, Michael Kheng, said: "We are really pleased to be involved in this project. Many companies are looking at deliveries by drone. We need to keep at the forefront of the industry and try to lead rather than follow."
Nigel Stephenson, Director of Mablethorpe Rock & Ices Limited, said: "We have often been asked about delivering ice creams on the beach and with the poor weather at the start of the season we are looking at ways at helping visitors to the resort enjoy more beach time now the sun has arrived."
Tourism Manager at East Lindsey District Council, James Gilbert, said the initiative was exciting: "I'm pleased businesses on our coast are thinking about how modern technology can be used to ensure they give visitors a great holiday experience."