October 5, 2016 11.52 am
This story is over 68 months old
Bodged £20k kitchen leaves man with no gas or electricity for five months
A Lincolnshire man has hit out in anger after a shoddily-fitted £20,000 kitchen bought in Lincoln left him without gas and electricity for five months. Lee Holland from Horncastle bought his new kitchen from Wren Kitchens on Tritton Road and fitters arrived with the units on May 9. He claims however that two thirds of his new investment…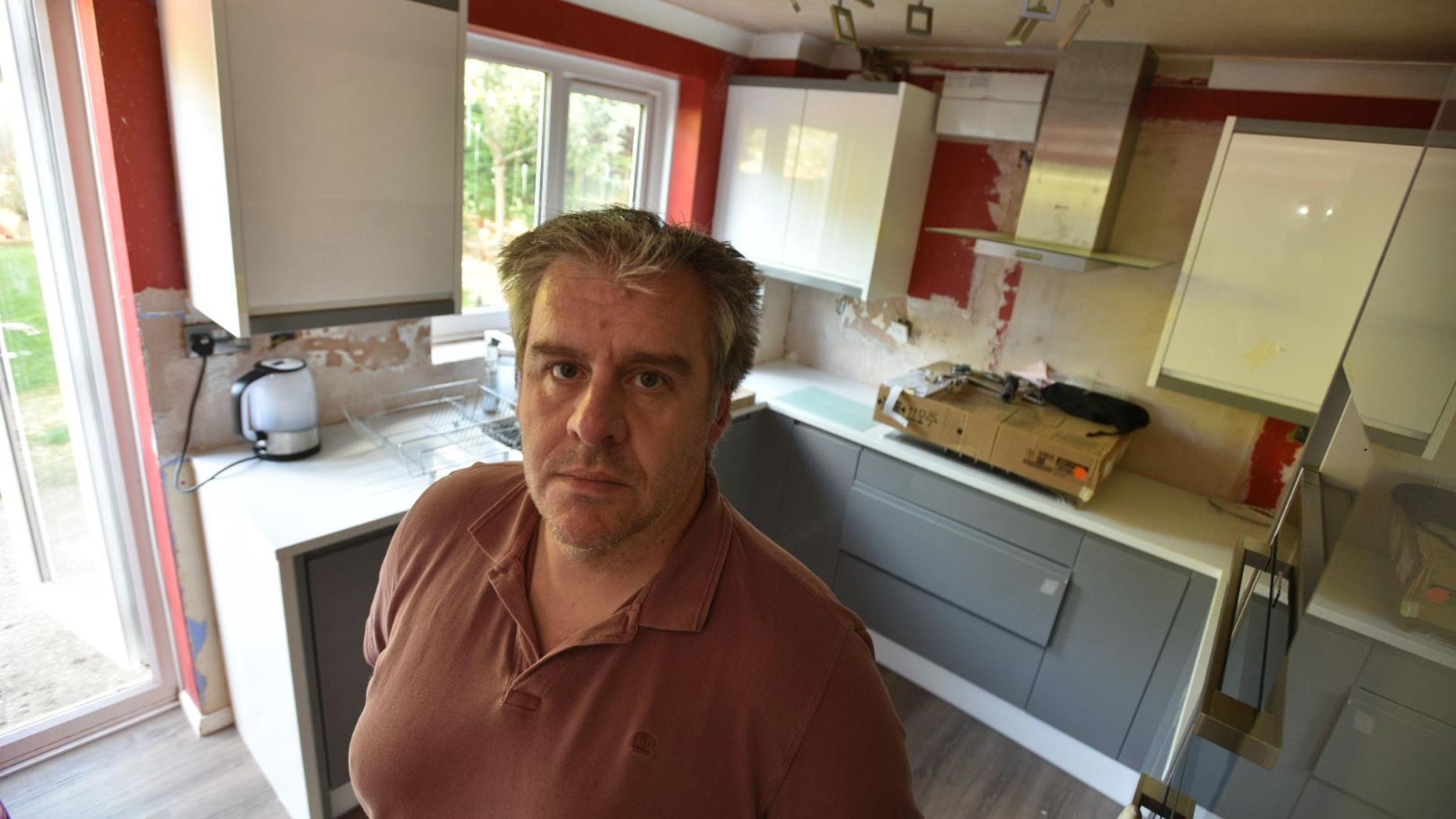 A Lincolnshire man has hit out in anger after a shoddily-fitted £20,000 kitchen bought in Lincoln left him without gas and electricity for five months.
Lee Holland from Horncastle bought his new kitchen from Wren Kitchens on Tritton Road and fitters arrived with the units on May 9.
He claims however that two thirds of his new investment has been damaged or installed incorrectly.
When the fitters left Lee's kitchen, the sink, washing machine and gas hob had not been connected, splash backs had not been fitted and plug sockets were still hanging from the wall, he said.
The displeased customer counted 19 panels, doors and draws that he considered to be damaged and in need of replacement, as well as various gaps between cupboards and missing panels.
Getting nowhere
Lee said: "I have cupboards at different heights, cupboard doors clash, expensive worktops have been incorrectly fitted and they're not at the standard expected.
"Just looking at the kitchen you start to notice things such as the lack of symmetry the cooker hood is not centred being the main one.
For the price I paid it's not acceptable.
Lee and his friend Neil Richardson say they have been in touch with Wren Kitchens on multiple occasions to fix issues, but they've been let down each time.
First, a letter was sent to the company to outline the complaints.
Neil said: "Since this letter, they contacted me and made an appointment for a fitter, who failed to turn up. Turns out they forgot to tell him about the booking.
"A further appointment was made and two fitters from Newcastle turned up on July 26.
"Once they'd appraised the situation, also finding more faults, they fitted the tap (which incidentally doesn't work properly) and left after two hours having done nothing else.
"They hadn't been made aware of the scale of the job so didn't have all the right tools plus had to order more replacements."
Another appointment was made for August 14 and September 13, both of which fitters failed to attend.
"Disgusted and angry"
Nearly five months on, and although Lee now has running water in his kitchen, he is still without gas and electricity in the room. He has now resorted to seeking legal advice.
Lee said: "I feel pretty disgusted and angry to be fair. There has been a complete lack of communication on their part and they've shown no urgency.
"A fitter called me on Sept 20 to confirm fitting the new panels on the 22nd I told him not to bother as after a discussion with Neil, I had decided not to carry on and get the kitchen removed."
Lee has now hand delivered a letter from his solicitors to Wren Kitchens' assistant manager to completely remove the kitchen so that he can take his business elsewhere.
"Even having had a letter hand delivered to Wren indicating my wish to have the kitchen removed a week ago there has been no correspondence," Lee continued.
"They have one more week until October 6 to respond, then my solicitor has my permission to take it further.
"For me now I wish to terminate the kitchen install and have what has been carried out removed and costs refunded. I find four and a half months ridiculous for an install and have lost all trust in their ability to deliver a product at the required standard."
When contacted for a response, a spokesperson from Wren Kitchens said: "We are communicating with Mr Holland on the issues and are working to rectify and complete the project to his satisfaction."