December 1, 2016 11.33 am
This story is over 83 months old
Man slapped with fine after rubbish dumped on Lincoln village roadside
A man has been handed a hefty fine in court after rubbish and clothes were dumped on a Lincoln village roadside, despite attempts to place the blame on another who agreed to transfer the waste. General household waste and children's clothing were left on the side of Navenby Road in Bassingham in March 2016. Failure…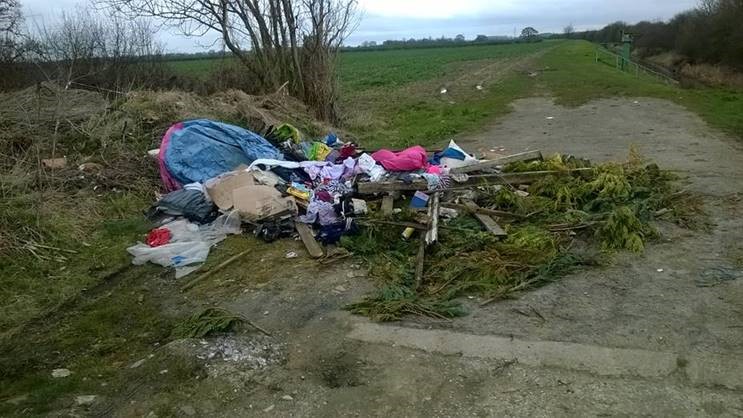 A man has been handed a hefty fine in court after rubbish and clothes were dumped on a Lincoln village roadside, despite attempts to place the blame on another who agreed to transfer the waste.
General household waste and children's clothing were left on the side of Navenby Road in Bassingham in March 2016.
Failure to make the relevant checks in disposing the waste and failure to attend court following initial investigations, left Ricky Rocky Holland of Brant Broughton facing costs and charged totalling £860.
Despite numerous attempts to place blame on another, he was found guilty on November 28 at Lincoln Magistrates court on 2 charges:
Failing to make reasonable checks to ensure his waste was transferred to someone authorised to accept it. Environmental Protection Act 1990 section 34(2a).
Failing to comply with a request for information. Environment Act 1995 section 110.
In response to his charges, Mr Holland said that he wasn't aware there was a duty on him to ensure that any waste was only transported by someone with the appropriate licence, and the reason he didn't pass on any further information about the person who had supposedly deposited the waste was because he felt threatened.
Mark Taylor, Head of Service for Environment and Public Protection at North Kesteven District Council, said: "It is a message we repeatedly share with our residents and visitors.
"Making the relevant checks that your waste is transferred by an authorised person to do so is vital, and is the difference between it reaching an appropriate waste centre or the side of a road – resulting in the owner, as in this case being charged.
"We take fly-tipping seriously, and have added CCTV at hotspots and Fixed Penalty Notices to our armoury in recent months."
Mr Holland was charged £240 with costs of £600 and a victim surcharge of £20, to be paid at £10 a week.