December 8, 2016 10.21 am
This story is over 67 months old
Wave of 2,500 Santas to fill streets of Lincoln as annual fun run returns
Some 2,500 Santas will be chasing a fundraising target of over £100,000 when the annual Lincoln Santa Fun Run and Walk returns to the city. All places have been snapped up by participants, and a number of festive dogs, who will slip on their Santa suits and take off from the start line on Union…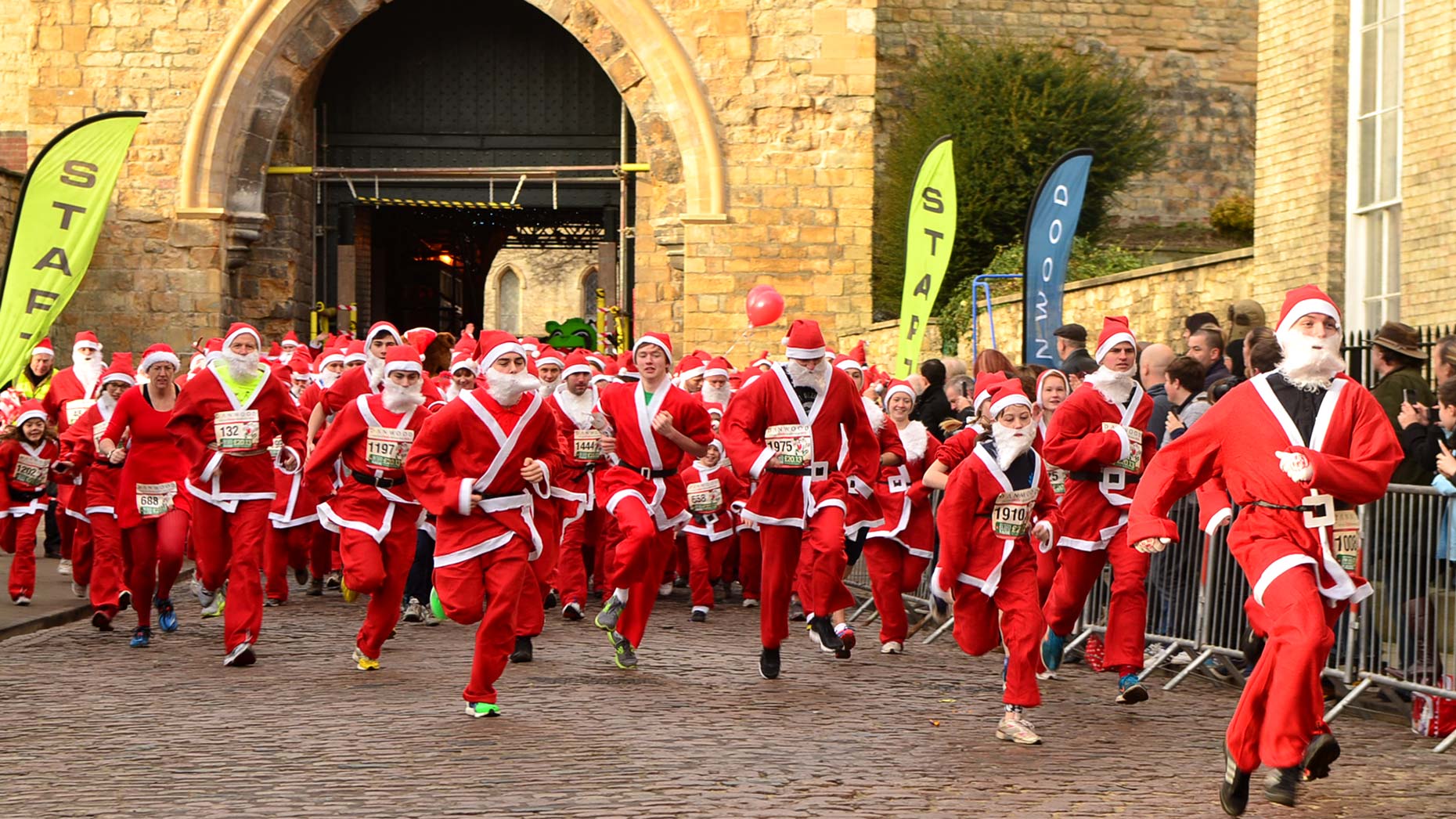 Some 2,500 Santas will be chasing a fundraising target of over £100,000 when the annual Lincoln Santa Fun Run and Walk returns to the city.
All places have been snapped up by participants, and a number of festive dogs, who will slip on their Santa suits and take off from the start line on Union Road through the streets of uphill Lincoln on Sunday, December 11.
This year, regular runners are also being joined by more than 80 who are taking part on behalf of the Royal Air Forces Association (RAFA).
The crowd-pulling event is organised by The Rotary Club of Lincoln Colonia and raises funds for a number of different charities.
Organiser Ray Peters said: "The best thing about this run, apart from the excitement it creates, is that it benefits so many different charities.
"For a start, it costs just £10 to enter. Then, after we have accounted for event costs,
the remaining money will be split ten ways. It will support our ongoing work and nine local charities.
"They are Candles, Umbrellas, Samaritans Lincoln, LIVES, Linkage Community Trust, St Andrew's Children's Hospice, We Are Macmillan Cancer Support, Lincolnshire & Nottinghamshire Air Ambulance and Matt's Fund.
"In addition, each individual runner will have been gathering sponsorship for an individual charity of their choice, so this event really does have a major impact on so many people's lives."
Crowds turn out to cheer on the runners, walkers – and even their dogs – as they complete two laps of a circular course, clocking up 3.5 kilometres before crossing the finishing line in Castle Hill.
"This year marks the eleventh Santa Fund Run & Walk and it is amazing just how much money has been raised since we started with just 500 runners in 2006 when we raised £24,000 and now the grand total is £480,000", added Ray.
"It is really heart-warming and one of the highlights of the city's events calendar. To see a mass of Santas and his helpers, young and old, laughing and cheering their way around such a beautiful city is a very uplifting experience."
Sponsors of the event include the University of Lincoln, Lincolnshire Co-op, Lincoln FFN, Thorne, Running Imp, Lindum Group, Bridge McFarland, apss, Imp Travel, Total Fitness, Lincat, Taylor Lindsey, Beneficial Trust & Will Co Ltd, Tiger Hire, Nicholsons, Kurnia Aerial Photography, Streets, Ruddocks, Duncan & Toplis, KAL Group, FirstAid4Sport, and Pennells