January 18, 2017 12.27 pm
This story is over 66 months old
Lincolnshire Police Chief Constable opens poignant memorial before retirement
Lincolnshire Police Chief Constable Neil Rhodes has today performed one of his last official duties before he retires at the end of January. The force's new memorial garden was officially opened at the Lincolnshire Police headquarters in Nettleham on Wednesday, January 18, a project Neil Rhodes has personally overseen since 2015. Lincoln couple Burt and…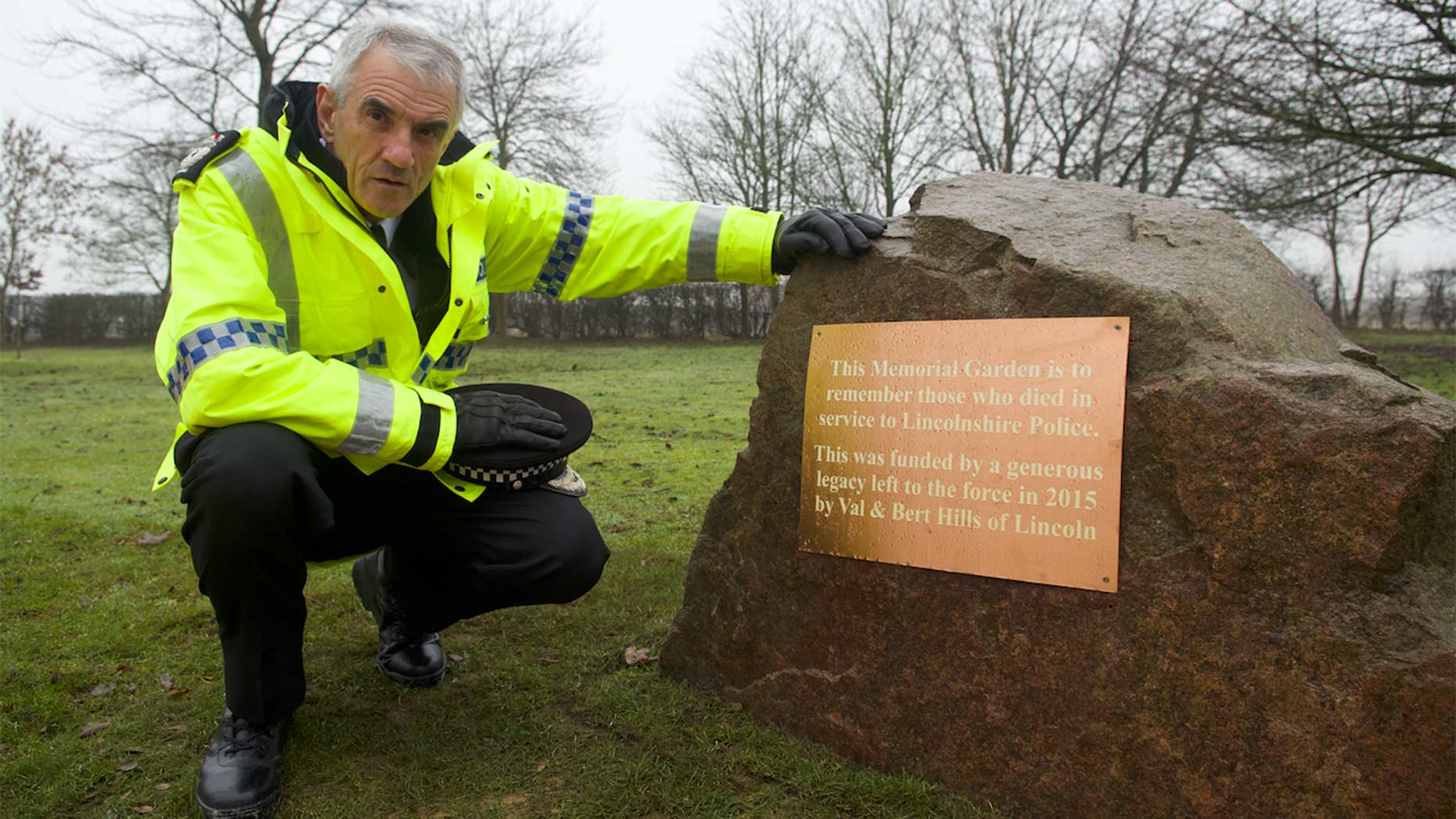 Lincolnshire Police Chief Constable Neil Rhodes has today performed one of his last official duties before he retires at the end of January.
The force's new memorial garden was officially opened at the Lincolnshire Police headquarters in Nettleham on Wednesday, January 18, a project Neil Rhodes has personally overseen since 2015.
Lincoln couple Burt and Val Hills left the force £98,000 early in 2015, some of which has been used for the memorial as a lasting memory to the couple who held the force in such high esteem.
Parkwood Consultancy Services won the design competition to create the main area and Durham based sculptor Graeme Hopper was commissioned to make the central sculpture.
One word from each of Sir Robert Peel's original nine pillars of policing is carved into each of the nine stone pillars – Prevention, Approval, Cooperation, Proportionate, Impartiality, Restorative, Relationships, Humility and Integrity.
The Bishop of Lincoln the Rt Revd Christopher Lowson will bless the garden and address an audience of relatives and friends of those who died in service at a special ceremony this afternoon.
Lord Lieutenant for Lincolnshire Tony Dennis will cut the ribbon to officially open the garden.
Bowing out after 31 years
Chief Constable Neil Rhodes said that throughout his 31 years of service he had the pleasure of working with some incredible officers and staff.
He told Lincolnshire Reporter: "I retire on January 31and I think we all have to draw the line somewhere and there will be some regrets in relation to that fact.
"In just a few weeks time in March/April, this will become the shared headquarters for fire and police.
"I think that is a really significant moment for the county's emergency services and in probably 18 months time we will be opening a tri-service building at South Park in Lincoln, which will provide a base for police fire and ambulance.
"I would really have loved to have seen those things through and that will now be on somebody elses watch, but I am really proud of have been part of setting that up.
"We are only as good as the work that our teams, officers and staff put in.
"Lincolnshire Police, we don't always get it right by any means, we are always up to improve and learn, but we do have a really strong connection with our communities and I really hope that Bill Skelly can take that forward and improve on that."