June 25, 2018 3.31 pm
This story is over 65 months old
Lincoln Cathedral area weeds 'like a third world slum'
Residents say weeds leave bad impressions on tourists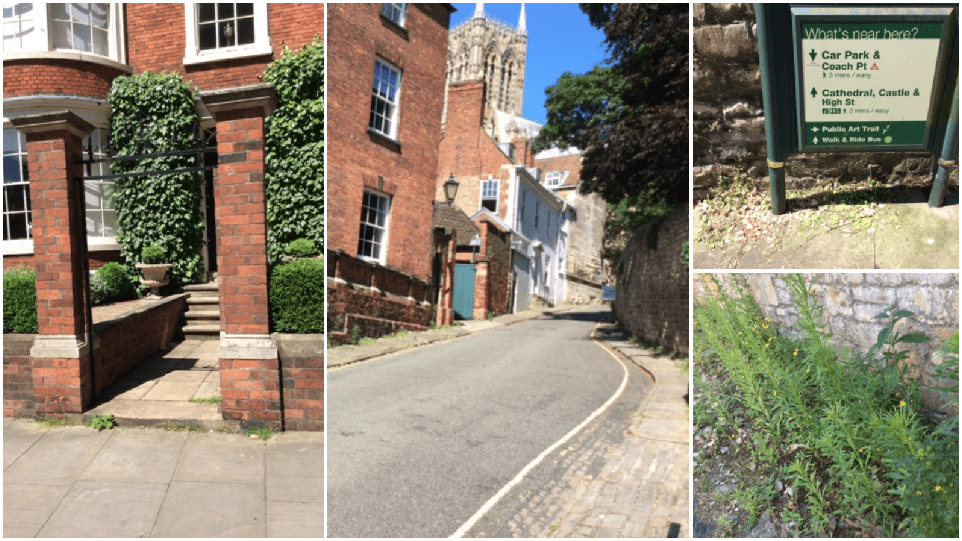 Lincoln Cathedral is one of the city's most popular tourist destinations, but residents in uphill Lincoln believe the area is let down by its weed problem.
They say that weeds, which in some cases are three feet high, are an eyesore that take away from the significance of the site, which also welcomed Hollywood stars and production crews on Monday to film The King at Lincoln Cathedral.
Images taken on Monday morning and sent to The Lincolnite show the full extent of the problem, with plants infesting the gutters, pavements and historic masonry.
Spraying weeds on highways is the responsibility of Lincolnshire County Council, but they subcontract the work to the City of Lincoln Council.
Despite contacting both councils, residents said they feel their concerns are not being listened to, and told The Lincolnite that the City Council and County Council continue to pass the issue back and forth between them.
One couple who live near to the cathedral told The Lincolnite: "The weed problem is very sad.
"Weeds are growing out of the wall, in some cases eight feet in the air.
"There is no effort from the council to preserve the look of the area or the architecture.
"Lincoln is such a vibrant city and so many people come here to see what we have to offer. But unfortunately we look like a third world slum.
"You wouldn't see this is any other major tourist city known for its cathedral. You wouldn't see this in York or Salisbury.
"We used to spray the weeds ourselves, but now we're fed up. We're loyal rates payers but see no return for our money. It's about time the councils did something."
Uphill residents are not the only ones upset about weeds in the city. Residents on Sincil Bank banded together last week to uproot the intruders themselves after waiting for council action.
Residents in Washingborough, a village near to the city, also complained about the gardens growing out of gutters.
A spokesperson for the City of Lincoln Council said: "We carry the work out on behalf of Lincolnshire County Council and have been contracted for two sprays this year.
"We will have a spray within the next week to ten days and another in September.
"The area will be weed free by mid July."
County Councillor Richard Davies, Executive Member for Highways, said: "The weeds in Lincoln will be treated twice this year, with the first cycle set to take place in the near future.
"We understand that people may like us to do more, but we simply don't have the money in the current financial climate.
"If we did put more funding into weed treatments, it would mean taking it away from other vital areas, such as the pothole budget, which I don't believe is something residents would like to see."