PCC condemns police Trump visit conditions
'It's a planned operation, not a war zone'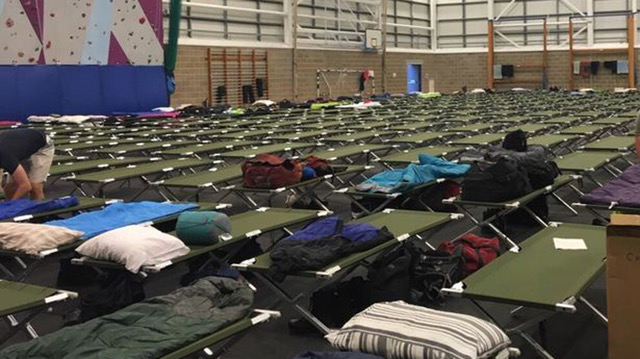 The Police and Crimes Commissioner for Lincolnshire Marc Jones has condemned the conditions that his officers are staying in while assisting with the visit of the US President Donald Trump.
Officers from across the country took to Twitter to complain about the accommodation provided for them in Essex, with some saying it was 'worse than a prison'.
Prisoners arrested last night will have had better accommodation than those #police officers ensuring the Presidential visit runs smoothly. @PoliceChiefs who talk well-being of their people need to take a long hard look at this. This is not acceptable. pic.twitter.com/B81tI8zQaC

— John Apter (@Hantsfedchair) July 12, 2018
Male officers were kept on cot beds, 18 inches apart, whereas female officers were expected to use gym mats as a makeshift bed.
Now, Lincolnshire Police and Crimes Commissioner, Marc Jones has hit out at the accommodation provided.
He said: "I would understand and the officers would understand if this was an emergency operation, but it was a planned visit – these conditions are inappropriate, it's not a war zone."
Sadly, now hearing officers who 'leaked' photos of the sorry conditions are being sought out, images being taken down from Twitter and 'firm action' taken (whatever that means). If true this is a very sad state of affairs that reflects badly on Policing. https://t.co/VHPjI2rfhK

— Marc Jones PCC (@MarcJonesLincs) July 12, 2018
He added that rumours are beginning to circulate of officers who have posted photographs of the conditions on social media being "sought out" and asked to take them down.
"We are getting very concerning reports from people who have 'leaked' those pictures. Officers are being sought out and the images are being taken down.
"I am hearing rumours that the hierarchy of some individual forces are penalising their officers.
"They may not fear losing their job, but even getting a telling off might hurt their long-term career.
"It is a cockup, I think, not a conspiracy. I genuinely think they were trying to do their best."
The Lincolnshire Police Federation also shared pictures, saying that "The 'accommodation' for police officers away on mutual aid is disgraceful."
Essex Police denied investigating officers who posted pictures of accommodation and said it was working to relocate officers.
We're aware of comments suggesting we are investigating to establish who publicly disclosed accommodation issues for officers visiting Essex. This is not the case. Our priority remains welfare of officers working in Essex. We're ensuring they have suitable accommodation.

— Essex Police (@EssexPoliceUK) July 12, 2018