November 1, 2018 10.50 am
This story is over 59 months old
See inside Lincoln's most iconic home
The Strelitzia could be the headquarters of the next Bond villain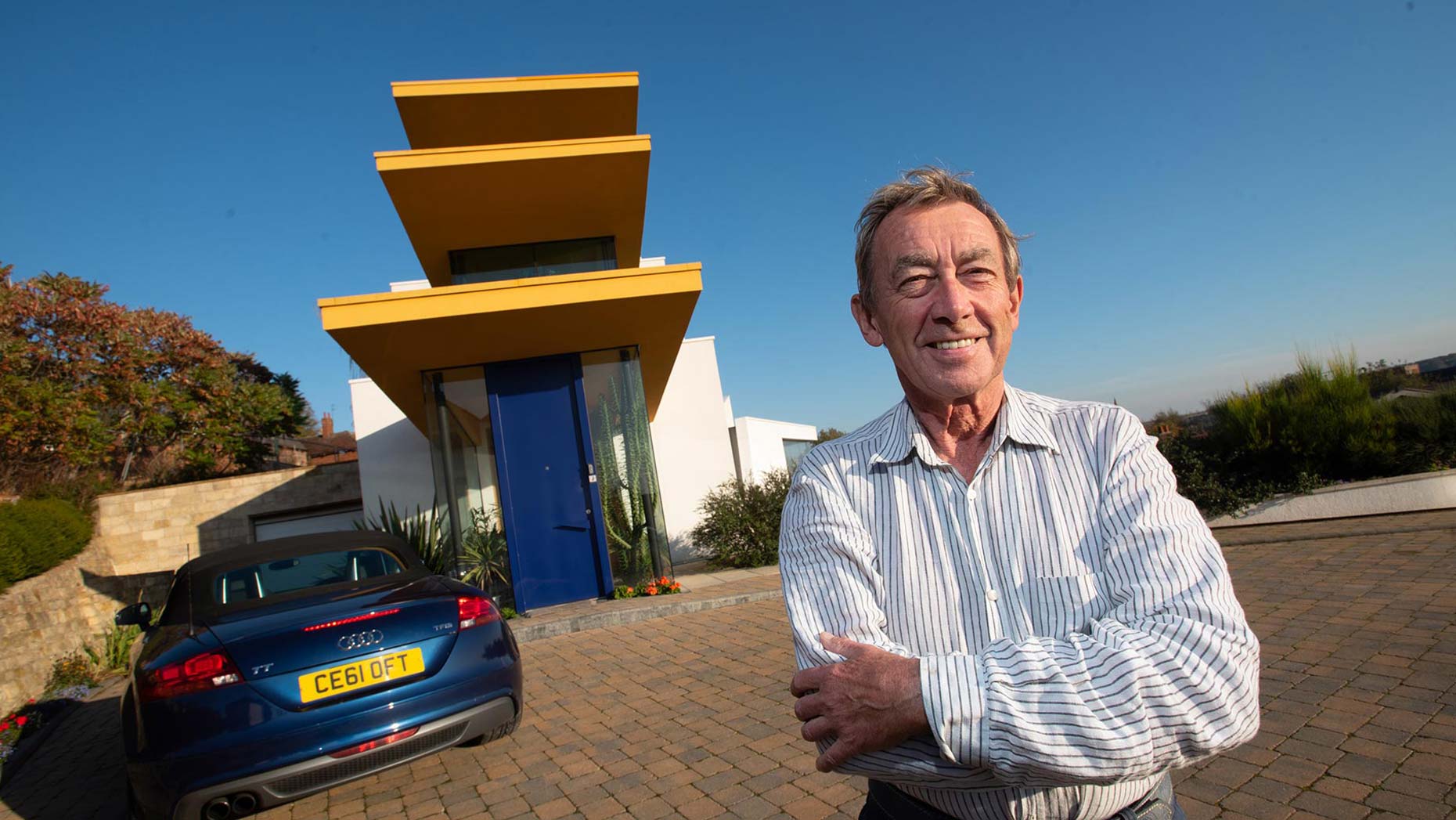 Tourists in Lincoln will marvel at the city's Medieval architecture, but many will also be drawn to a very modern looking house on Michaelgate.
Strelitzia definitely stands out on the hillside, but the white, yellow and entirely unique building also stands proud.
It is the product of just over 11 years of building works, but the owner of the house says that he isn't finished yet – and doesn't see a finishing date in the near future.
Not a lot is known about the iconic house, so many newcomers are often left with questions like: 'How did that get through planning?' and 'why is it shaped like that?'
These are questions that the owner gets a lot. Property investor David Lewis started work on the Strelitzia in 2007 based on his ambitious sketches, and it still isn't finished.
When we sent a reporter to the house it still looked like a building site with scaffolding and a temporary wall. The owner still has a lot of ideas about how he wants the finished product to look.
The majority of the house is finished and overshadows those parts which need more work. While getting a tour from David it was clear that his love of Japanese culture was shining through.
Strelitzia is a far cry from David Lewis' first house he bought in 1969, which he let out for three pounds and ten shillings a week.
"It was like having the carpet pulled from under your feet," the 68-year-old explained, reflecting back on his decision to start a major building project shortly before a financial crash.
"The house ended up having no windows and I couldn't move in, we just had a frame. There were no mortgages and I couldn't get any money to keep building."
He ended up moving into a small caravan on the grounds of the Strelitzia and a rumour started spreading about a 'tramp' building a house on the hill.
David lived in that caravan and still fondly remembers having breakfast while looking over the street, but says that the novelty wore off after 18 months.
Eventually, he got enough money to fit the house with windows and the project just started to slowly take shape, but it hasn't been without delays.
He explained:
"The house has a kiss of death. Anyone who has worked on the project has suffered.
"The builders went bust first, then the renderers followed with both window companies. The two men who built the stairs died shortly afterwards.
"It has been a big burden whenever anything goes wrong because nobody seems to know how to fix it. It is such a bespoke house that there are no easy fixes."
The house gets its name from the Strelitzia flower, which is famed for its white and orange colour, paired with a layered structure.
But it is not to everyone's taste. David says that it is a bit like marmite with some loving it and some hating it.
Crucially, he explained, the planners which granted building permission liked the house and so did the neighbours.
"People think that money must have changed hands to get something like this built, but it helped that I had so many letters of support from neighbours.
"Others really don't like it though. One man shouted 'the architect should be shot!' at the house when he walked past," David said laughing.
David estimates that he has spent around £800,000 on the house so far, but he's never had it valued by an estate agent so doesn't know how much it's worth.
He doesn't live with anyone else in the house except for two large and mischievous parrots called Max and Coco.
Strelitzia might look like a house straight out of Grand Designs, but David joked that they couldn't pay him enough to be featured.
He 'didn't want to look a fool in front of five million people' without being paid. David feared that the production team would keep returning to his house because he hasn't finished it.
In the future, he is looking at renting the house out for photoshoots with companies paying a lot of money for unusual homes. But his dream is for the Strelitzia to be the headquarters of the next Bond villain.
"The house has definitely been worth all of the stress," David said quite proudly.
"It was very exciting on the first day that the piles went in and I have never lost the excitement. I love the style and I have no regrets about taking on the project."