March 5, 2019 10.11 am
This story is over 33 months old
Gumbuster machine sent out to blitz Lincoln streets
'No more chewy on my shoey'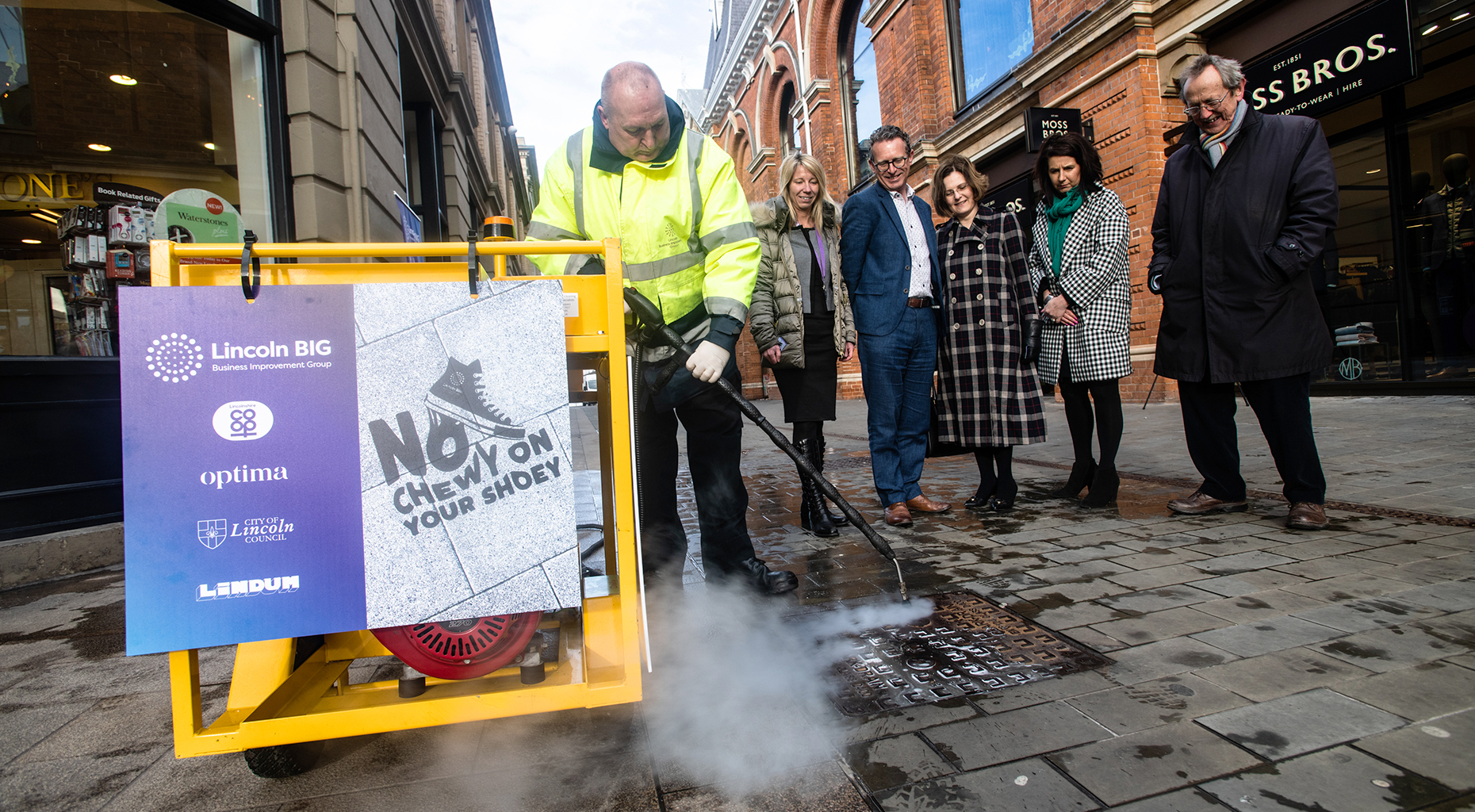 A new street cleaning operation has been launched in Lincoln for the first time to pull up carpets of gum.
Lincoln BIG, City of Lincoln Council and Lincolnshire Co-op teamed up in a mission to erase the 'sticky stuff' blighting the High Street.
Lindum Construction and Optima Graphic Design Consultants have also thrown their weight behind the street smartening initiative.
The team has also issued handy gum disposal papers carrying the message "no chewy on my shoey!".
Papers are being made available at retail outlets to encourage people to bin their gum instead of dropping it on the pavements.
It's part of a campaign led by Lincoln BIG's Chief Executive Sarah Loftus to coincide with the millions of pounds being ploughed into Lincoln's street scene.
This includes the laying of new paving in The Cornhill Quarter, which is undergoing a three-phase £70 million regeneration.
New paving has also been laid in the lower High Street, between the city's railway crossing and St Mark's and work continues in other parts of Lincoln.
Lincoln BIG will also be bringing back its Lincoln In Bloom scheme over the coming weeks.
Chief Executive Sarah Loftus said: "Lincoln refuses to stand still. The city is attracting more and more shoppers and visitors, who want to experience our great mix of shopping, superb events and leisure activities. This means people are increasingly spending more time in the city.
"We want to ensure they like what they see and that their experience is not marred by dirty pavements.
"With so much money being spent on city regeneration projects, we also want newly-paved areas to stay looking good."
Lincoln BIG Wardens will be going out on the city's streets and putting the gum machine to work.
City of Lincoln Council Leader Councillor Ric Metcalfe said: "Discarded chewing gum on the streets is unattractive and unacceptable.
"Keeping our streets clean creates a place where people want to live and helps to attract tourists. The BIG's purchase of this machine is a very positive step and will provide an innovative solution to a significant problem."