July 31, 2019 5.07 pm
This story is over 29 months old
Investigation into farm where thousands of chickens died
Dead birds were piled by the roadside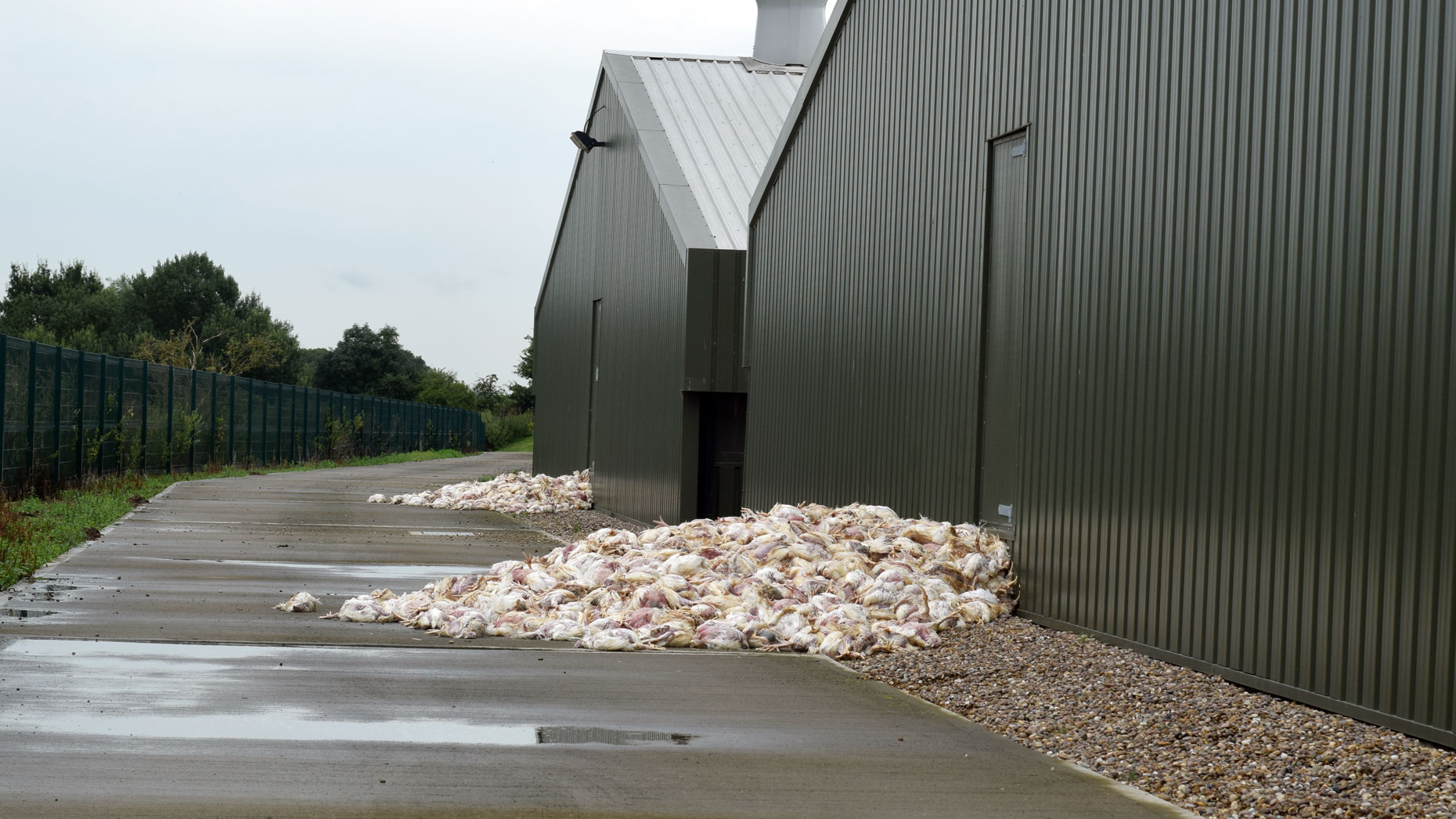 A government body has confirmed that they have launched an investigation into the farm near Lincoln where thousands of chickens died during last week's heatwave.
WARNING: Some viewers might find images in this report distressing.
The Lincolnite revealed on Friday, July 26 how thousands of the birds were dumped outside of a Moy Park poultry farm in Newton on Trent.
We sent a reporter to the scene who found four piles of chickens at the front of the farm and another two larger piles around the back.
Staff quickly arrived and told the reporter to stop taking pictures and blamed the chicken's deaths on the hot weather.
They said: "We tried to do everything but there was nothing more we could do. The freak weather has done this to them, please don't turn this into anything bad."
"It has been really tough carting these animals out of the farm over the past couple of days. Animal activists don't think that we care about them, but we really do."
It was a discovery that was later covered by national and even international press, which led to widespread shock and condemnation.
Now the Animal and Plant Health Agency (APHA), an executive body in the Department for Environment, Food and Rural Affairs (DEFRA) has confirmed that it is investigating.
An APHA spokesperson told The Lincolnite: "We cannot comment on individual cases but we take potential breaches of animal welfare legislation very seriously and we ensure all allegations are thoroughly investigated.
"Where welfare regulations are breached, appropriate enforcement action is taken to bring them back into compliance. This may include a follow-up unannounced inspection to confirm ongoing compliance."
The RSPCA has highlighted its concerns in light of the revelations and even explained how farmers could prevent a similar incident in the future.
A spokesperson for the RSPCA told The Lincolnite: "This is an upsetting incident and we are concerned about this issue. The APHA has been made aware.
"Hot weather conditions can cause very serious welfare problems, especially for broiler chickens which are particularly susceptible to heat stress.
"When conditions like last week's heatwave arise, measures should be taken to ensure that temperatures within livestock buildings remain suitable.
"For example, the number of animals held within farm buildings could be reduced considerably to enable sufficient air to circulate, or additional fans used to help reduce the effects of heat stress."
Moy Park farms are certified by Red Tractor, which works to ensure that any food is "traceable, safe and farmed with care."
Red Tractor refused to confirm whether or not it would be reviewing its stamp of approval for Moy Park when asked by The Lincolnite.
A spokesperson for Moy Park said: "The recent high temperatures have been very challenging for many in the farming and poultry industries.
"We are working closely with our farming partners to monitor the situation and have implemented procedures to help protect our birds against the extreme heat."
The Lincolnite asked whether Moy Park was launching its own investigation, but the company said that it had nothing to add to its previous statement.
Red Tractor previously told The Lincolnite that it found "breaches of standards" at some of Moy Park's farms during recent routine inspections, but insisted that it was working with the farm.
The food standards scheme made the comments after undercover activists recorded footage of chickens living in "horrifying conditions."
Animal Equality UK's video shows how baby chickens lay dead on the floor for days, many chickens suffering from leg injuries with some unable to stand.
The footage was recorded earlier this year at Saltbox, Ladywath in Spilsby and Mount farms, which all breed chickens on behalf of Moy Park.