March 5, 2020 10.58 am
This story is over 44 months old
Jolly will "walk these shores longer than anyone", councillors vow
A campaign to save the mascot launched after the local BID returned the costume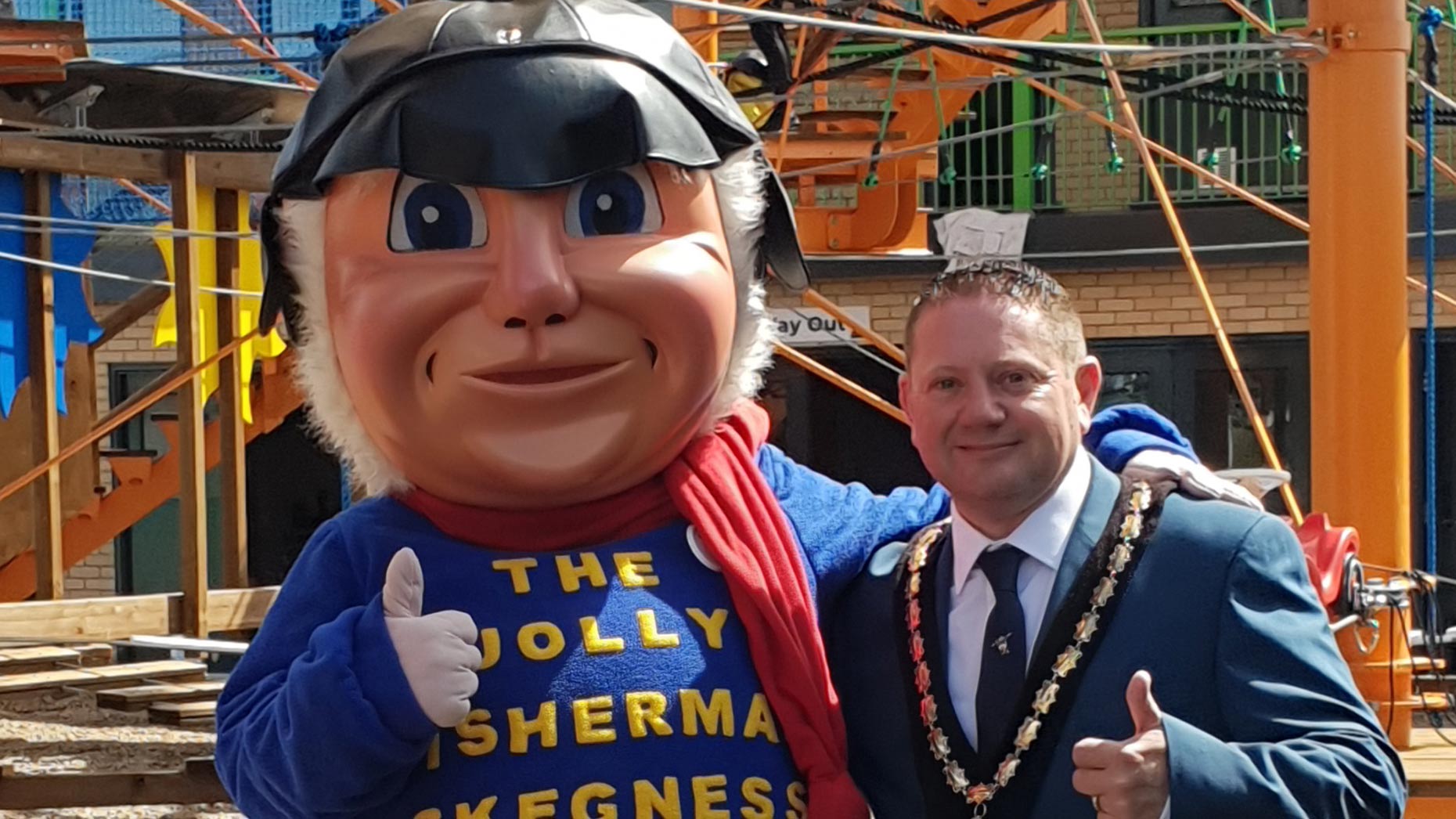 Skegness' iconic mascot The Jolly Fisherman will "walk these shores longer than anyone" councillors have vowed after fears he could be dropped.
Members of Skegness Town Council blamed a misunderstanding of an agenda item for sparking campaigners into launching a bid to save the 110-year-old character.
The issue hit national headlines this week even grabbing the attention of Good Morning Britain's Piers Morgan who said the "world had gone nuts".
Town Clerk Steve Larmer told councillors: "The report was never actually suggesting Jolly was going to end I never contemplated that was the case."
Councillors were called upon to discuss the future of the mascot after Lincolnshire Coastal BID board members decided unexpectedly to hand him back.
"The council did not expect  Lincolnshire Coastal Bid to return the costume and hadn't geared itself up to actually operate Jolly," said Mr Larmer, who said no reason had been given to the council.
Councillors quickly rose to defend Jolly's future with Skegness Mayor Councillor Mark Dannatt telling the room: "To hear Jolly is going is absurd.
"Jolly has got a future," said Councillor Dannatt.
Councillor Simon Claxton said: "Skegness without Jolly is like Disney without Mickey."
Jolly will be stored at the home of a councillor in the short-term but will be available to be loaned out for bookings until the council organises insurance cover.
The authority will discuss how best to support the character in the long-term, including sponsorship, at a future committee meeting.
Residents thrilled by decision
Following the decision, former councillor John Byford, who sparked the campaign to save Jolly on social media said it was "excellent news."
"Jolly lives on. He's not hanging his boots, it's brilliant.
"I think this is going to be welcomed by everybody. This campaign started just a few days ago and has gone absolute national," he said.
"Jolly shouldn't be shoved around from pillar to post, he should have always stayed within this town hall. It's where he belongs, you know, and it should be under the town council control."
Emma Ball, a coastal ambassador who has played Jolly before and hopes to do so again said: "You ask people two popular things in Skegness – one would be Butlins the other would be the Jolly Fishermen, to me he is more important than the Mayor and the Town Clerk."
How "Jolly" sparked a family's performance dreams
Last night's meeting was attended by one person with especially strong links to Jolly. Dee Dee Lee's great-grandfather Fred Stamper was the first performer to play the mascot.
Mr Stamper was the first entertainer at Billy Butlins and built to town's Figure of Eight attraction among other things.
Though she never met the man himself, several members of her family have taken on the performing bug – with Dee Dee's own achievements including performing for royalty.
She said he would be proud that Jolly was still going.
"He loved everything to do with Skegness, so if he was still around today he'd be up their saying 'we've got to keep him.'
"It's something that should be kept, it's a national heritage. If you take it away you're taking  the heart of Skegness."
---
SUBSCRIBE TO LOCAL DEMOCRACY WEEKLY, our exclusive email newsletter with highlights from coverage every week, as well as insights and analysis from our local democracy reporters.