May 27, 2020 12.51 pm
This story is over 26 months old
"Not the right time" for devolution, say council leaders as letter sent without consultation
District leaders were not aware of fresh bid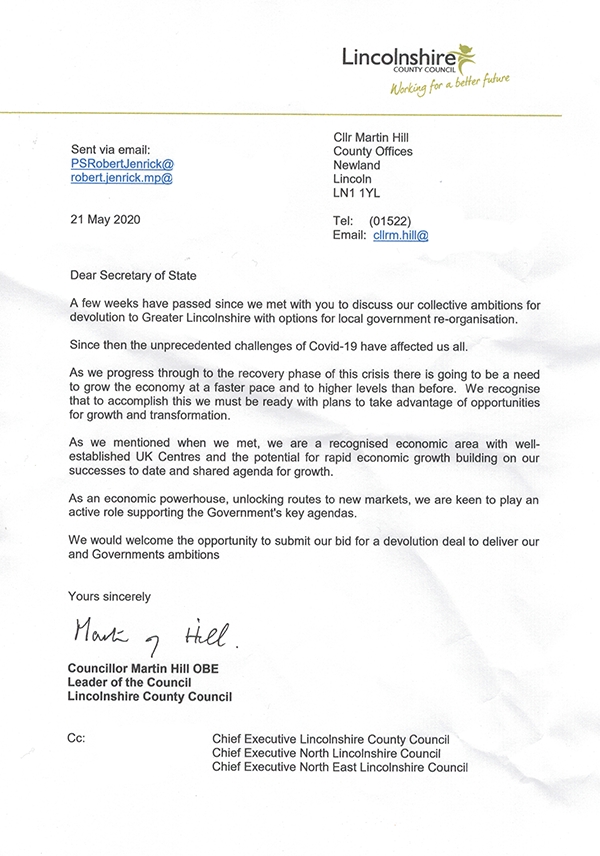 "The time is not right" to discuss devolution, district council leaders have said in response to a bid by Greater Lincolnshire leaders.
It is now understood that despite a meeting between authority leaders taking place last week, the letter from Lincolnshire County Council leader Martin Hill to Secretary of State Robert Jenrick was not known about until after it was sent.
City of Lincoln Council leader Councillor Ric Metcalfe said now was "not the right time to be discussing the structure of local government in Lincolnshire".
He said: "The recovery of the city following the coronavirus outbreak is something we will be focused on for some significant time to come and becoming  pre-occupied with local government re-organisation would make that task much more difficult.
"City of Lincoln Council's overriding priority in the coming months will be to help Lincoln recover and play our part in getting the country back on its feet again."
Councillors in Lincolnshire rejected a £450 million devolution deal in 2016 over fears that a directly elected mayor would cause more bureaucracy.
Since then, several of the authorities have changed leadership and new leaders could see priorities changed.
Councillor Hill has previously said a "spokesperson" could be considered under a future deal.
East Lindsey District Council leader Councillor Craig Leyland also agreed, adding that the letter was "not particularly helpful" at this time.
"District councils working with all the partners have done a fantastic job over the past few months and going back we have worked with all our partners.
"I cannot understand what timing has triggered this letter now. It's better for us to work collaboratively and this letter's not particularly helpful at this time."
He called on authorities to wait for a government paper due to be released in September to develop a better understanding.
He said the letter, or devolution, would not scupper a recent agreement to share the authority's chief executive with that of Boston Borough Council, adding that any future government plans could be years in the making.
Councillor Richard Wright, leader of North Kesteven District Council confirmed there "was not any consultation with the leaders of the seven districts" prior to the letters being sent and that there "is not any agreement at present as to discussions".
"I await the response from the Secretary of State before forming an opinion on the way forward," he added.
"My focus at present is on the excellent work North Kesteven District Council is carrying out on behalf of our residents and communities, supporting them and our businesses through the current crisis."
West Lindsey District Council leader Giles McNeill said he did not want to prejudge what bosses might agree as proposals for a new bid, but called on leaders to "learn the lessons of the previous bid".
"People didn't want a directly elected mayor nor the combining of that role with the role of the Police and Crime Commissioner," he said.
The letter sent by Martin Hill was backed by leaders of North and North East Lincolnshire Council.
Councillor Philip Jackson, leader of NELC, said a combined authority for Greater Lincolnshire would  further develop ties between the councils and "create future prosperity" for his borough.
"Over a number of years, our position has been pragmatic – about trying to ensure the best for the people of this area- and indeed several years ago we supported the original idea for a Greater Lincolnshire body because we thought it was the best for our area.
"That position is still the same and we look forward to working with the other authorities to hopefully make speedy progress on this."