June 18, 2020 2.40 pm
This story is over 25 months old
Lincoln SU boss sorry over plagiarism, but won't quit £100k job
He ignored calls for his resignation over the fiasco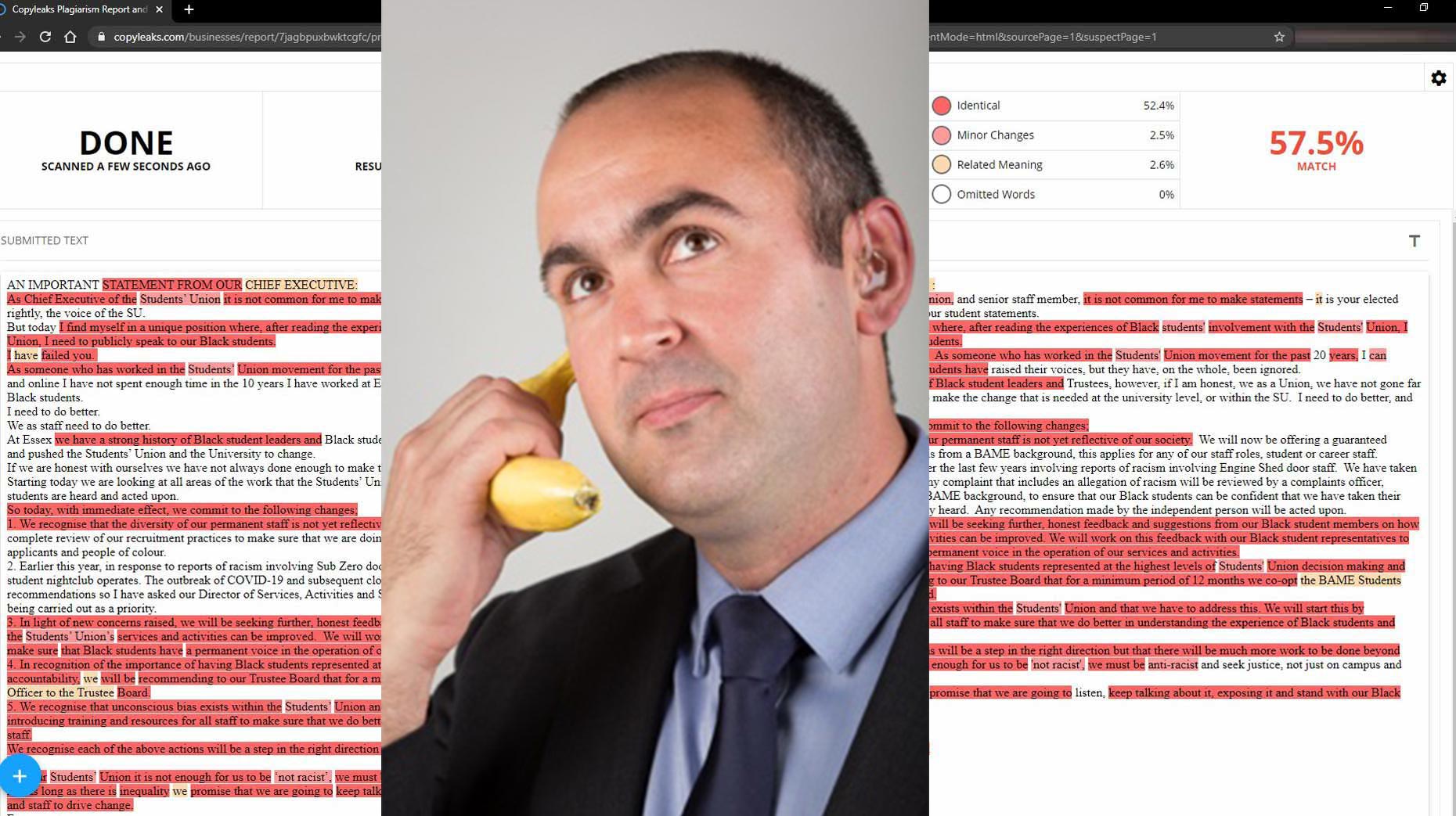 The chief executive of the University of Lincoln Students' Union has apologised over his plagiarised statement to black students, which caused hurt and was deemed "insincere and disingenuous" — but he won't stand down from his £100k a year job despite calls for his resignation over the fiasco.
The SU was slammed for plagiarism, "jumping on the bandwagon in a poor manner", and not truly supporting the Black Lives Matter message after chief executive James Brooks's largely copy and pasted statement said the union had failed black students.
Some people even called for him to resign over the fiasco before the original statement was removed from the SU's social media accounts on Thursday, which had hundreds of negative and critical comments.
The statement from Brooks, who earns over £100k a year according to The Charity Commission, received a huge backlash, and not just because it was largely plagiarised from an earlier message from the University of Essex Students' Union.
Brooks, who has been chief executive for nearly eight years, admitted in the plagiarised message that during almost a decade in charge of the Lincoln SU, he has failed BAME students in many ways.
He has since posted a lengthy further statement on Thursday afternoon to apologise for what was deemed as "insincere and disingenuous in its form and its message".
He also admitted it was a mistake to base his original statement on one that of his counterpart at the University of Essex's Students' Union without even mentioning "the inspiration".
Most student unions are part funded through block grant donations given by their universities – Lincoln SU's figure for the financial year ending on June 30, 2019 was £4.8 million.
Brooks said the words and principles he put his name to in the original statement were as "an honest portrayal of the actions I want to take in improving the lives of black students as members of Lincoln Students' Union and members of the university community at large".
However, his original words caused a lot of anger, with one student saying it was "appalling" and in "very bad taste" — and some called for his resignation from the role.
Leonard Chatonzwa, one of the organisers of the recent and upcoming Black Lives Matter protests in Lincoln, was very angry with the SU's statement.
He said: "The SU response shows exactly why we must carry on speaking out and is a prime example of the problem!
"You'd think with a matter as a sensitive as this they'd be more thoughtful, not essentially jump on a bandwagon in such a poor manner! This is why we are standing up and speaking up this Saturday."
In response to people's criticisms, Brooks said: "I fully accept that basing my statement on one that had been issued by another CEO appeared disingenuous and performative.
"With hindsight, this was a mistake. One that I acknowledge has detracted from the real commitment I have made as chief executive to ensure that we are listening to our black and minority students.
"This was categorically not my intention or my desire. Every word and every expanded objective was made to achieve equity and justice for our black student community."
A copy of the original statement, which has since been removed, can be seen below.
However, Brooks is still adamant that the pledges he made will happen and is "happy to be held to account on this commitments."
One of the commitments, which has been criticised and ridiculed by commenters on the original post, involved a "guaranteed preliminary interview to anyone who is from a BAME background and applies for any of the staff roles, student or career staff."
The latest statement caused further reaction and more calls for Brooks to resign.
Calvin Bissitt said: "I'm glad an apology has been delivered. It was completely necessary given the circumstances however, it shouldn't have been necessary in the first place. This should have been nailed down the first time, and it really is saddening that it had to have an apology. Lessons have to be learnt from this, especially with the referendum ongoing, making sure that the SU is not making mistakes like this. There has to be action to back up the words."
Damien Justin-Giovanni Dos Santos said: "What kind of clownery. The SU's been a shambles for years and this time it's just got worse and ignorant."
Christopher Clarkson asked sarcastically: "Where have you copied and pasted the status from this time?"
In response to the original statement and the subsequent backlash, a University of Lincoln spokesperson said: "The Students' Union is an independent organisation and communicates with its own members. The university had no knowledge of the recent statement.
"As a university, our determination is to address the challenges that we and all universities face to tackle discrimination, inequality and injustices and to support our black and minority students. As ever, we will work with our Students' Union to achieve this."