June 22, 2020 1.35 pm
This story is over 41 months old
Litter, drugs and boy racers force Hykeham car park closure
The problem escalated since lockdown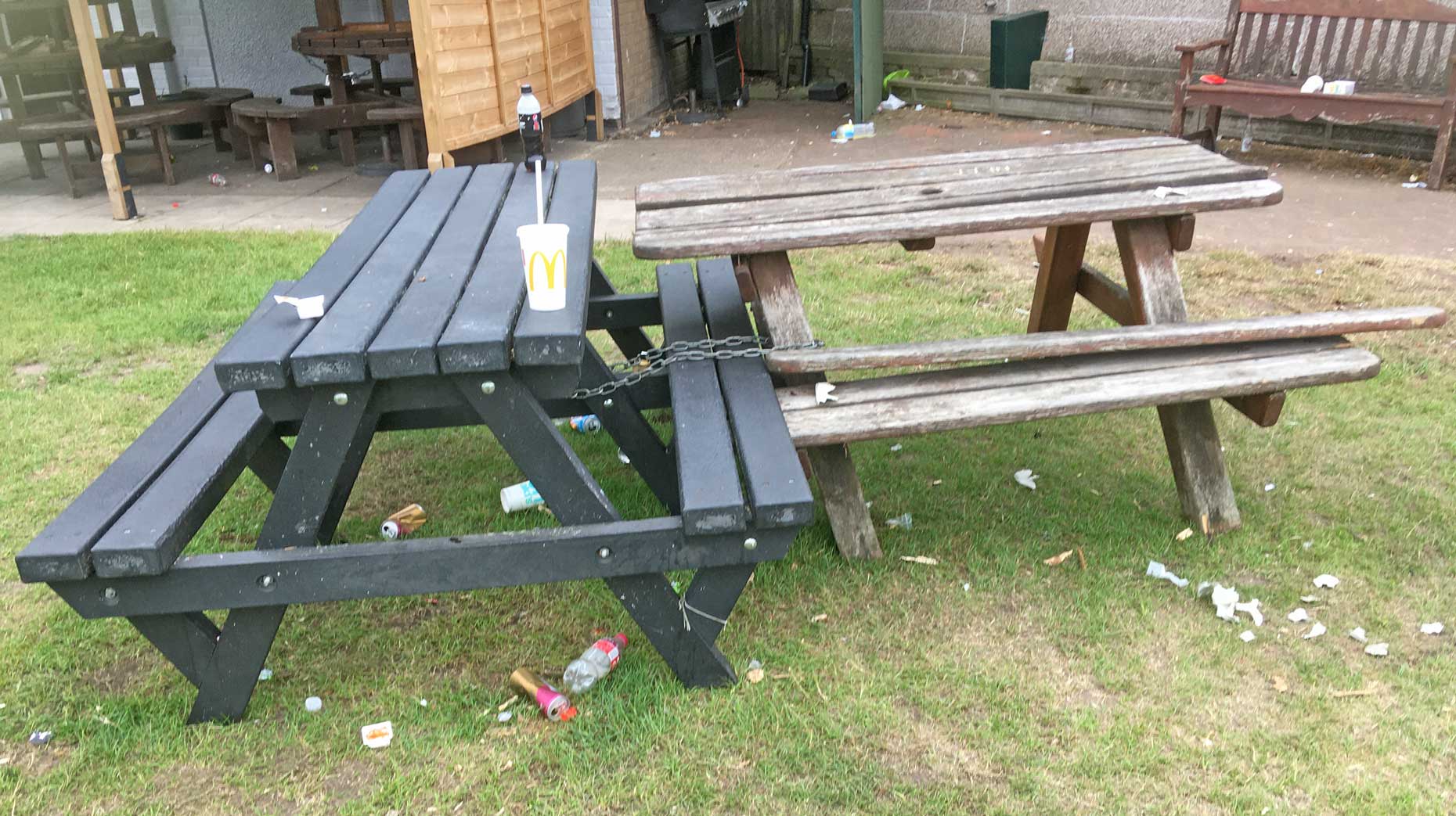 The car park at Memorial Hall in North Hykeham has been closed until further notice due to problems including drug use and boy racers causing damage to the area.
The playing fields, hall and social club on Newark Road are run by a charity called 'North Hykeham War Memorial Hall And Playing Fields Trust', who were left with no choice but to shut the car park on Saturday, June 20. It will be closed for at least a week.
This was because of "increasing problems regarding drug dealing, anti-social behaviour, littering, irresponsible dog walkers, fly tipping, planned car meets, 'boy racers' causing more damage to the car park".
Employee Paul Kerrison told The Lincolnite that the problem has been going on for 18 months and is very frustrating, but it has escalated even further since lockdown.
Staff have had to clean up the fly-tipping on their own and Paul said: "It is extremely frustrating, but there is so little we can do.
"Because the premises are closed with no staff there at the moment, groups are forming in the car park and bottles have been smashed. Streams of teenagers have been causing problems, but we are not just out to blame the kids, it is grown ups as well.
"Since McDonald's reopened there has been more litter, but this has already reduced since we closed the car park.
"We are trying to make it nice for the residents of the area, but it is frustrating to clean it up and virtually the next morning it is as it was the day before. It is an uphill battle."
Police contine to patrol the field by the hall and last month a man was arrested over drug offences at the nearby Apex Lake.
The 19-year-old male was arrested for possession of psychoactive substances with intent to supply. After searches a significant quantity of psychoactive substances was recovered.
A spokesperson for Lincolnshire Police said: "We have received several reports of people on the field by the hall. There has only been one arrested and a man was released under investigation.
"The hall car park has been closed by the owners and had no police involvement. We continue to patrol the field by the hall."
The playing fields and nearby Millennium Lake have been a lot busier since lockdown with over 100 visitors.
However, the car park closure over the weekend is already having an impact with a reduction in the problem. Plans for a barrier or gate system that can be locked over night are also still being considered for the future.
The members club and hall could reopen on July 4 depending on government guidance. Paul added that he hopes once they reopen and there is a staff presence on site again, groups may stop congregating and sneaking around the back.
A spokesperson for North Kesteven District Council said: "We're aware of a number of concerns surrounding anti-social activity in the area and a number of issues which have been reported to Lincolnshire Police.
"We are working closely with the police and partners to address this situation in support of the broader community and discussions have been had with the trustees of the Memorial Hall.
"A number of measures have been discussed to seek to resolve some of the issues being experienced and we implore everyone to engage positively in the interests of community cohesion and safety."