January 12, 2023 11.45 am
This story is over 10 months old
North Hykeham residents "devastated" after developer cuts down orchard in housing bid
They don't have planning permission yet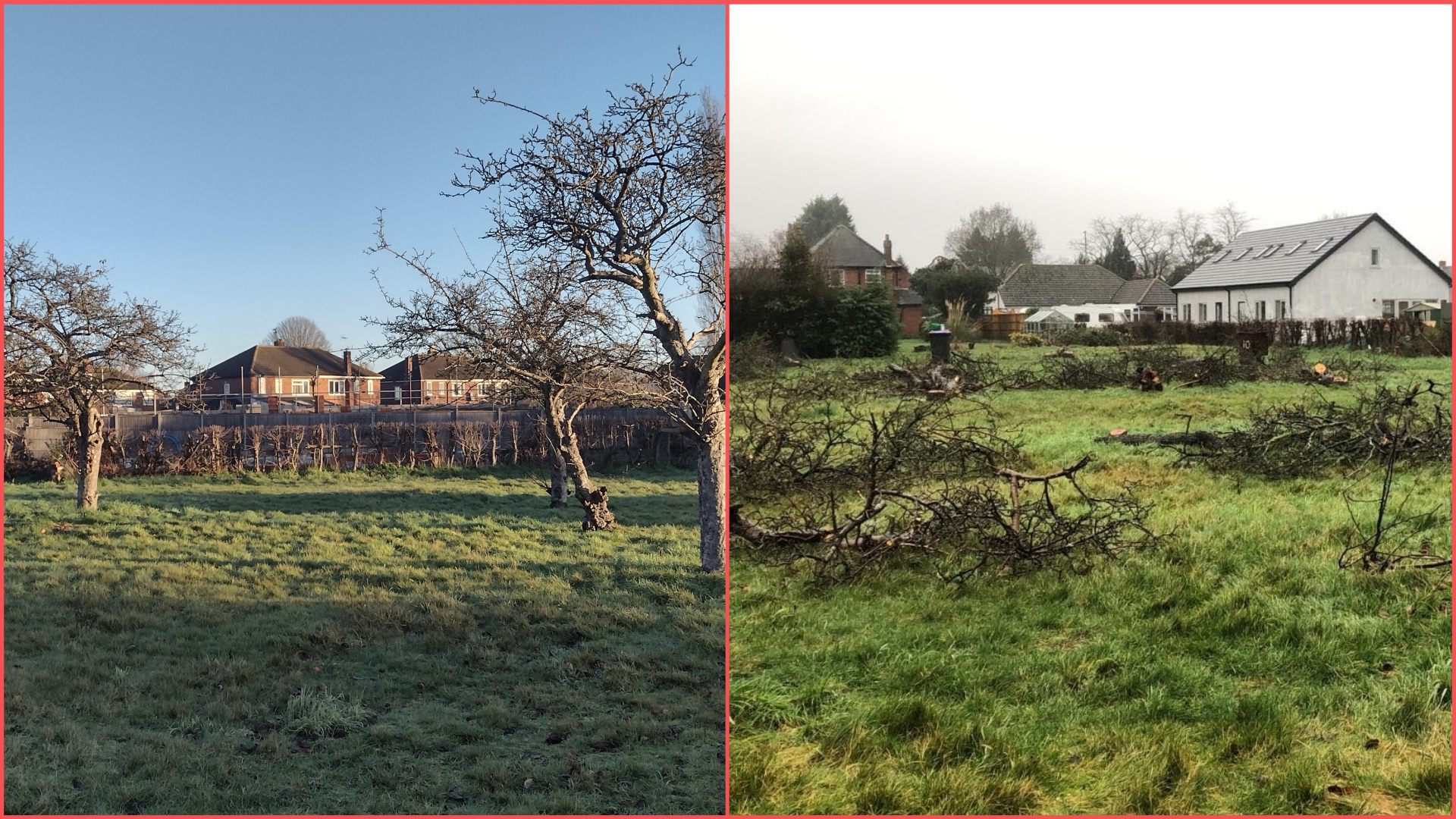 North Hykeham residents have said they are "devastated" after a developer cut down a nearby orchard before getting planning permission for their new build.
JST Homes of Gainsborough has applied to North Kesteven District Council to build a series of homes off Lincoln Road, with indicative drawings suggesting around four homes.
The application was submitted on December 28 and would include development of the garden area which neighbours said included the 100-year-old commercial orchard along with natural habitats for bats, bees, squirrels, foxes, birds and hedgehogs.
Residents Lynda and Philip Skipper commented on the application on January 4 noting the trees on site.
The developer was also asked by NKDC to produce a tree survey and arboricultural impact assessment.
However, on January 10 the trees were cut down and removed to the anger of the nearby residents.
Attempts to place a tree preservation order on the plant-life were unsuccessful. The authority did not believe the trees were likely to meet the criteria and at the time said there was no evidence of immediate risk to the trees.
The Skippers believe the developer used a loophole in the planning process to cut down the trees and attempt to avoid the loss of the orchard being used in objections.
They said: "We are devastated that this lovely orchard has been cut down, without any proper process being followed.
"We love watching the bats, hedgehogs, and birds in the area who rely on this habitat, and they will all be seriously affected by this destruction."
Another neighbour, Angela Stubley, said: "My garden backs onto the proposed development and I've lived here since 1975.
"The orchard was beautiful and supported a large variety of animals, birds, insects, bees, hedgehogs and bats all of which are in decline. It's a travesty."
A spokesman on behalf of the developer said: "The property is a domestic dwelling with a large private garden area.
"The Local Authority were consulted in relation to TPO's and it was found that none exist on the site, as such it was deemed acceptable to remove the trees.
"We are currently liaising with an ecologist who will be producing a Tree Survey on the site and once received will form part of the outline planning application."
North Kesteven District Council has confirmed no rules have been broken or breached by the developers' actions, however, they said the removal of the trees had been recorded.
A spokesperson said: "We're unable to comment in detail as the site is subject to a live planning application, however we can confirm that issues relating to impacts on trees and ecology will be considered as part of the overall assessment of the proposed development."