November 8, 2011 5.40 pm
This story is over 125 months old
Red Arrows pilot Sean Cunningham dies in ground incident
Incident: The MOD are investigating a ground incident at RAF Scampton, causing the death of Red Arrows pilot Sean Cunningham.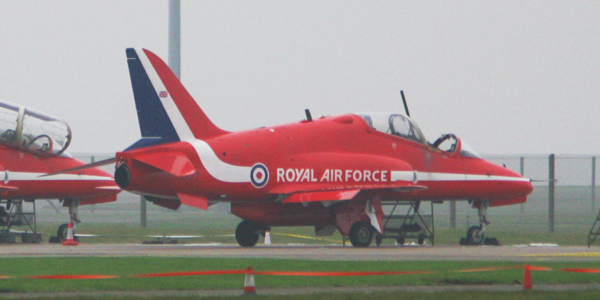 The aircraft involved after the incident. The front section of the canopy is missing, showing that the ejector seat was activated. Photo: Steve Hill
Red Arrows pilot Flight Lieutenant Sean Cunningham (Red 5) has died on November 8, aged 34, in hospital after a serious incident on the ground at RAF Scampton, near Lincoln.
The incident happened on the base at around 11.18am, when his ejector seat fired whilst the aircraft was still on the ground.
The MOD launched an investigation into the incident.
Group Captain Simon Blake, the Commandant of the RAF's Central Flying School, said the pilot was ejected from the aircraft whilst the aircraft was on the ground.
"It is with great regret that I can confirm there has been a ground incident involving one of the RAF Aerobatic Team's Hawk aircraft at RAF Scampton that has resulted in the death of the pilot.
"The Military Aviation Authority is in the process of initiating a full and independent Service Inquiry to determine the cause of this tragic incident.
"That investigation will determine the facts. It would be most inappropriate to speculate on the cause of the incident.
"Our thoughts and prayers are with the pilot's family, friends and colleagues at this difficult time."
The incident comes just weeks after Red Arrows pilot Flight Lieutenant Jon Egging (33) has been killed after his Hawk T1 aircraft crashed following a display at Bournemouth Air Festival.
Hundreds joined Egging's family and friends at a memorial service for the popular pilot at Lincoln Cathedral last week.