Wagamama to open Brayford Pool restaurant
Noodle bar: Wagamama said it will open its restaurant on the Brayford Waterfront by December, creating 30 jobs.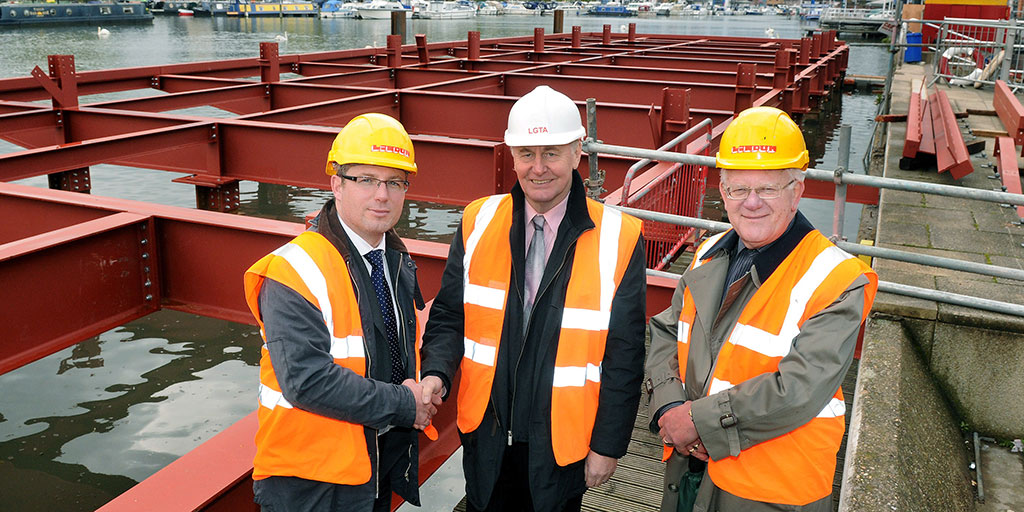 Deal: Banks Long & Co Director James Butcher shaking hands with Investors in Lincoln Chief Executive David Rossington, who is accompanied by Investors in Lincoln Chairman Keith Darwin
Japanese inspired restaurant chain wagamama said it will open its Lincoln restaurant on Brayford Waterfront before Christmas.
The new building will replace the Old Harbourmaster's Office on Brayford Wharf North.
Wagamama Property Director Sharon Cawthorne said: "We will be creating a mix of 30 full and part-time jobs and are looking forward to making a start on site in July and to be trading by December."
The restaurant will seat more than 100 people and also offer a takeaway service.
Commercial agent Banks Long & Co, which handled the letting of the premises, said the move represents a £1 million bonus for the city's economy.
Banks Long & Co director James Butcher said: "wagamama has signed up to
take a lease on this striking, two-storey building, which Lindum Construction will build opposite the Odeon Cinema."
Planning permission for the restaurant, which will sit on the edge of Brayford Pool, was secured by Stem Architects on behalf of Investors in Lincoln, which has been working in partnership with the Brayford Trust.
Investors in Lincoln Chief Executive David Rossington said: "The decision by wagamama to open on the Brayford is a win-win all round.
"The additional income that will be received by the Brayford Trust, as part of the deal, will help to ensure the future of the Brayford, one of the many jewels in Lincoln's crown. Investors in Lincoln is pleased and proud to have played a key role in developing the new restaurant and wishes wagamama every success."
Wagamama is headquartered in Britain, but has outlets worldwide. The UK and USA wagamama restaurants are company owned, while restaurants worldwide are franchised.